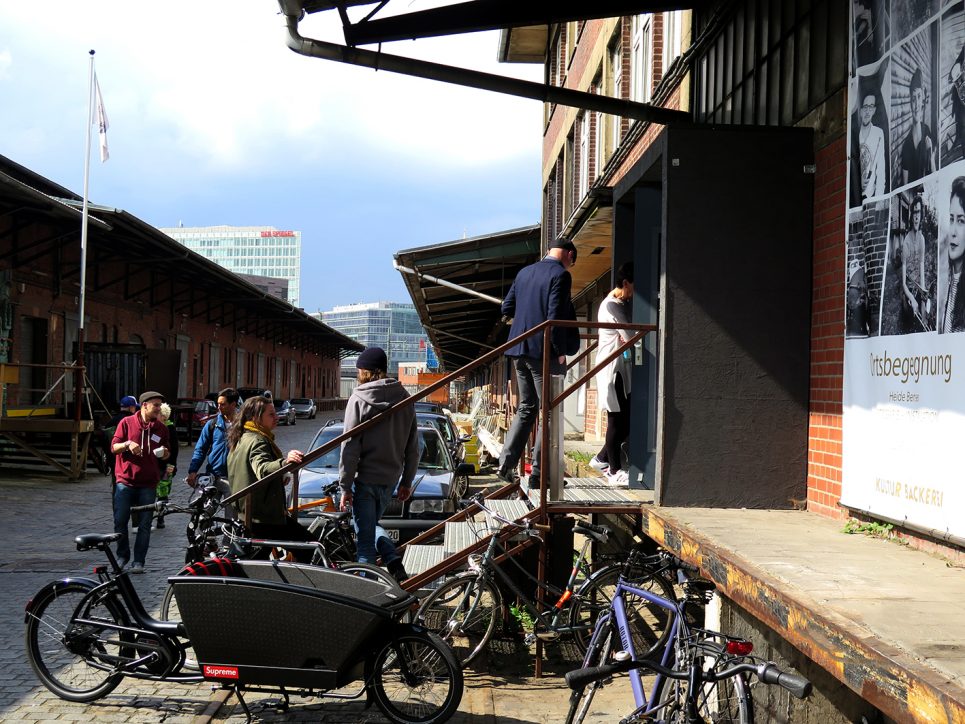 Zukunft Oberhafen Hamburg
Zeichnerisches Protokoll: Thomas Rustemeyer,
Moderation Open Space: Ela Kagel
Zukunft Oberhafen – Beteiligungsverfahren zur Weiterentwicklung des Hamburger Kultur- und Kreativquartiers Oberhafen
Modell für eine von Nutzer*innen getragene Stadtentwicklung 
Zwischen März und Juni 2017 führte raumlaborberlin im Auftrag der HafenCity Hamburg GmbH und der Hamburg Kreativ Gesellschaft ein dreistufiges Beteiligungsverfahren zur weiteren Entwicklung und Nutzung des überdachten ehemaligen Gleisfelds im innerstädtischen Oberhafen durch. Teilnehmende waren sowohl gegenwärtige und zukünftige Mieter*innen, die Stiftung Oberhafen i.Gr., Interessierte und Multiplikator*innen aus der Stadtgesellschaft sowie die Auftraggeber.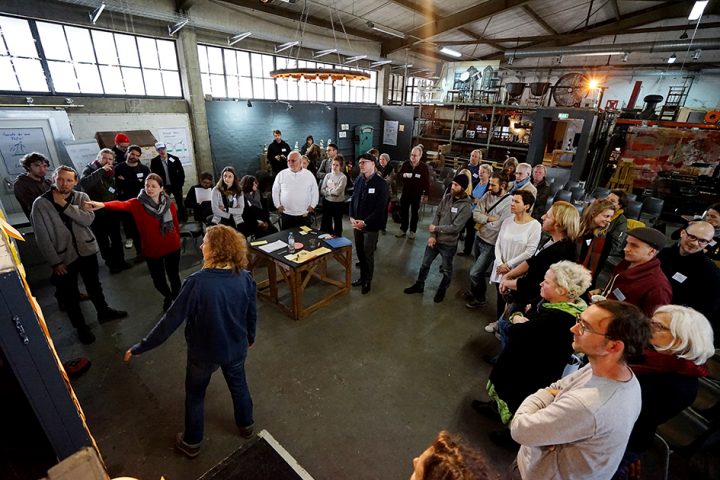 Das kooperative Verfahren war ein Meilenstein für die Einbeziehung der Anliegen der Akteur*innen vor Ort in die Planung und Ausrichtung des Quartiers. Als Modellprojekt für Hamburg kann der Oberhafen ein paradigmatischer Beitrag alternativer Stadtentwicklung werden. Einerseits inhaltlich: Durch die Verknüpfung von Produktion, kultureller Dienstleistung und kreativem Experimentierfeld trägt der Standort zur Diversität der Hamburger Innenstadt bei. Andererseits besteht nun durch die Weiterentwicklung des begonnenen dialogischen Prozesses die Möglichkeit der Förderung einer nutzergetragenen Stadtentwicklung.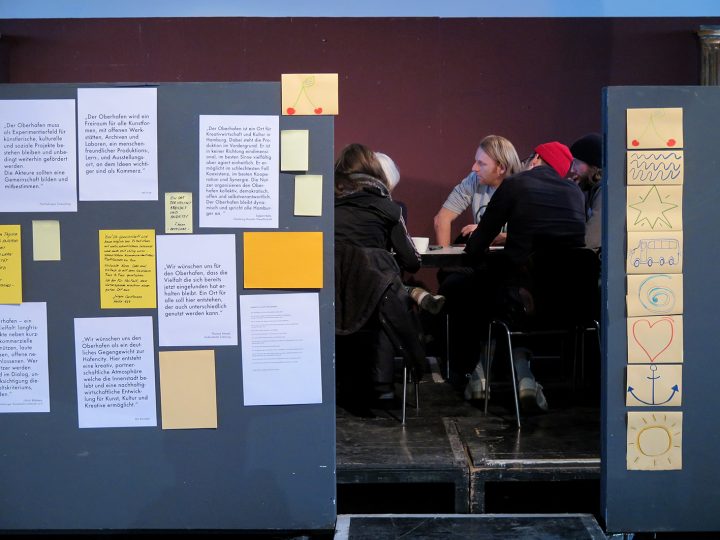 Future Oberhafen – Participation procedure for the further development of Hamburg's cultural and creative quarter Oberhafen
A pilot scheme for user driven urban development
Between March and June 2017, raumlaborberlin conducted a three-stage participation procedure on behalf of HafenCity Hamburg GmbH and Hamburg Kreativ Gesellschaft for the future development of the covered Gleisfeld (track field) in Hamburg's Oberhafen (upper port). Participants were current and future tenants, the Oberhafen Foundation (in formation), interested parties and multipliers from urban society as well as the clients. 
The participation procedure was a milestone for integrating the requests of local stakeholders into the planning and positioning of the site. As a pilot scheme for Hamburg, the Oberhafen can become a paradigmatic contribution to alternative urban development. On the one hand content-wise: By linking production, cultural services and creative experimentation, the location contributes to the diversity of Hamburg's city centre. On the other hand, the further development of the dialogical process that has begun now offers the possibility of promoting user-driven urban development.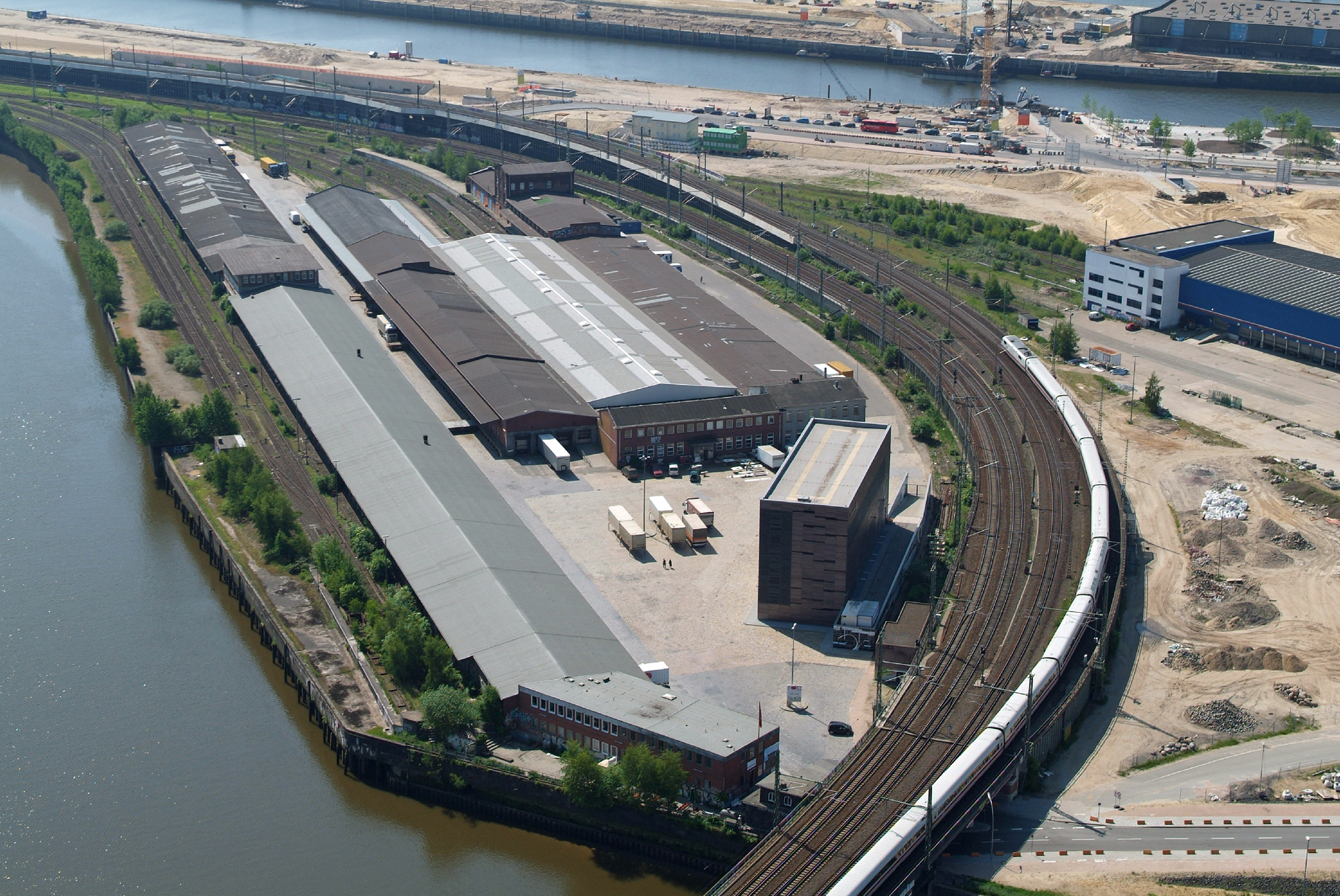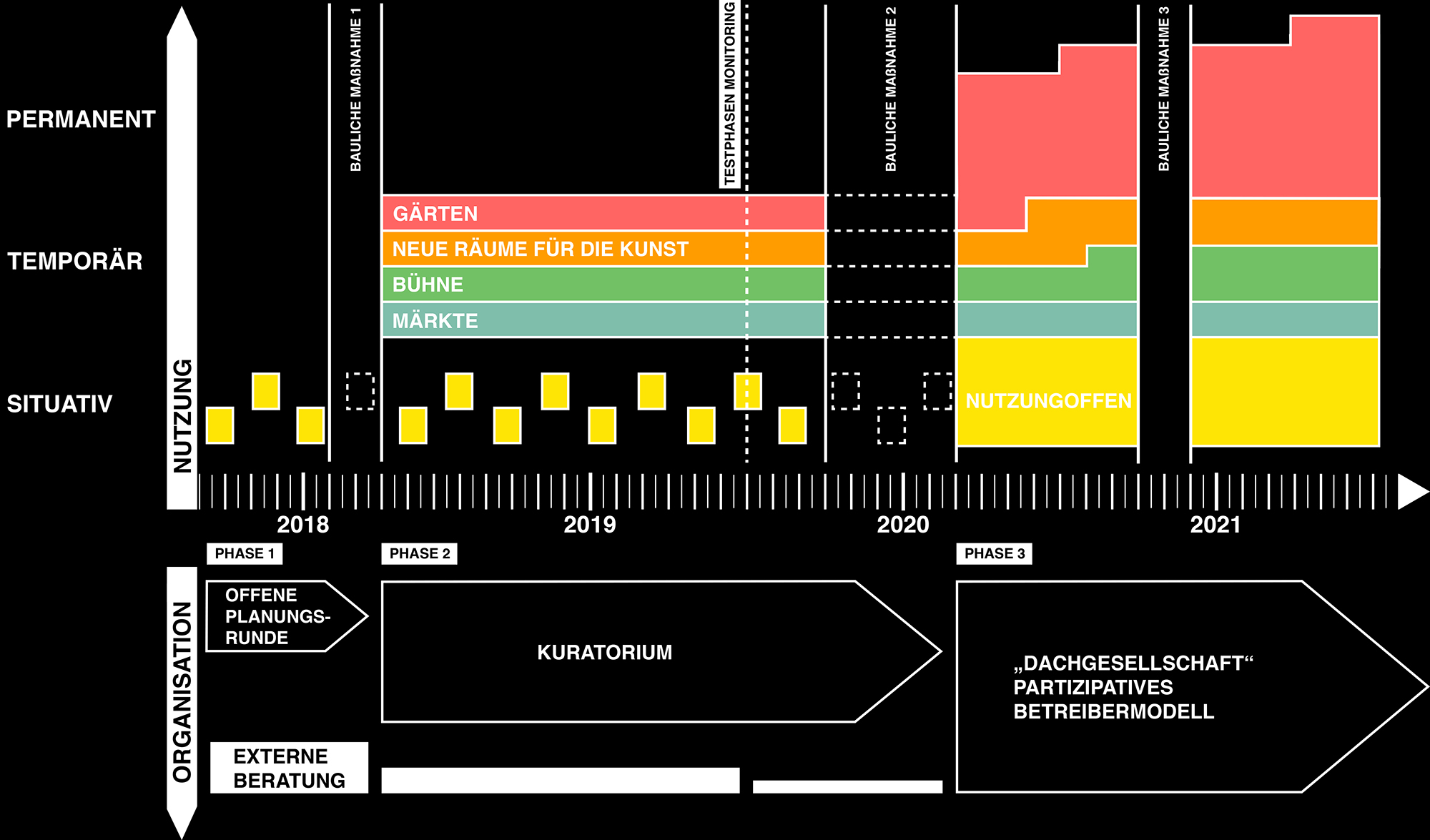 Prozessdiagramm