Forms of assembly
collaboration and co-habitation are core conditions of all life. It's about being together, exchanging, producing, decaying, opening up and giving way. Life is about different dynamics coming together. We like to see the city as a form of assembly. Beyond that, our whole planet with its critical zone or biofilm surface, this the thin layer of life surrounding the planet is living together in a potentially unique way in the cosmos, therfore the biggest scale of assembly. If we zoom in, we find the city and if we zoom in more, we see individual living beings, zooming into one of us humans, we discover, that our bodies themselves are universes of cohabitation and exchange. We are no single, autonomous beings, but rather large assemblies of body cells that exchange DNA across from bacteria to human and back.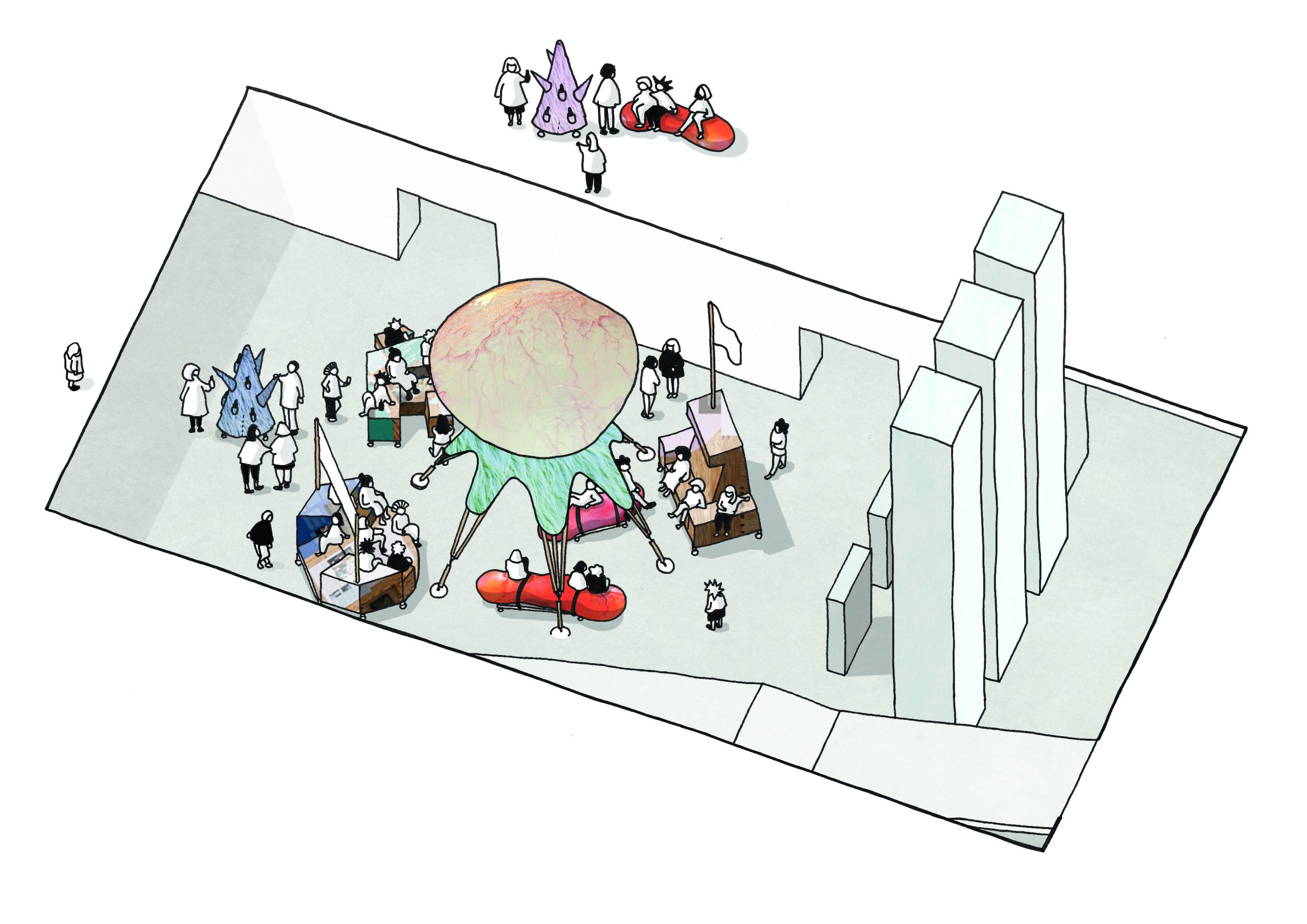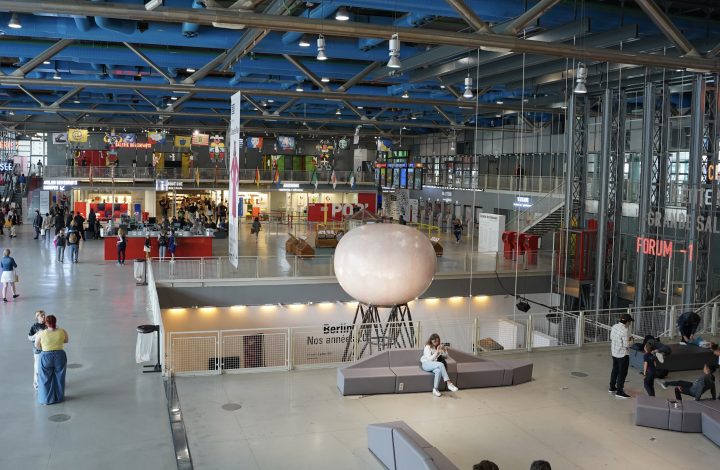 In our design proposal for an assembly space in Centre Pompidou, we are inspired by this abundance of collaboration across all scales. We are interested in open forms, that come without a clear protocol of inhabitation and use. Presenting a landscape of possibilities, this installation invites living beings to choose and find their place within. The flock of friendly objects does not predict the way it will be used. Any form of assembly in and around this family of friendly objects will include a multiplicity of individual acts of appropriation, choice, bodily placement, sensations, proximities. Maybe they induce feeling of an uncertain ground. Why am I here? What are we doing? Are we okay? Should we do a different? While at the same time maybe there could be feelings like: this is nice, nice to meet you, this is an interesting discussion, hm – I didn't see it that way, let's get up and do some exercise and then continue. We present objects without a scale.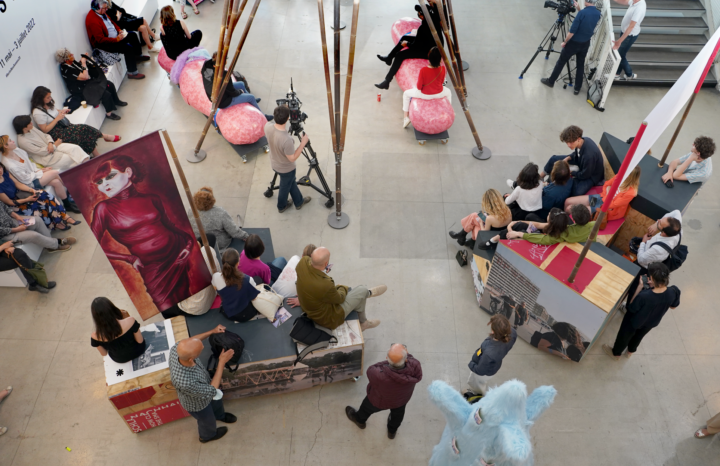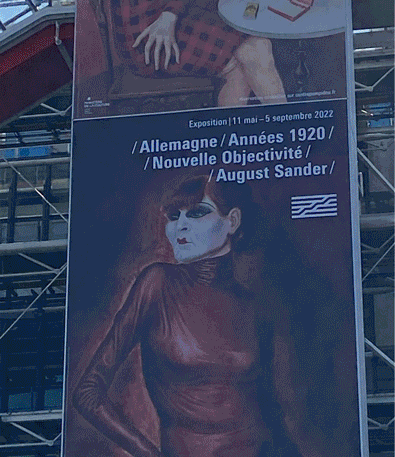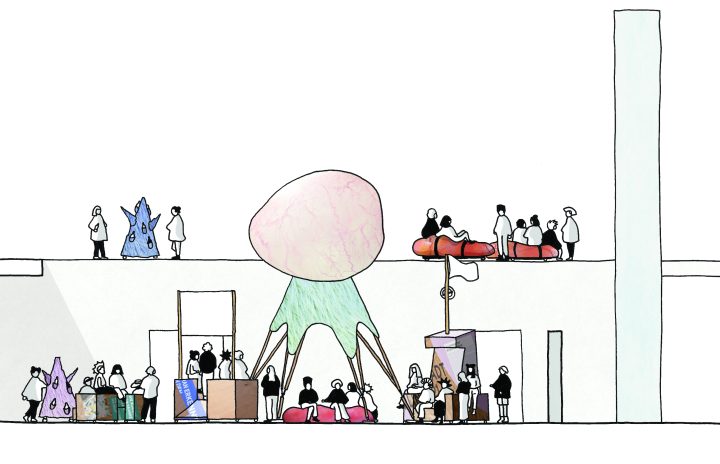 The Installation can be used to be discovered and chilled on, for regenerating energies in a bigger then real art centre, for formal programs like lectures and discussions as well as performances and movie nights. The design presents a family that could be even bigger than what we see. Maybe over time, more friendly friends will join the installation and become even more joyful and energetic and changeable. The flock consitsts of four characters. The big bamboo friend, that seems to have a stoney head. She is accompanied by some organ like things, resting on their skateboards. Two furry friends show many many pockets that can offer the one or other surprise, a set of rolling tribunes bring in the textures of cut-up previous moments of life, also flags and banners are their liking. We are interested in supporting open forms of assembly.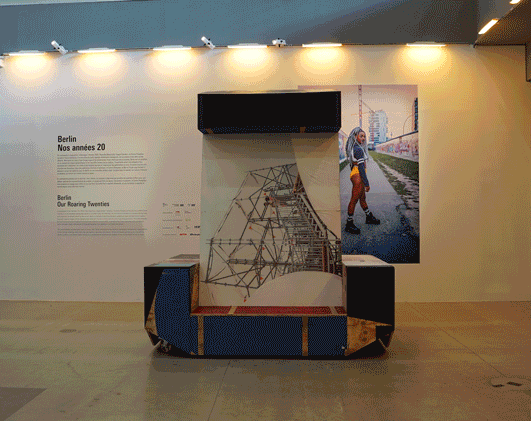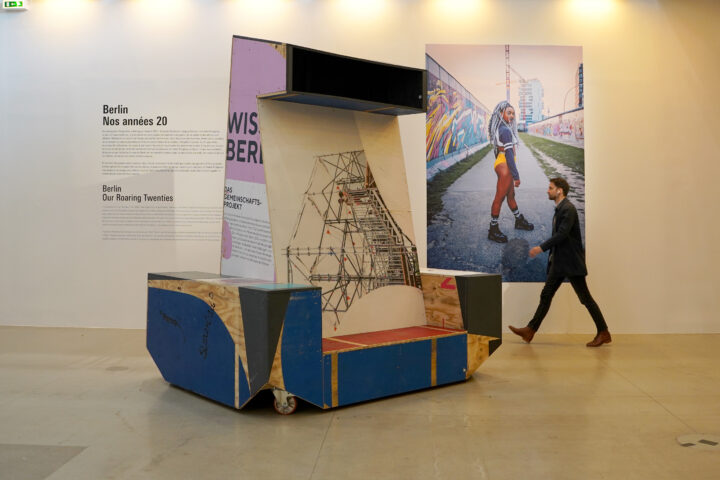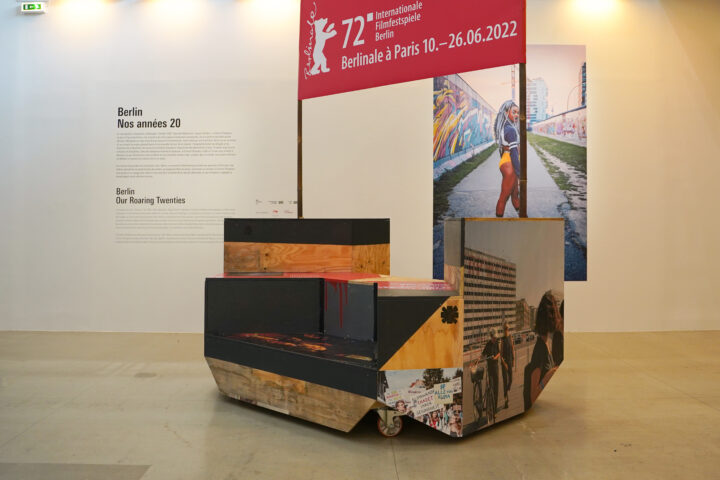 Rolling tribunes bring in the textures of cut-up previous moments of life. Made from material from the raumlabor Venice biennale entry 2021 and the exhibition "Wissenstadt Berlin". Two furry friends show many many pockets that can offer the one or other surprise.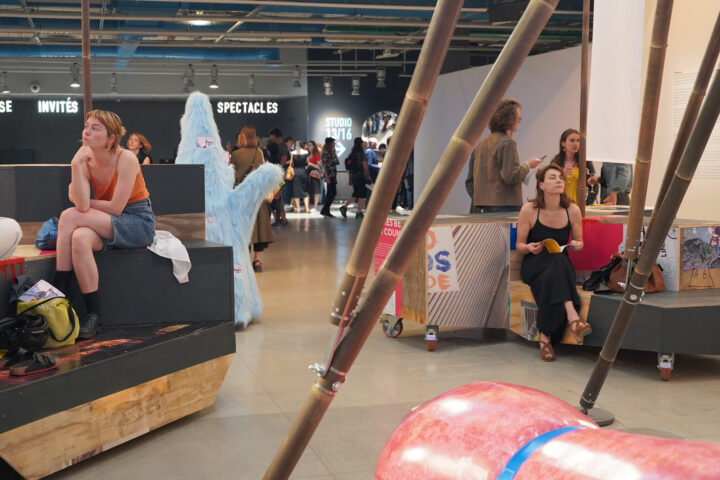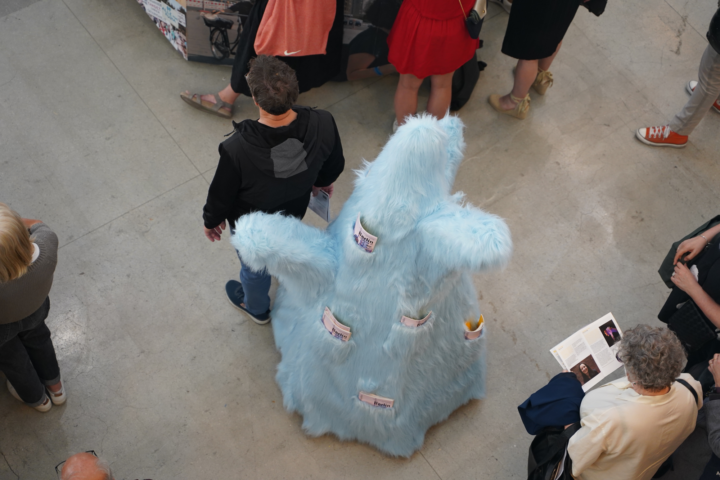 Our bamboo friend is carefully crafted and assembled in the Raumlabor workshop. The custommade steelparts (made by Ertl und Zull) are castet into each bamboo piece and in the end assembled in a tight structure that allows the organic shapes of the bamboo to follow its own irregularity between each joint.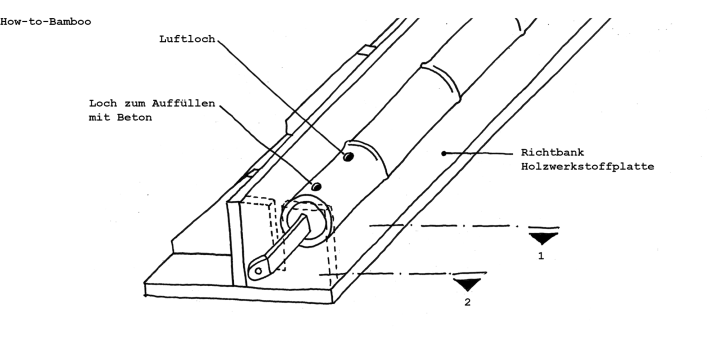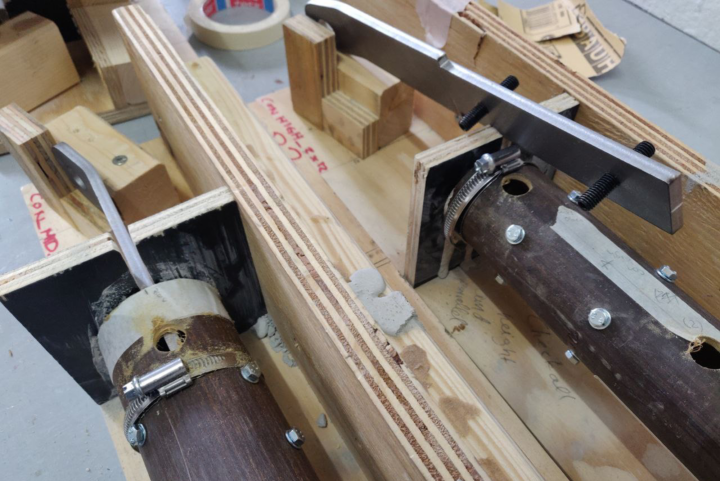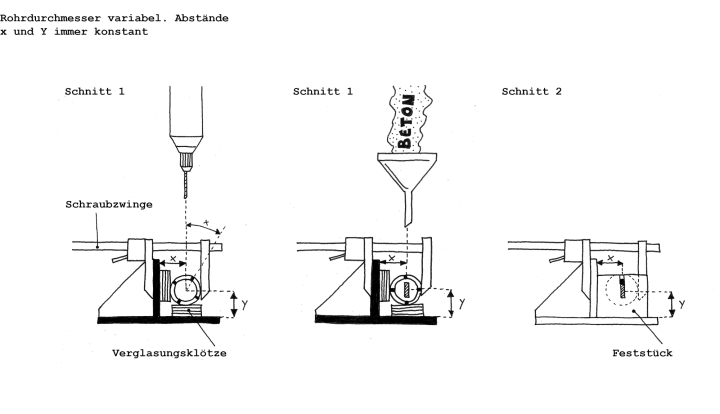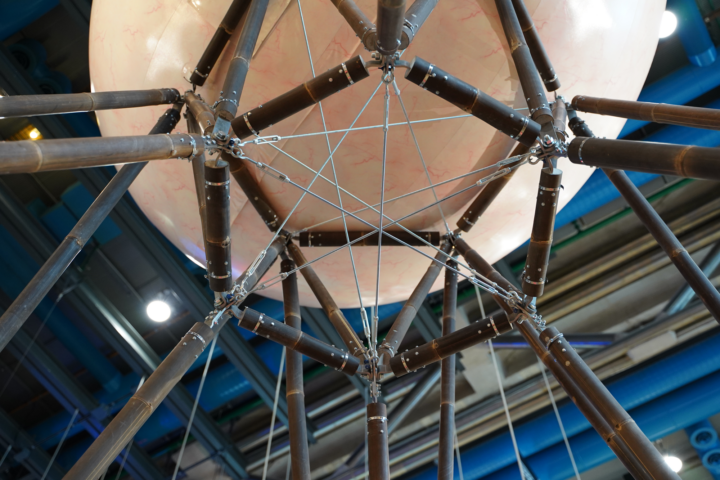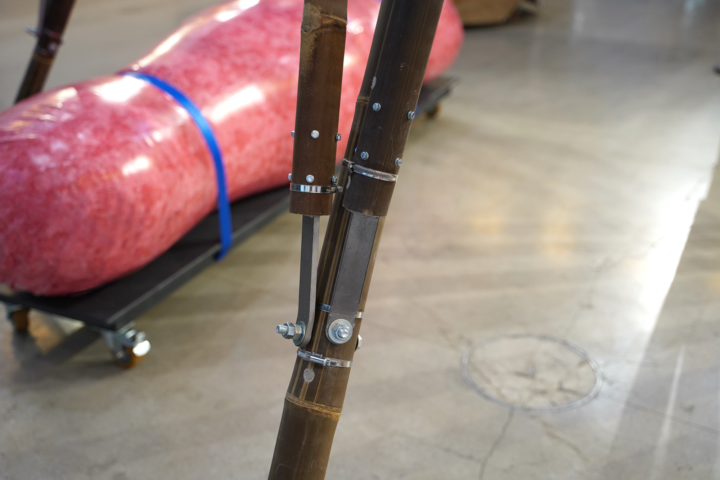 The installation is a live experiment – one of several design commissions in the context the publication "What Makes an Assembly",  initiated and edited by Anna Davidian and Laurent Jeanpierre and Published in 2022. The book examines the tensions that exist in all assemblies between the need for form and the danger of formalization; between the scripts, rituals, and architectural settings from which they derive, and their capacity to erupt and emerge anew. The project and the book were concieved as part of the longer exploration "Assemblies – Modern Rituals" by Evens Foundation.