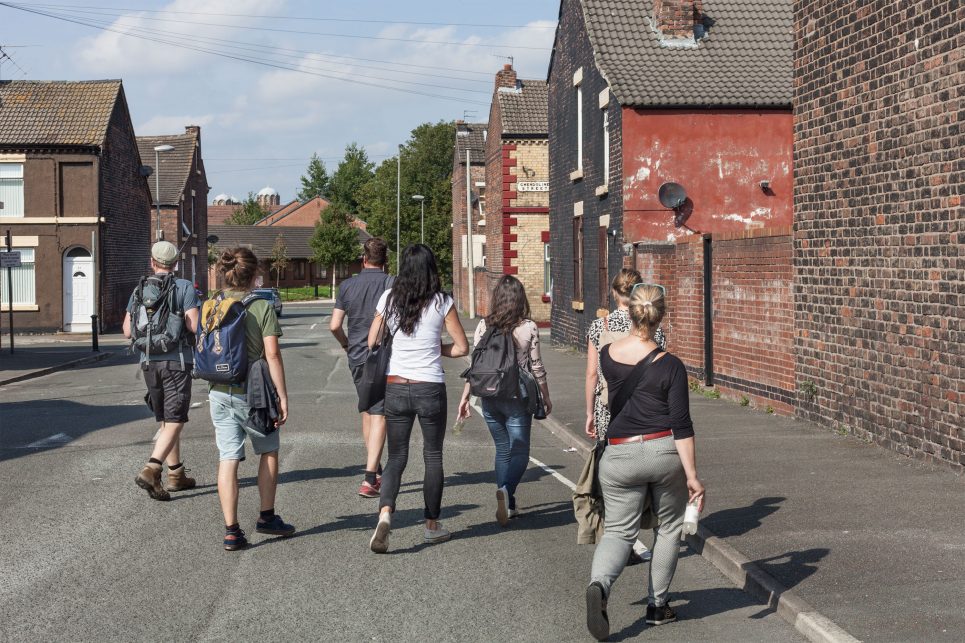 USR field trip [04] >> LIVERPOOL <<
The "Market Renewal Plans" in Liverpool have left neighbourhoods empty and decayed. Cultural institutions like the Liverpool Biennale and the 2008 European Capital of Culture, as well as initiatives by artists/architects such as Assemble, have demonstrated an interest in this situation and the opportunities it provides.
Urban School Ruhr considers field trips a crucial part of its curriculum. In spring and summer respectively, USR launched two open calls offering excursions to different cities in Europe, to engage 1:1 with practitioners as well as the places of urban transformation under discussion.
During these excursions, USR examines different structures and actors of the cultural field within the urban context, offering its participants face-to-face encounters with a wide array of cultural and spatial producers in the form of site-visits, workshops and discussions or by simply cooking and eating together. USR hopes that these inspiring moments encourage participants to define possible agendas with a view to developing concrete collaborations and co-productions in their own local environment.
LIVERPOOL (UK) 6-9 SEPTEMBER 2016
In Liverpool, USR organized a discursive dinner at Homebaked Community Land Trust, a project initiated by Jeanne Van Heeswijk. We visited the Liverpool Biennial and met its director Sally Talant. We explored Welsh Street together with artist and activist Nina Egde and Lewis Jones from Assemble Studio. USR walked alongside the river for hours between beaches and ruins with artist David Jacques and writer Brian Ashton. Back in the city USR visited News from Nowhere – a political engaged bookstore in Liverpool's city centre. Before living we payed a visit to Stuart Bailey at the Serving Library where we discussed his projects and The Berlin Key – text by Bruno Latour.