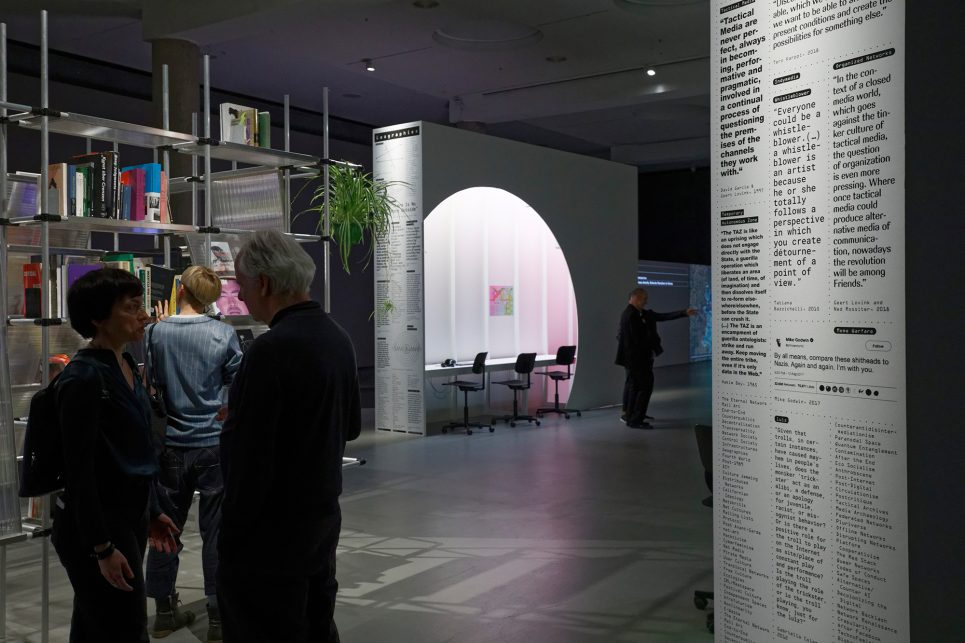 transmediale 20 – solid works
Um die Austellung zu zonieren hat raumlaborberlin fünf dicke Wandscheiben in dem Austellungsraum platziert. Betritt man die Ausstellung wirken diese wie schlanke hohe Objekte. Bei der Bewegung in den Raum hinein entwickeln sie sich in die Tiefe und wandeln sich zu massiven, schweren Volumen.  Jede Wand ist auf einer Seite im Stile von Gordon Matta-Clark Cuttings durch präzis gesetzte Schnitte geöffnet. Dadurch wird die dünne Haut und das filigrane Rippengebilde sichtbar und es eröffnet sich erneut eine komplett neue Sichtweise auf das Objekt. Lustvoll treibt das raumlabor das Spiel mit der ambivalenten Lesbarkeit in der Materialität weiter. So bleibt das Objekt durch die durchgehend weiße Farbgebung, trotz der offengelegten Innenstruktur, immateriell und selbst die Farbigkeit kommt nur durch den Wiederschein einer verdeckten Farbfläche ins Spiel.
raumlaborberlin placed 5 thick shear walls in the exhibition space to create zones. When you enter the exhibition, they appear as high slim objects. After moving into the space these objects develop depth and transform into solid, heavy volumes. Each wall is opened on one side with precisely placed cuts in the style of Gordon Matta-Clark's Cuttings. This makes the innards observable, the thin skin and the delicate ribbed construct(ion) become visible creating an entirely new perspective on the object. Excitedly raumlabor continues playing with the ambivalent reading of materiality. Through its continuous white coloring the object remains immaterial, despite its inhabitable and visible inner structure. Even the color play inside only shows itself through the reflection of the hidden color field.