Theatre of Flows
Team 
performative architect: Benjamin Foerster-Baldenius
remote scenographer: Florian Stirnemann
with
project manager: Yuchin Ku
urban choreographer: Sabine Zahn
moving photographer: Sam Boche
system designer: Benoit Verjat
flow analyst: I-Chieh Liu
language designer: James Teng
language performer: Huai-Chih Liang
best boy: Steve Tsai
Local Partners:
Adrian Lin (Zhengbin Arts Co-create), Mr. Lin (Keelung Environmental Fleet), Mr. Lin (Shallow Water Association, Yunlin), Mr. Liu (Shin-wu village, Taoyuan), Mrs. Tsai (Marine division, Keelung Government), Mr. Wang (Keelung Environment Fleet), Mr. Wang (Keelung recycle station), Mr. Ye (Hepin Wetland Environment Farm), Professor Chen (NTUT department of Industrial Design), Professor Chen (Department of Design, Chung Yuan Christian University)
Spatial effects: Han-Syiang Hsu and Small Rabbit, with the support of Group B
Graphics & lettering: Joyce Huang and Shao-Chun Wang
Making things possible:
Yi-Wei Keng & Jasmin Tung (Iron Rose Festival, Taoyuan Arts Center)
Jens Rösler (Goethe Institute, Taipei)
Hsiang-Ling Lai (Director, C-Lab Taipei)
And the irreplaceable Lucy Yen (C-Lab, Taipei)
Information dramaturgy & production:
Frank Huang and Ping-Fan "Cookie" Jiang / Double Grass 
In the Theatre of Flows, raumlaborberlin staged a journey through the real world of Taiwan as a performative learning landscape. Here the island took the shape of a system where resources, energy and man-power flowed in and out. They looked upon subjects that were in relation to the interconnectivity of flows in the urban and natural environment: ocean waste and the fishing industry of Keelung Harbor, the 2581 ponds of an irrigation system developed by the Japanese in the city of Taoyuan and the oyster farming community vs the largest private plastic refinery in the coastal areas of Yunlin. The collection of facts, figures, embodied knowledge and encounters with local experts on their expedition were later presented in a performative format. The project used the old army dormitory at Taipei's Contemporary Culture Lab (C-lab) as a research station where material was collected, discussed and showcased. 
(picture in header ©Tara Kan)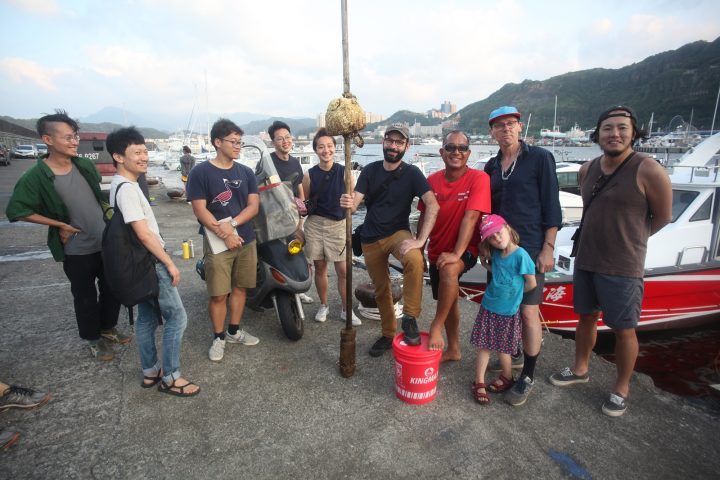 Part of the research team posing for the newspaper after fishing trash from the sea with Mr. Wang in Keelung – including a bucket of old oil ©Sam Boche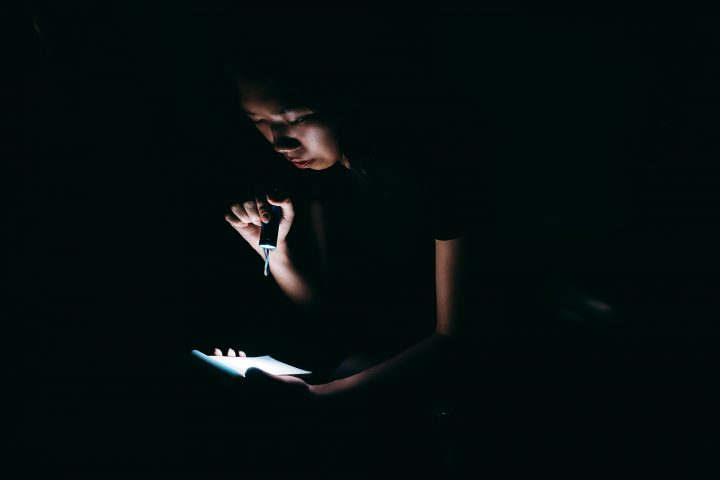 5 participants reciting their notes on their own perceptions in the Bahdodze Harbor, Keelung  © Tara Kan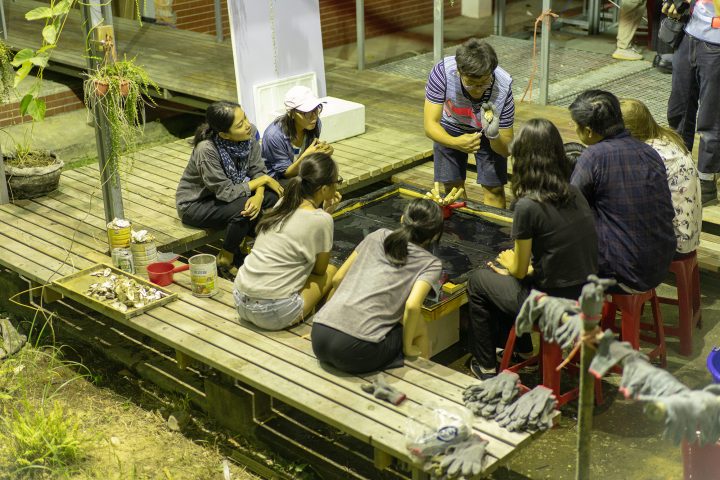 The body as an organ of knowledge perception – opening and killing an oyster ©Benoit Verjat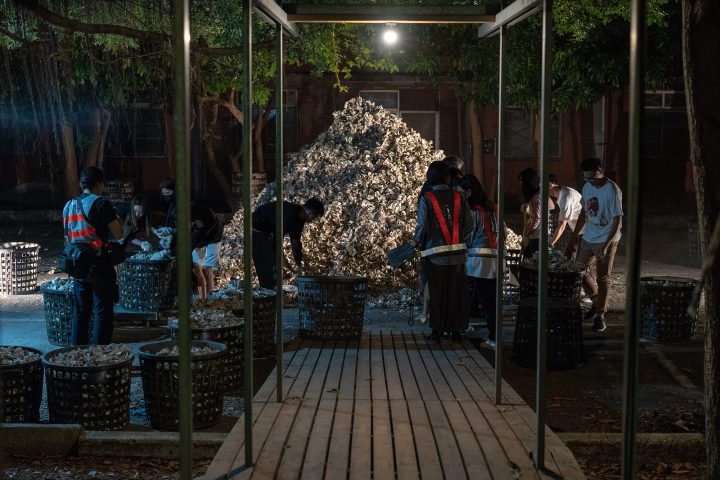 The body as an organ of knowledge perception – shoveling oyster shells ©Benoit Verjat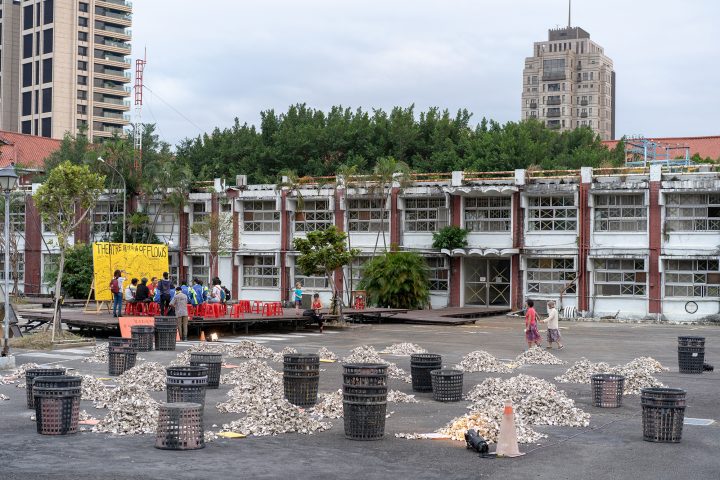 Piles of oyster shells resemble collected statistics put into groups of comparisons ©Benoit Verjat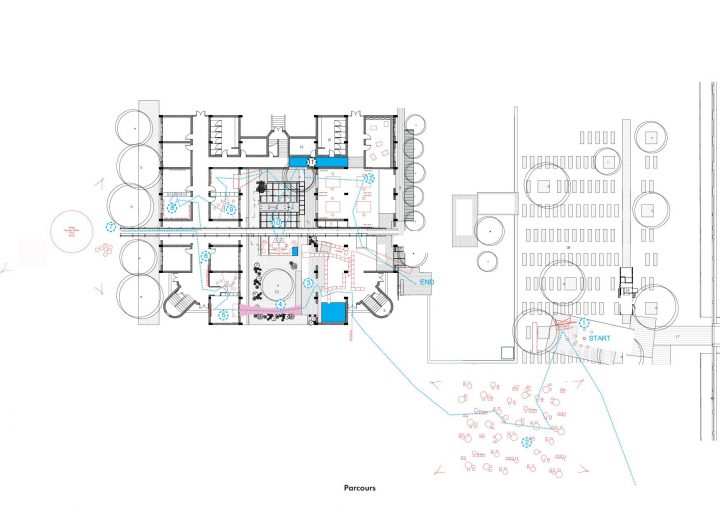 Floor plan of parcour stations at Dormitory A, the site for the Theatre of Flows
Taoyuan, the industrial city of 2851 ponds
When raumlabor landed in Taoyuan International Airport, we were mesmerized by the aerial view of a funny freckled carpet made up of little bodies of water. The 2,851 ponds of Taoyuan are the remains of an irrigation system invented for rice production during the time when Taiwan was under Japanese colonial rule (1985-1945). Today, Taoyuan's rural history is coming to an end as Taiwan's rice comes from Vietnam, China and Thailand where production is cheaper, so the ponds are not needed anymore. Ponds are turned into development zones, airport extensions, recreational zones, or fish and solar farms. On their research journey, raumlabor came across an organic aquaponic farm that uses a system of 10 small ponds to filtrate industrially polluted water to grow fish and crops. Could Taoyuan, with its 2.8 million inhabitants, become the first metropolis worldwide to use big scale natural filtering systems to clean their water and feed their inhabitants?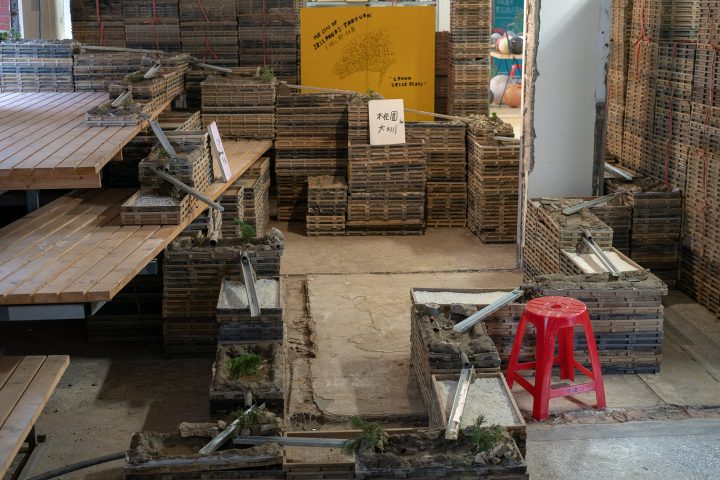 The city of 2851 ponds, represented by 2851 rice plates used for growing rice seedlings ©Benoit Verjat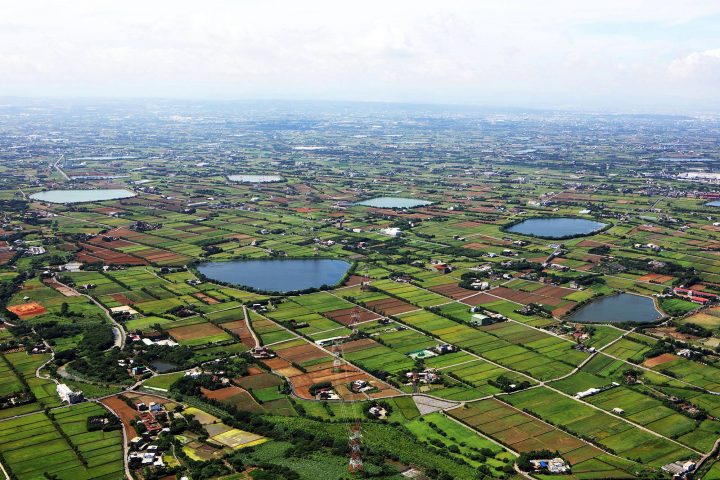 The freckled landscape of ponds over Taoyuan ©cgnews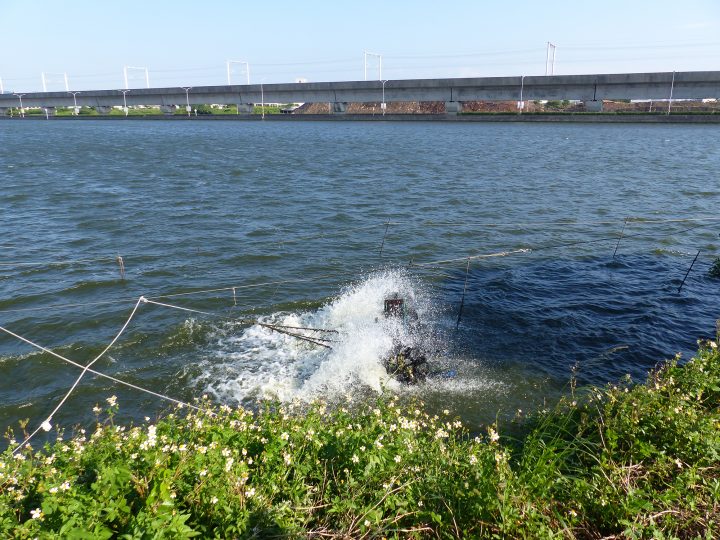 One pond cut through by the High Speed Train trails, now used as fish farms
Waters and shores of Keelung: the collecting bin of waste
Taiwan's fishing industry has been confronted by transformations that do not seem to relate: the growing numbers of seafood consumption vs. the sinking numbers of fish in the sea, the sinking prices for fish vs. the growing costs for sustainable fishing, the sinking prices of fishing net vs. the lack of solutions for recycling methods. The result is the need to fish more resourcefully but, with less ability to do so. The Environmental Fleet in Keelung established by local activists and fishermen addresses one big obstacle: ocean waste. Collective trips are made to gather the waste that ends up on shorelines and in surrounding waters. The story of the fishing net, a very contemporary allegory – it's cycle of production, use and recycling – became raumlabor's fetish object in this universe.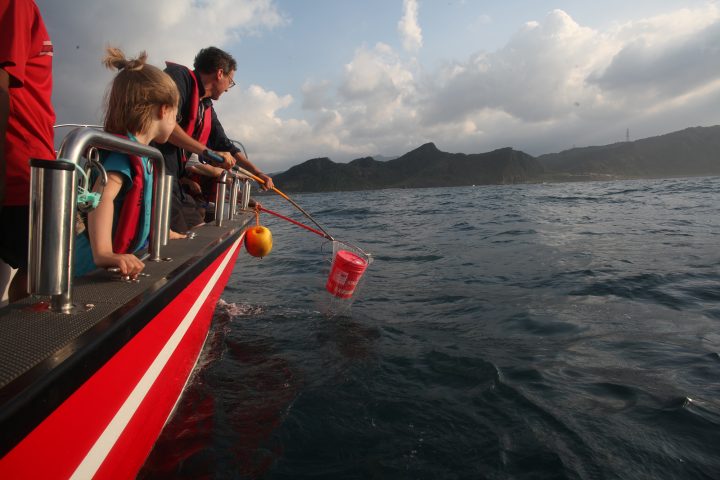 Fishing for waste in the sea of Keelung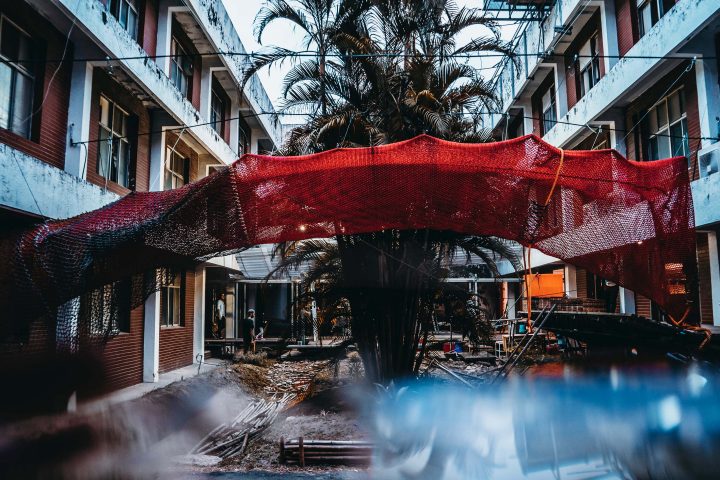 The body as an organ of knowledge perception – walking through a fishing net ©Tara Kan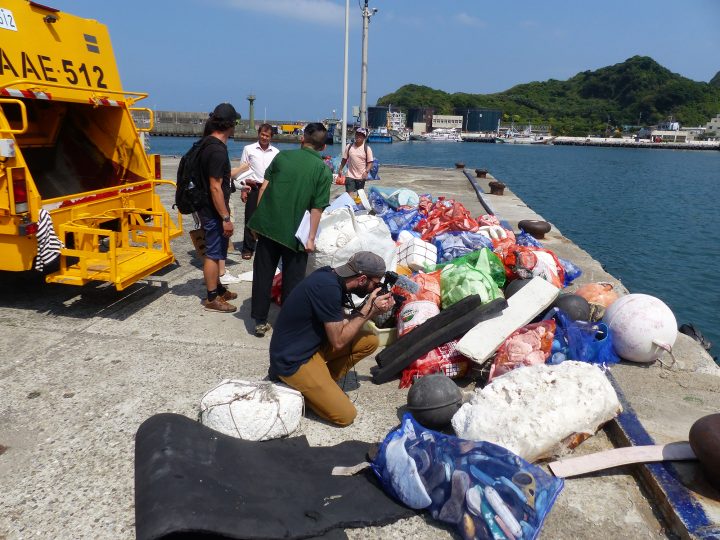 Collection of shoreline waste of Keelung island transported back to Badouzi Harbor for distribution
Yunlin: the 6th largest oyster producing country vs. the island's largest plastic refinery
As the world's 6th largest producer of oyster seedlings, the country's south-western shoreline is also dominated by a massive quantity of aquafarms producing fish, clam and shrimp. raumlabor investigated the rural villages of Yunlin that lie between aquafarms, oyster banks, growing mountains of oyster shells and Taiwan's largest production site for the plastic industry, Formosa Plastics. The core oyster farming nursery of the island feeds the country in many ways, with seafood and crops just as much as petrochemical and plastic products. Plastic as chance, plastic as colour, plastic as clothes, packaging, tools, as waste, landfill and pollution, plastic as economic growth, as charity organization and as environmental disaster, plastic as dependency on other countries. It seems obvious: we have to drastically reduce our hunger for more. Not only in Taiwan.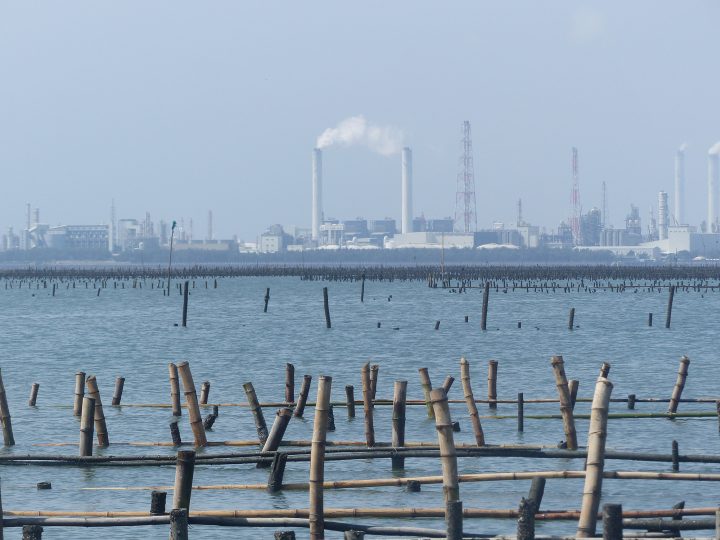 Pollution of the air and the sea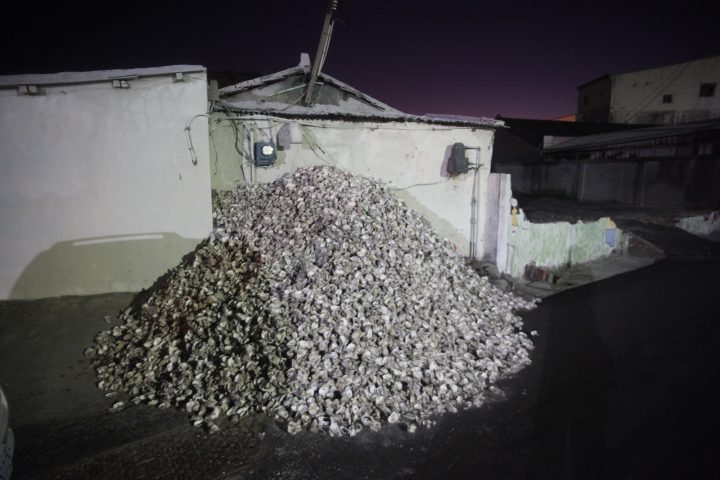 Oyster shell piles of Taishi ©Sam Boche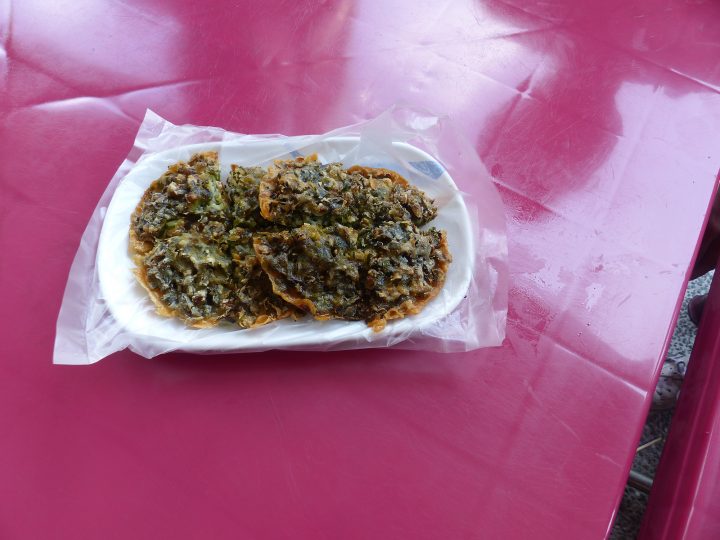 Fried oyster pancake on a plastic bag on a plastic plate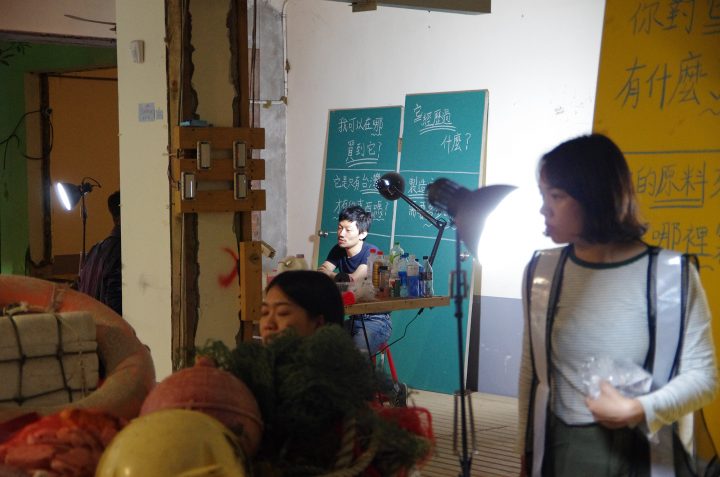 In the plastic research room the audience was asking questions to objects made of plastic to build up a new everyday relation to the material
night fishing ©Benoit Verjat
aquaponic pounds ©Benoit Verjat
net of nets ©Benoit Verjat
Yunlin oyster farming ©Benoit Verjat
Keelong harbor voices ©Benoit Verjat
keelong island waste collection ©Samuel Boche
The Theatre of Flows Team was put together as a transdisciplinary group of multi-talented researchers and performers, as well as Taiwanese local experts.
A project produced by raumlaborberlin, in collaboration with Double Grass and C-Lab
Theatre of Flows is one artwork of the annual exhibition "City Flip Flop" of Taiwan Contemporary Culture Lab (C- LAB). Supported by the Goethe Institute Taipei and Taoyuan Arts Center. Location: C-Lab Taipei / Dormitory A