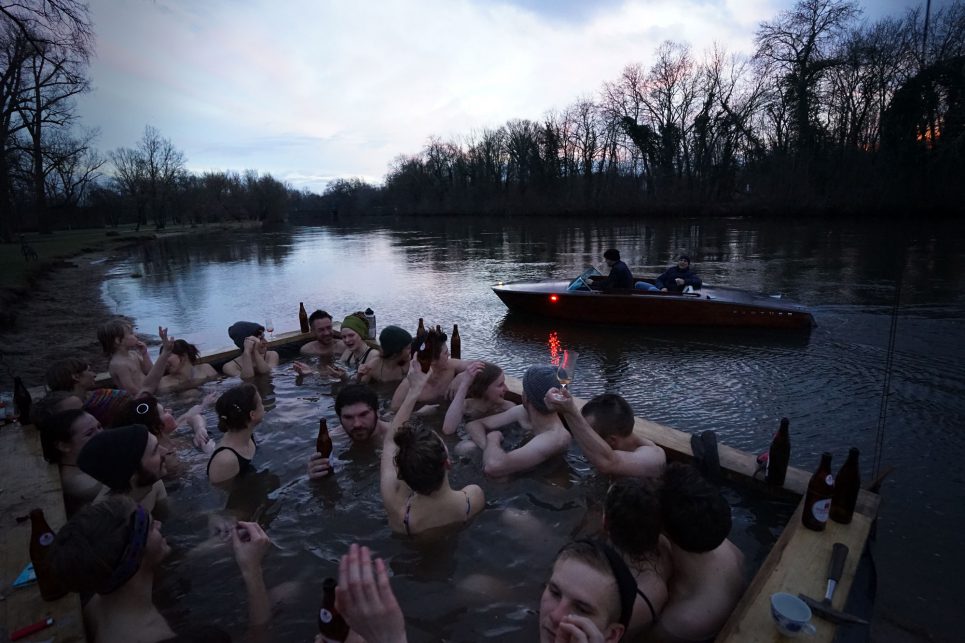 Ein Workshop mit Studenten der Burg Giebichenstein Kunsthochschule Halle
University of Art and design
20.-23.2. 2017
Wir befinden uns im Zeitalter der zweiten großen Völkerwanderung. Menschen kommen und gehen in großen Gruppen von einem Landstrich zum anderen. Ein erneuter Supergau in Japan im Jahr 2025 löst in Halle eine Welle an Mitgefühl aus: Was übrig ist von Neustadt und Silberhöhe wird Japanischen Flüchtlingen übergeben. Karstadt wird ein riesiger Asiasupermarkt und am Mühlgraben werden die ersten Hallenser heissen Quellen eröffnet: der Saale Onsen.
raumlaborberlin baute mit  10 experimentier- und baufreudigen, hartgesottenen Burgstudierenden gemeinsam, vor Ort, mitten im Winter ein temporäres heisses Bad an die Saale. Frei nach dem Motto: Als ob tuen als ob nicht auch tun wäre bauen wir diese Asif-installation für einen Tag – nicht mehr und nicht weniger – als Testfeld für eine andere urbane Praxis.
We are in the age of the second great migrations. People come and go in large groups from one land to another. A new supergau in Japan in 2025 will trigger a wave of compassion in Halle: What remains of Neustadt and Silberhöhe will be handed over to Japanese refugees. The former Karstadt-departmentstore becomes a huge Asia supermarket and at the Saale, the first Halle – hot springs are opened: the Saale Onsen.
Raumlaborberlin built a temporary hot bath in the middle of the winter with 10 experimenting and building enthusiasts, hard-boiled artstudents. According to the motto: As if doing as if was not doing as well, we built this Asif installation for one day – no more and no less – as a test field for a new urban practice.