Exploring facets of the "American Dream" and seeking out new urban frontiers by transforming nomadic, transgressive, and transitory spaces, the Spacebuster was reprised through We like America in a journey of the American Rust Belt.
With a multifaced mission that included fact finding, observation, and research, We like America popped up to investigate and organize arround issues of collective societal desire in everyday life. The road trip kicked off in Chicago during the preview week of the Chicago Architectural Biennale, and then worked its way east with pit stops in St. Louis, Cleveland, and finally arrived in New York in October.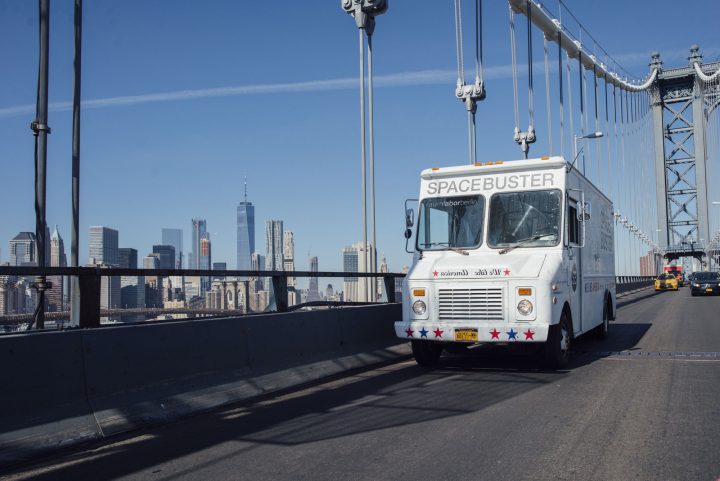 /// FIRST STOP : CHICAGO
*  14-16.09.17  CHICAGO ARCHITECTURE BIENNIAL 2017, MARIA'S PACKAGED GOODS AND COMMUNITY BAR
Thursday, September 14 & Friday, September 15
6:00 – 9:00
Experimental Music Pop-Up Lab, featuring Nicholas Bussmann
9:00 – 11:00
Silent Video Loop Expo
Saturday, September 16
On Saturday, SPACEBUSTER joins, Architecture Lobby, and Night Gallery as CAB Partner Programs hosted by the neighborhood of Bridgeport.
12:00 – 4:00  
Experimental Music Pop-Up Lab: Jam Session
1:30
SPACEBUSTER Streaming Live from the South Side @IdeasCity Festival (NY)
4:00 – 6:00
Neighborhood Sound Forum
6:00 – 9:00
Experimental Music Pop-Up Lab: Featuring Nicholas Bussmann's Automaten and Sam Prekop
Saturday, September 16
On Saturday, SPACEBUSTER joins, Architecture Lobby, and Night Gallery as CAB Partner Programs hosted by the neighborhood of Bridgeport.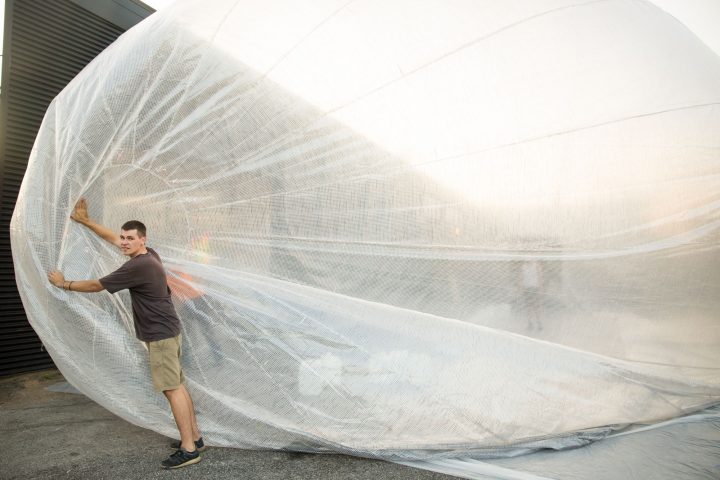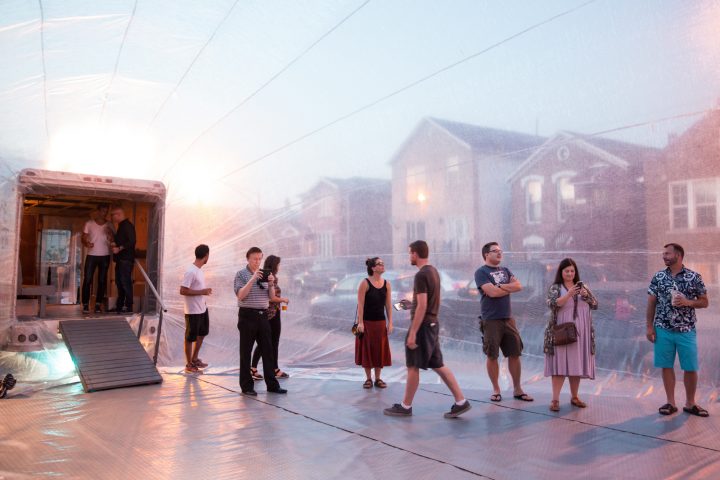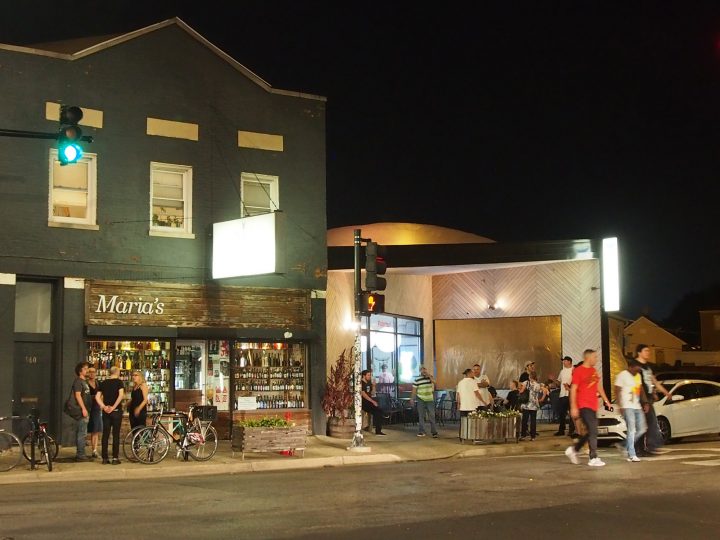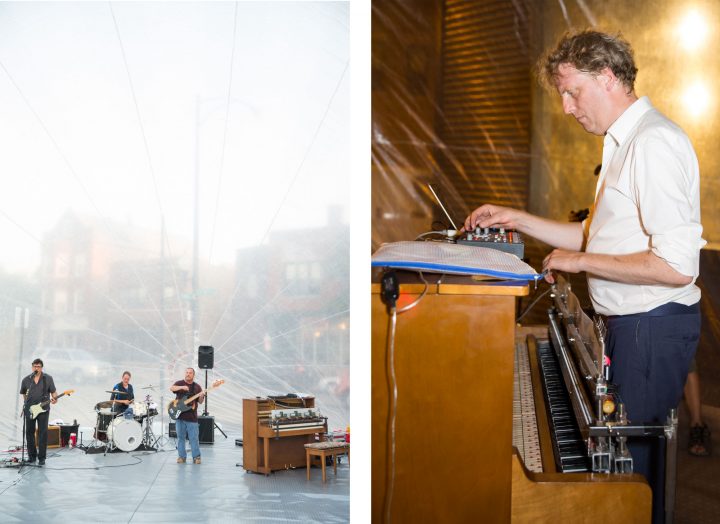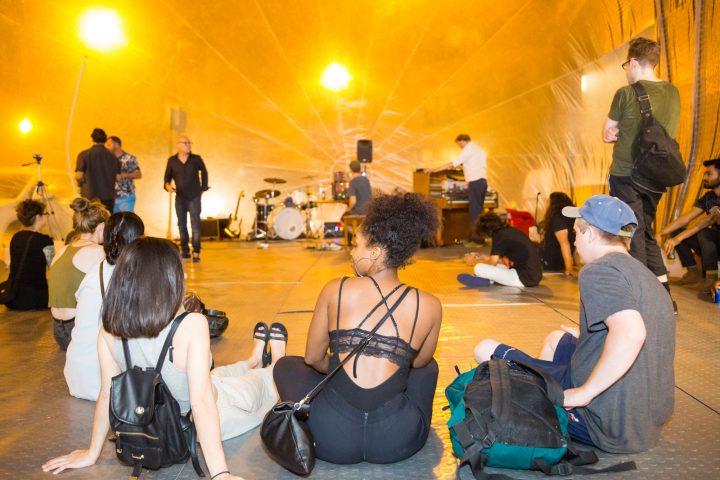 (c)raumlaborberlin and Justin Barbin
/// SAINT LOUIS
*  09.21.17  SPACEBUSTER AT PULITZER ART FOUNDATION
The happening has been opened by an participative performance dealing with the expansion of space led by berlin choreographer Sabine Zahn
In the framework of the event series "At the Edge of Everything Else", Pulitzer Arts Foundation and raumlaborberlin invited guests to have a discussion on critical space practice.
Participants were: Mashall Brown | Marshall Brown Projects, Chicago, Sarah Coffin | Urban Planner, St. Louis University, Jennifer Colten | Artist, Washington University, Ryan Griffis | Artist, Regional Relationships.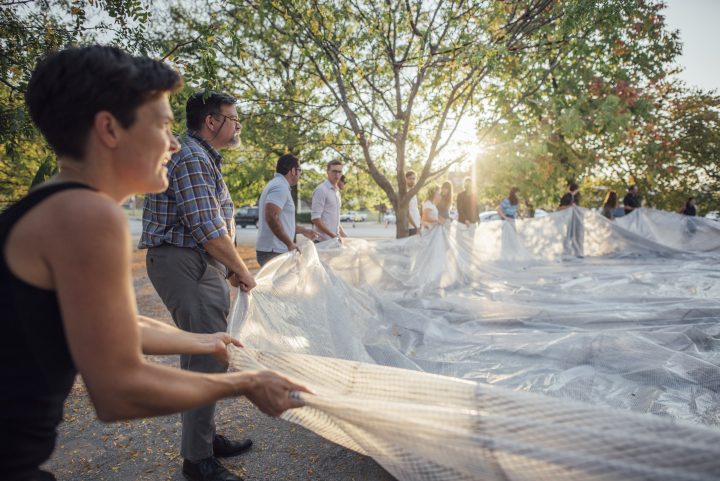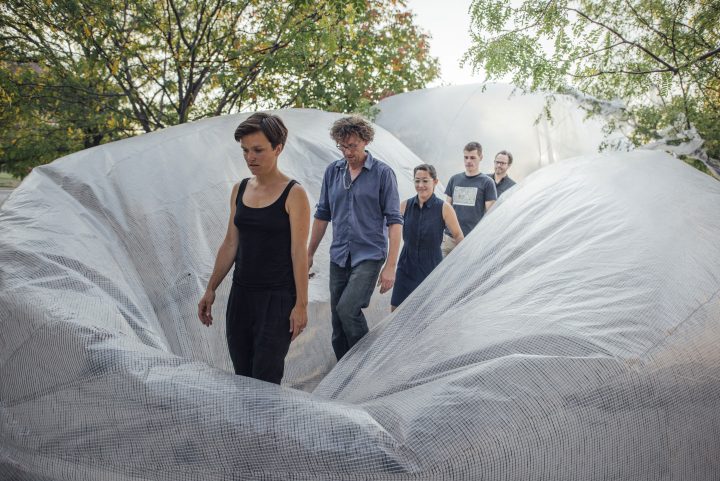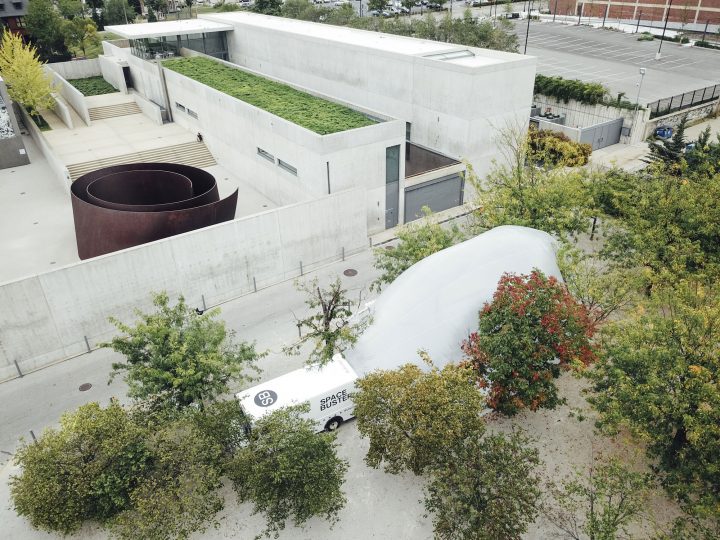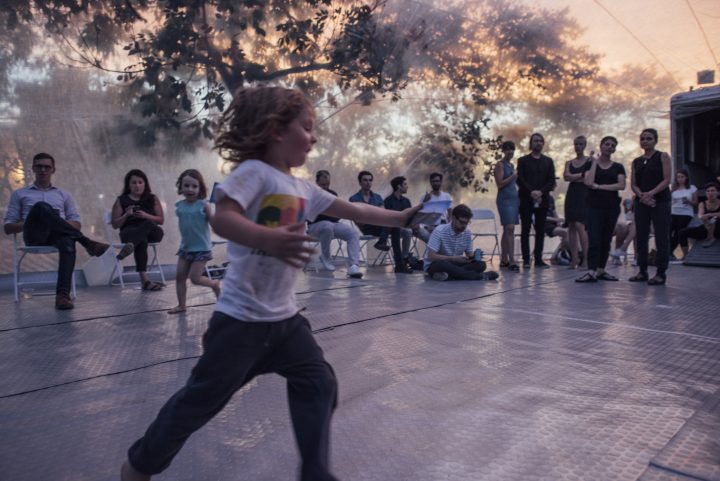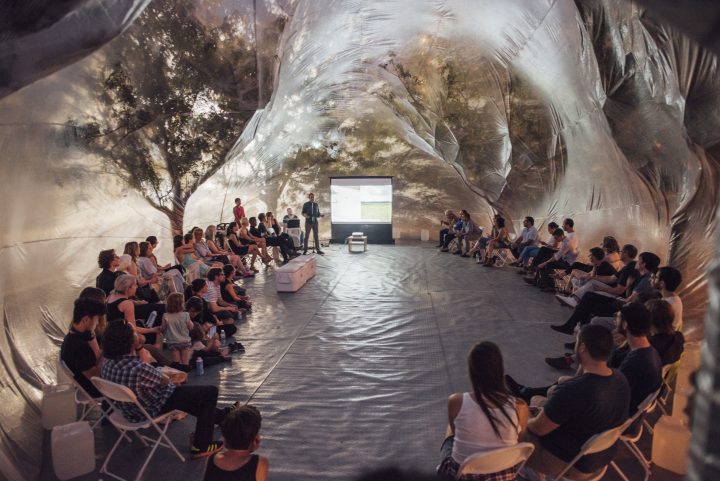 (c) Kevin Mcelvaney
*  22.09.17 WASHINGTON UNIVERSITY CAMPUS
raumlaborberlin and Eric Ellingsen (professor at WashU and former codirector of the Berlin Institut für Raumexperimente) had a talk on progressive practices of teaching and studying with students from the architecture, landscape and arts faculty. The opening was again a variation of the participative performance on the expansion of space led by Sabine Zahn.
collaborators: Eric Ellingsen, Jan Ullmer, Jesse Vogler teaching staff at the arts, landscape and architecture faculties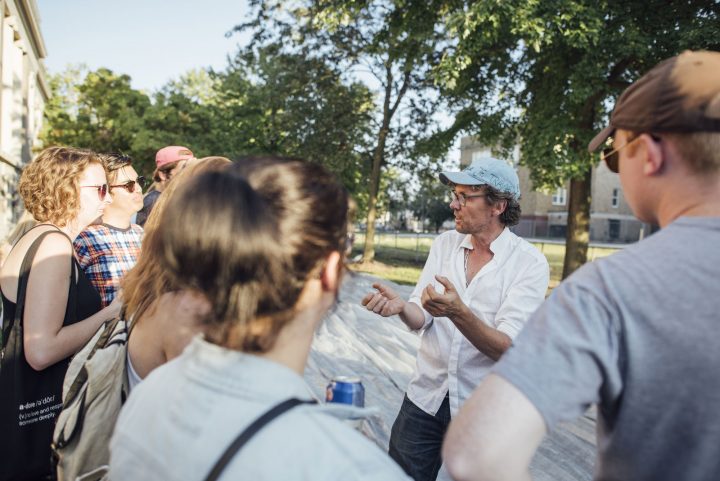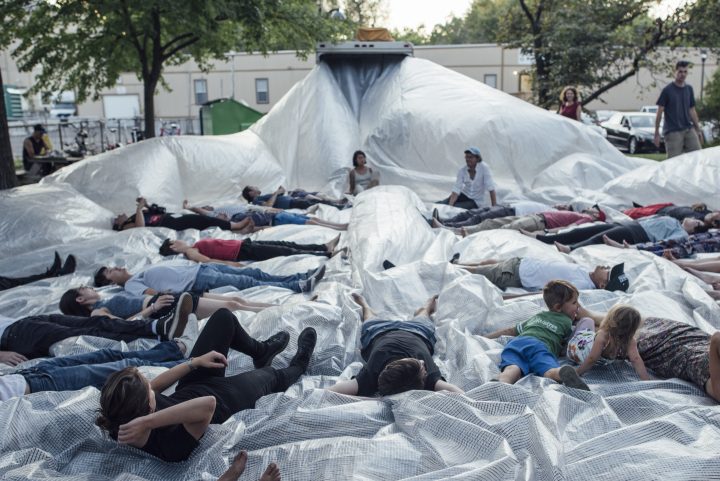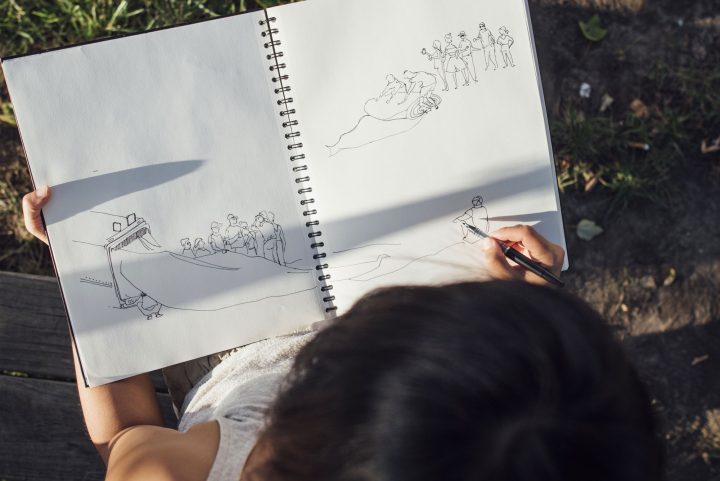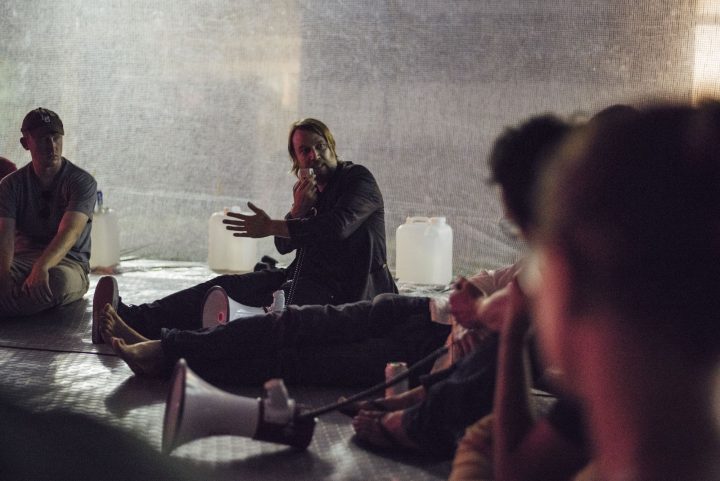 (c) Kevin Mcelvaney
*  23.09.17  ENRIGHT AVENUE 4562
One of our highlights in St. Louis was the community workshop in the Lewis PLace neighbourhood at Enright Avenue 4562.
This is the vacant lot where raumlabor dismatled the building last year for the exibition 4562 Enright at the Pulitzer Arts Foundation. The exibition was prepared by a series of neighbourhood workshops, discussions and a block party to say goodbye to the house. Since then raumlabor keeps contact with the Lewis Place neighbourhood
Together with the neighbors, raumlabor and the Pulitzer Arts team started building a butterfly garden, designed by Mikah Stanek, which will be a new community space at Lewis Place.
collaborators: Pulitzer Art Foundation
 / 
Kristin Fleischman Brewer, Sophie Lipman, Mikah Stanek, Bryan, The Lewis Place Neighborhood Association (Ola, Pam, Charlene, Elvis…)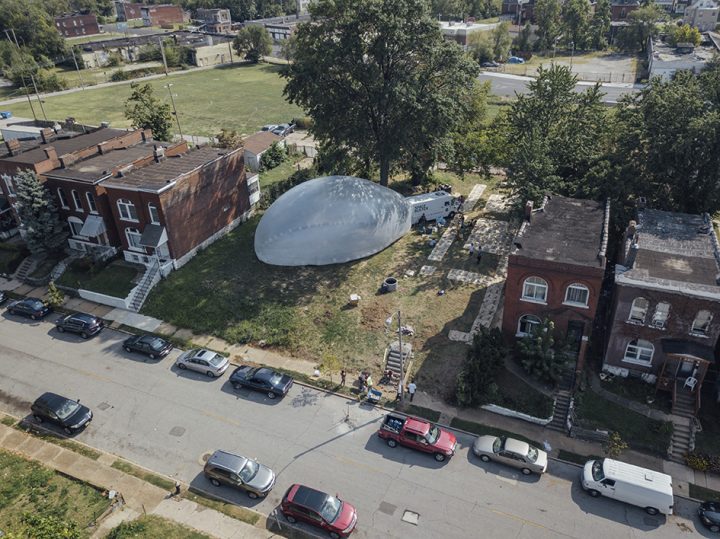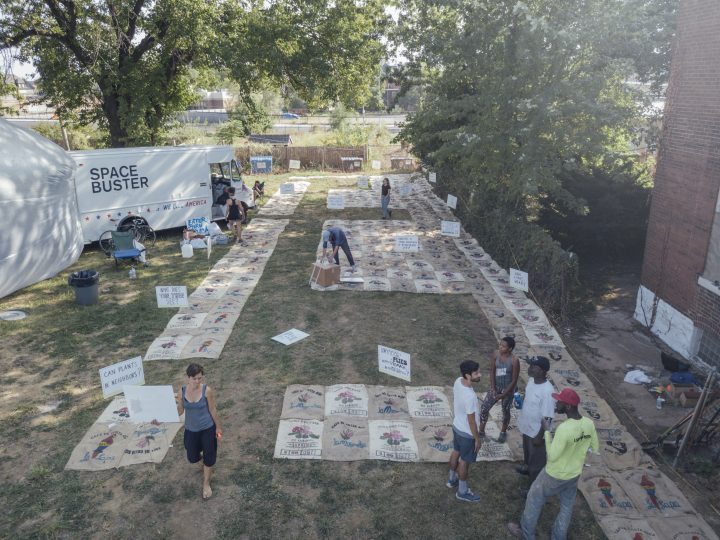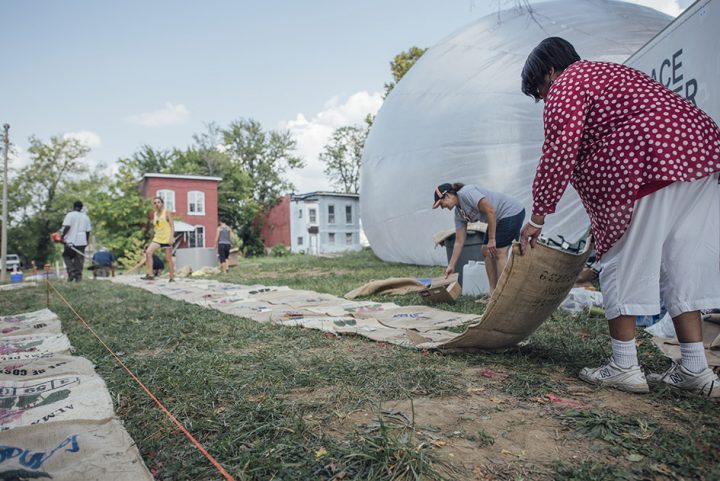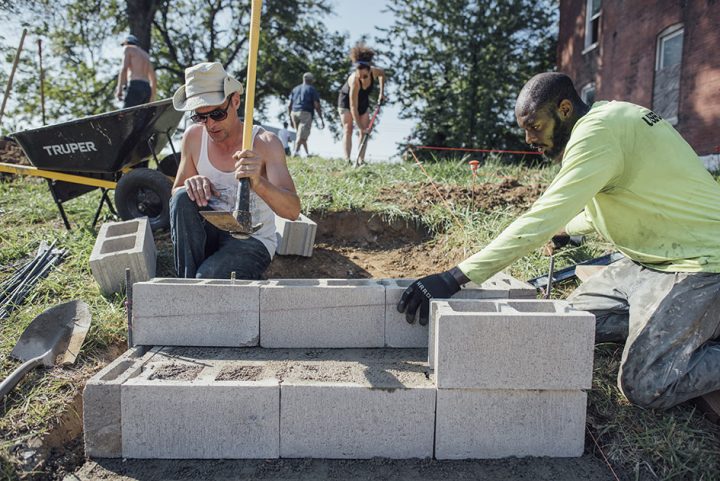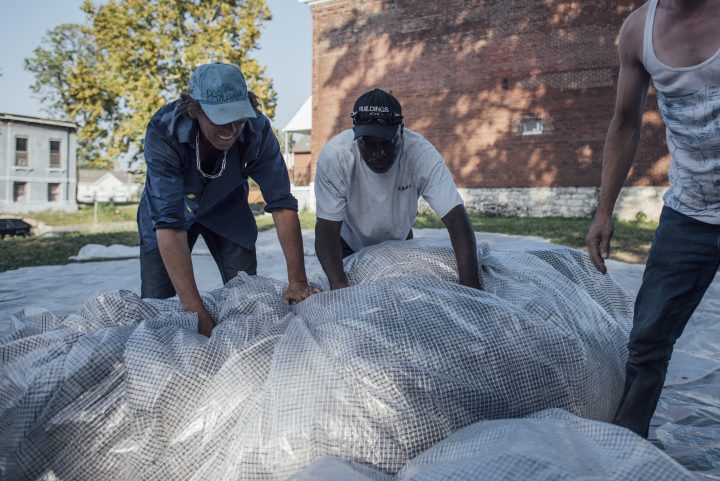 (c) Kevin Mcelvaney
*  25.09.17 – 10AM : COLLEGE SCHOOL, WEBSTER GROVES
Monday morning we visited the College School in Webster Groves. College School is an experiential primary school – which means the kids learn – between many other things – how to see, smell and feel. Especially with the Kindergarden it became obvious how impressive this education changed the behaviour of the kids towards the bubbles space. BUt also the astronomy, creative writing, graphic novel and citizenship classes (!!) made a super impression on us – and obvously the spacebuster on them. But one thing was obvious – this is a white private school.
Asking the kids what comes from Hamburg they said Gummibears – asking about Berlin they answered World War 3. We should think about that image of our city!
collaborators: The college School / Webster Groves, Pulitzer Art Foundation / Kristin Fleischman Brewer, Sophie Lipman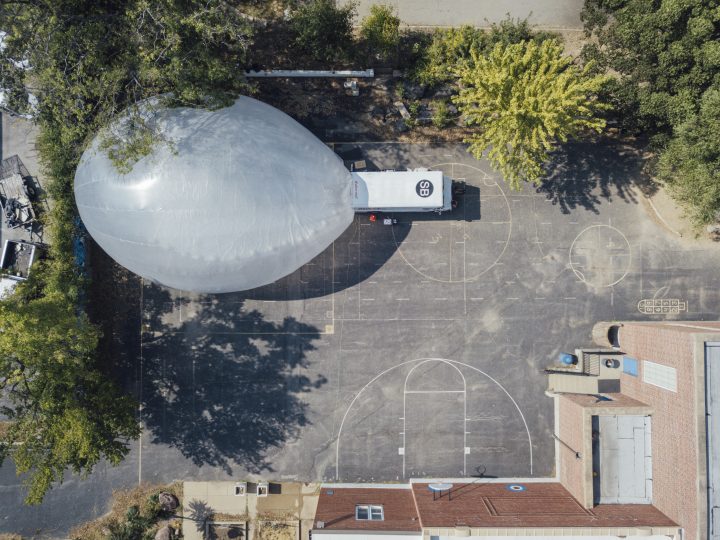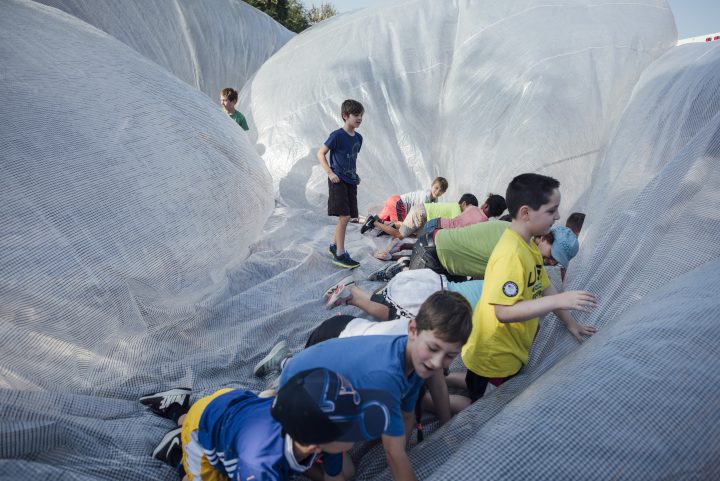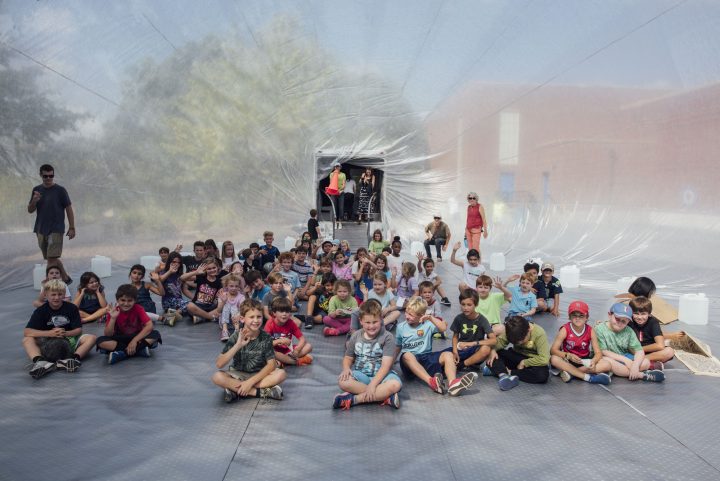 (c) Kevin Mcelvaney
*  25.09.17 – 7 PM : LOVEBANKPARK, CHEROKEE STREET
LOVEBANKPARK is a basketballfield, a meeting point and a place to dream about more ontwo empty lots on the corner to Nebraska Ave. Anne, a lady from across the road started a neighbourhood inititative a few years ago with Will the owner of a pizza joint next door after the city dismatled all basketballfields around with obscure reasons – mainly connected to black young peoples activities. They built a basket, put some asphalt and started taking care – this year they managed to get funding for some environmental changes, enough also for a new design of the park.
This night in the Spacebuster the neighbours where invited to com up with ideas. Write them down, pin them up, disuss and draw the future of LOVEBANK.
Afterwards Michael Allen – architectural historian and the cities secret archivist – showed a series of hilarious 16mm moviedocuments from the last century.
Propaganda dealing with the crisis of the city, commercials to get people back into the inner city all in slight reddish quality. On the last strip the fuse broke an Michael had to handroll the film through the projector!
collaborators: Lovebank Park/Cherokee street development league, Anne McCullough, Will Porter u.a.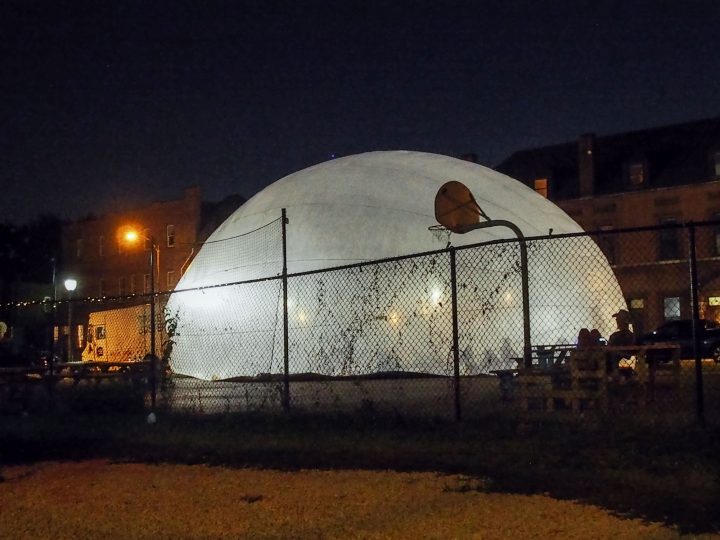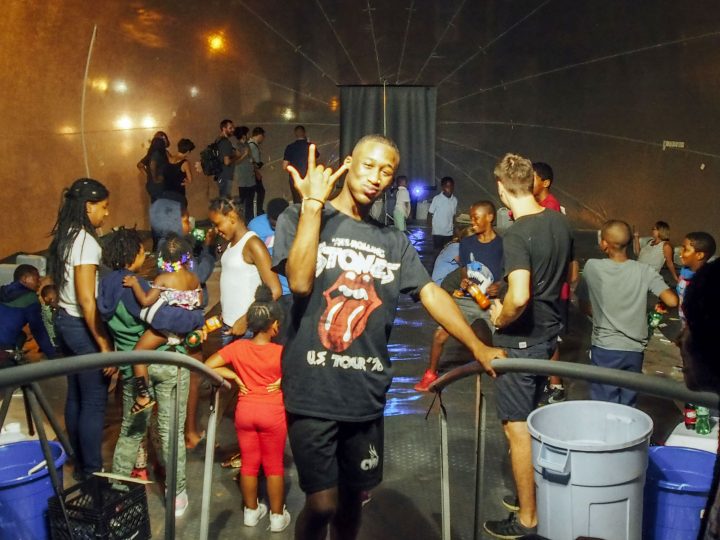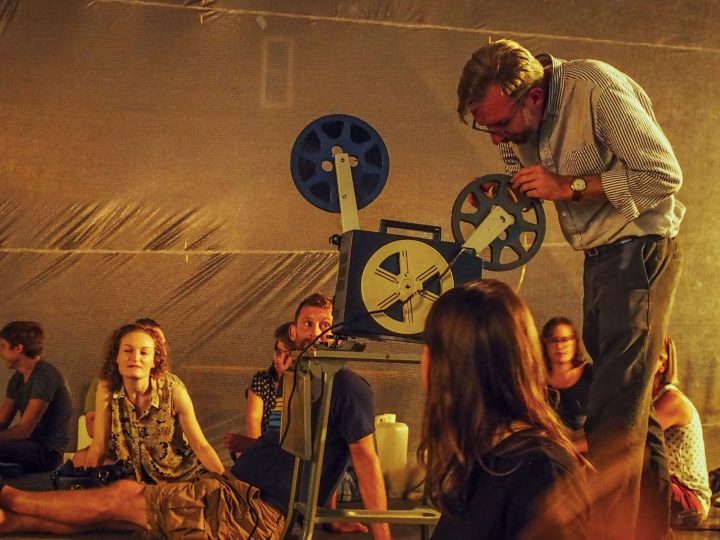 (c) raumlaborberlin
*  26.09.17  PARKING OF A WEDDING CHAPEL, MC PHERSONS AVENUE
Tuesday evening St.Louis Artist Basil Kincaid held his performance "the summoning" in the Spacebuster.
We had invited people of saint louis who needed the Spacebuster to invite us. Basil and his Gallery were among the entries.
It happened on the parking of a wedding chapel in McPhersons Avenue – a chique gallery street in the central westend.
Visitors had to wear a double layer of clothes and then cut each other apart and sew the textile back together.
A nice and friendly activity which had a huge collective quilt as a result. Basil said it was a tribute to the ladies in his family all great quilters. okay.
To enter the spacebuster everyone had to hand over his/her mobile phone into a basket.
A smartphonefree space – that was maybe the biggest invention of the evening
collaborators: Basil Kincaid, projects&gallery, Bridget Melloy.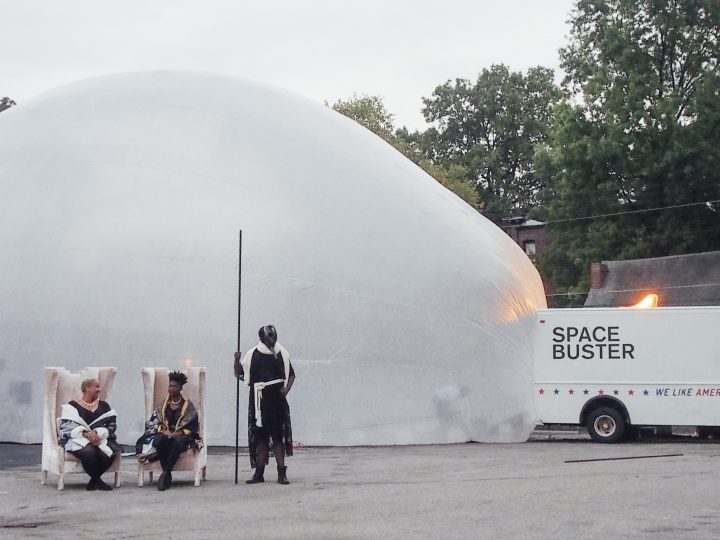 *  27.09.17  BARBARA C.JORDAN PUBLIC PRIMARY SCHOOL, UNIVERSITY CITY
Barbara C.Jordan public primary school in University City – not far from Ferguson. Barbara Jordan was a black lesbian politician, who almost became the candidate for the US Vice President of the Democrats (of course). The School was in some ways the contrast to the school we visited on Monday – purely black, and a teaching concept that seemed pretty basic. We felt we were at the right place with our inflatable space questions asking mobile unit.
collaborators: Barbara C.Jordan public primary school, Pulitzer Art Foundation
/ 
Kristin Fleischman Brewer, Sophie Lipman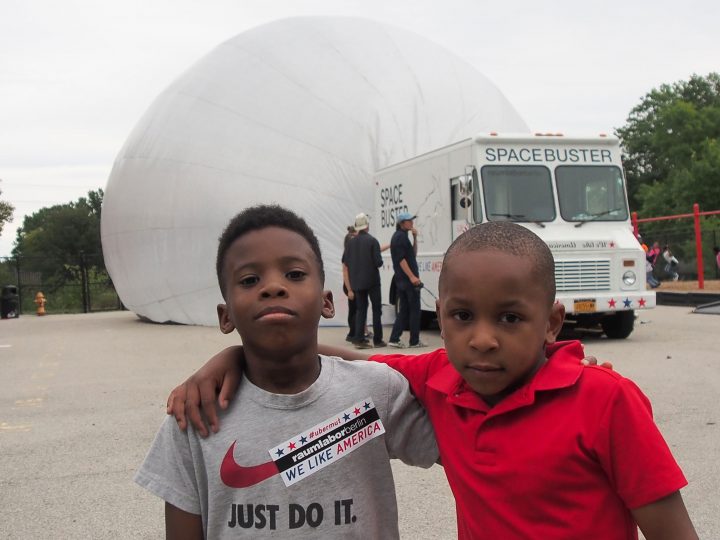 (c) raumlaborberlin
/// CLEVELAND
*  28-29.09.17 WADE OVAL PARK
Student Workshops, Debates, Film Screenings, Music.
Partnering with Cleveland Institute of Art, Cleveland Urban Design Collective, Museum of Contemporary Art Cleveland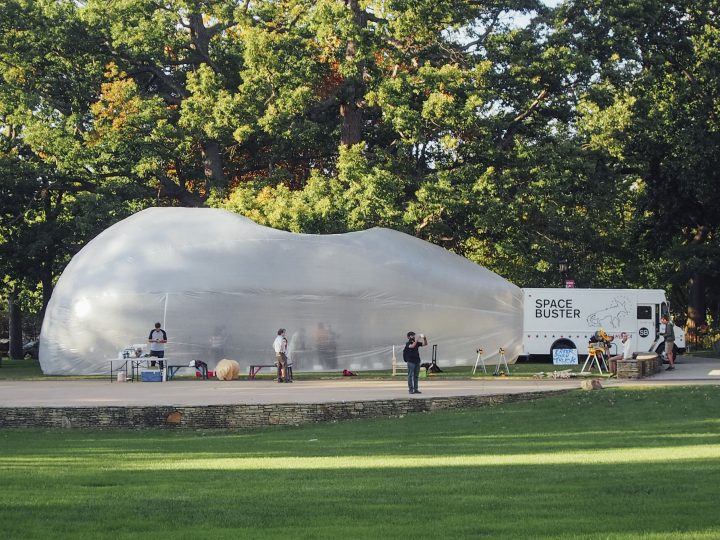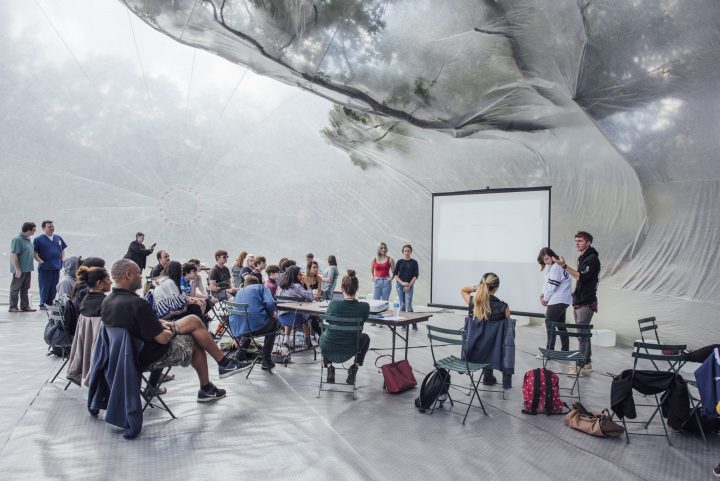 (c) Kevin Mcelvaney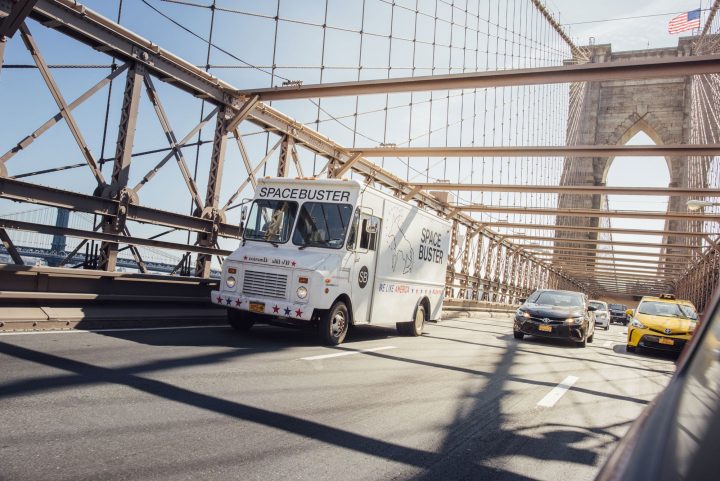 /// NEW YORK / 03.10 – 24.10.2017
* 04.10 LA PLAZA @LE CLEMENTE / 114 NORFOLK STREET
Addressing issues of migration, recent humanitarian crisis in the Mediterranean, and the role of architecture in the response to natural disasters, 
In Response to Hurricanes 
features writer and architecture critic, Niklas Maak, presenting his take on "emergency architecture". The presentation will be followed by responses by Amy Chester, Director of Rebuild by Design, and by Marcelo López-Dinardi, who trained as an architect in Puerto Rico, contextualizing the conversation around the aftermath of Hurricane Maria.
Speaker : 
Niklas Maak /  
Respondents : 
Amy Chester, 
Marcelo López-Dinardi / 
Moderated by Carlos Mínguez Carrasco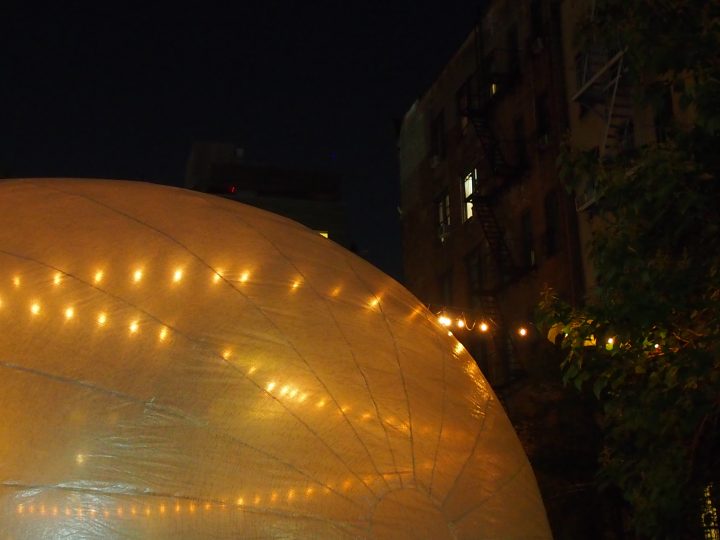 * 06.10.17 GERMAN INTERNATIONAL SCHOOL
Future School Models – cardboard model building workshop with students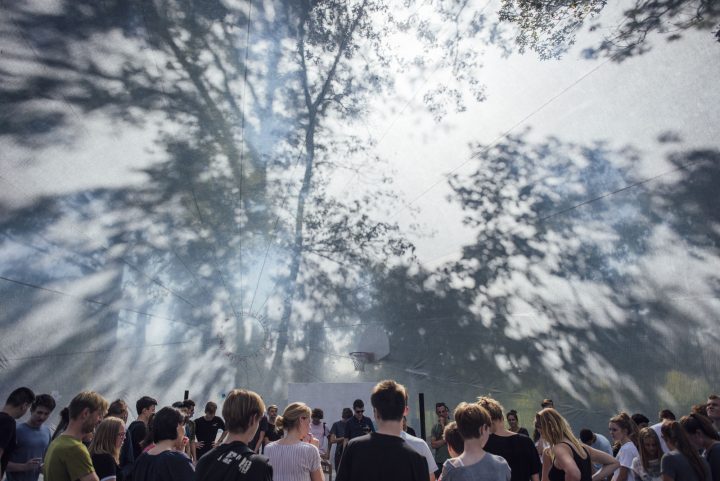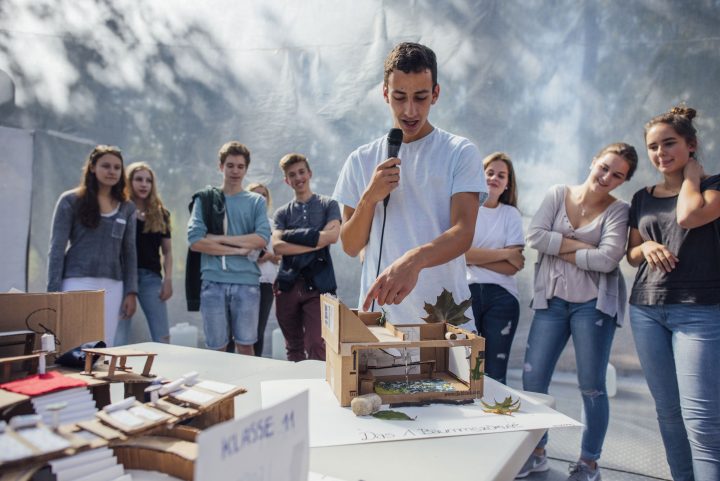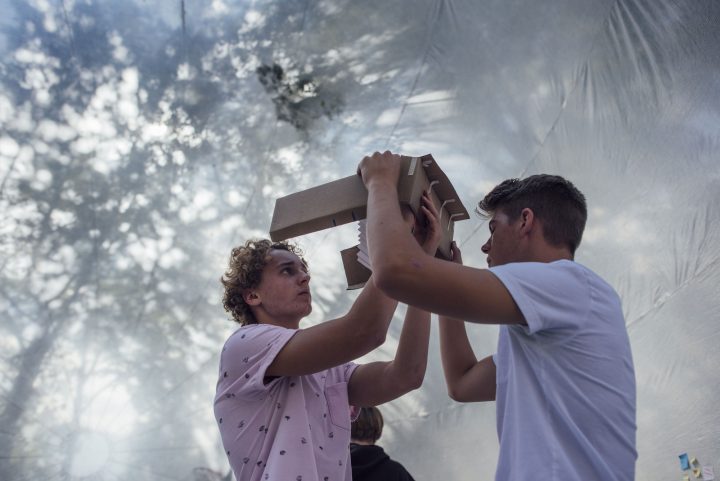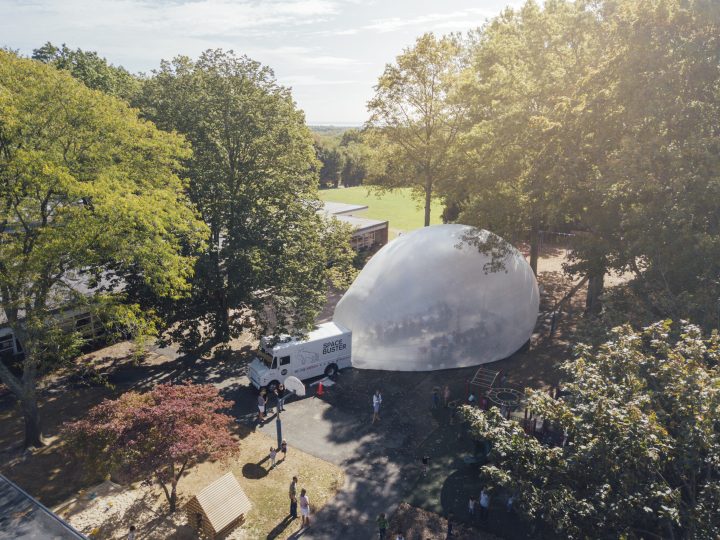 (c) Kevin Mcelvaney
* 06.10.17 FORT GREEN PARK, BROOKLYN
This Saturday, October 14th, Spacebuster will set up shop at Fort Greene Park The day program will consist of a furniture building workshop, supervised by Raumlaborberlin. Community residents are invited to participate in building a chair—and taking home their creation. The chair building exercise is part of GENERATOR an ongoing prototyping experiment by raumlaborberlin, where community input from each workshop engenders a new model. On Saturday, Brooklyn residents will build the "Sedia Venezana", developed in Venice during the Biennale di Architetura, and the feedback from here will be used in the future towards the "Brooklyn Boheme Chair".
At dusk, Spacebuster will present an hour of curated short films by Hamburg and Berlin independent film makers featuring the performance collective Baltic Raw, and "Quick Animation" (1989), an Eastern Bloc "Berlin-wall era" take on hip hop culture. 
At 7:30 pm, there will be a screening of "Brooklyn Boheme" (2011), a love letter to Fort Greene's past as a vibrant cultural mecca of the late 80s and early 90s. Film makers, Diane Paragas and Nelson George will be on hand for a talk back moderated by writer / performer Carl Hancock Rux (who also features in the film).
Free, kid-friendly, and open to the public.
Oct. 14, 10:00 am – 10:00 pm
@ Fort Greene Park 
(near the Washington Park / Dekalb entrance)
12:00 pm
"Prototyping the Brooklyn Boheme": a Furniture making workshop. Participants will be allowed to take home their creations.
6:00 pm
Screening: short works by Berlin / Hamburg filmmakers
7:30 pm
Screening: Brooklyn Boheme
8:45 pm
Talk back with filmmakers, Nelson George and Diane Paragas, moderated by Carl Hancock Rux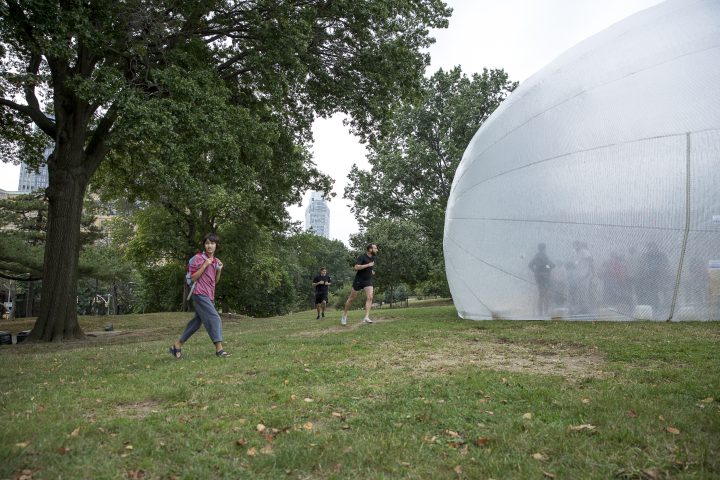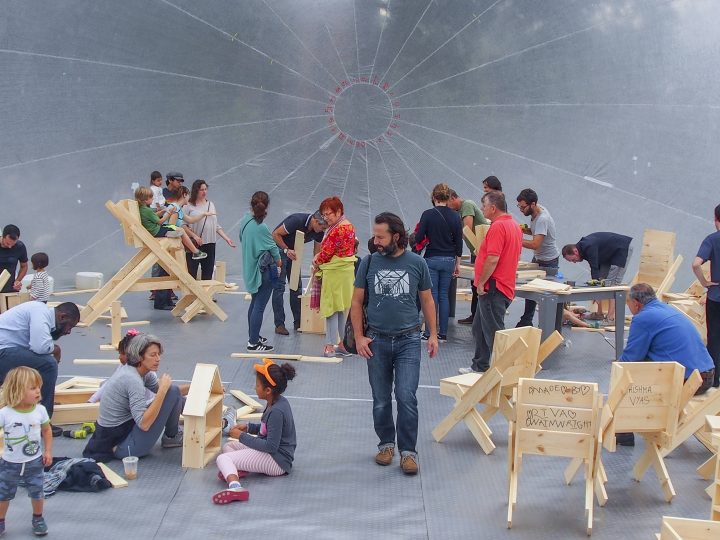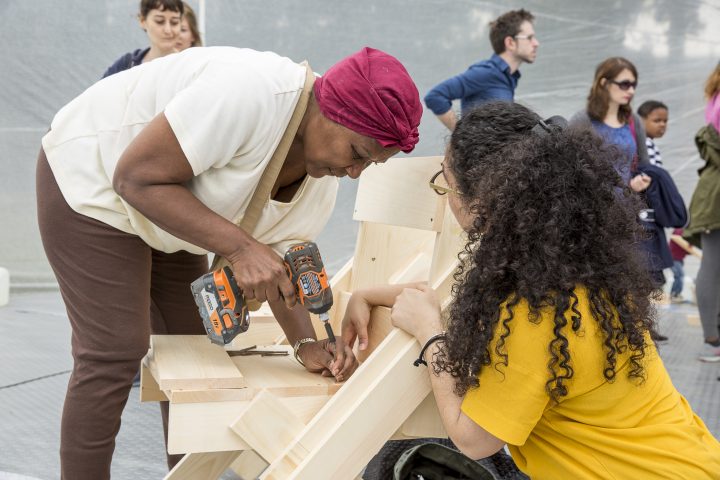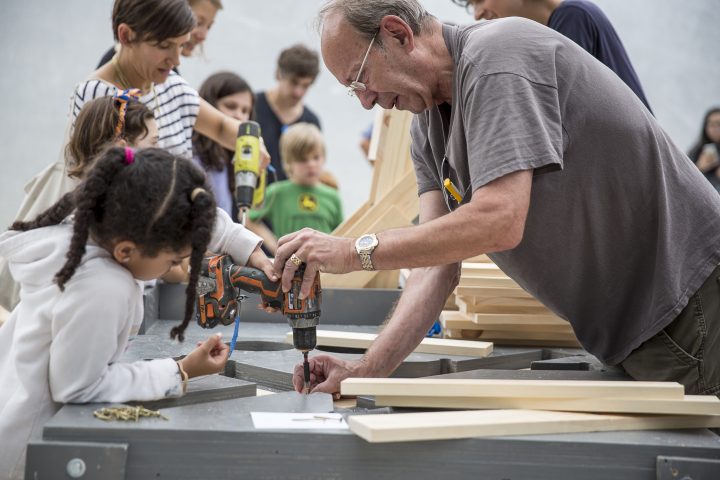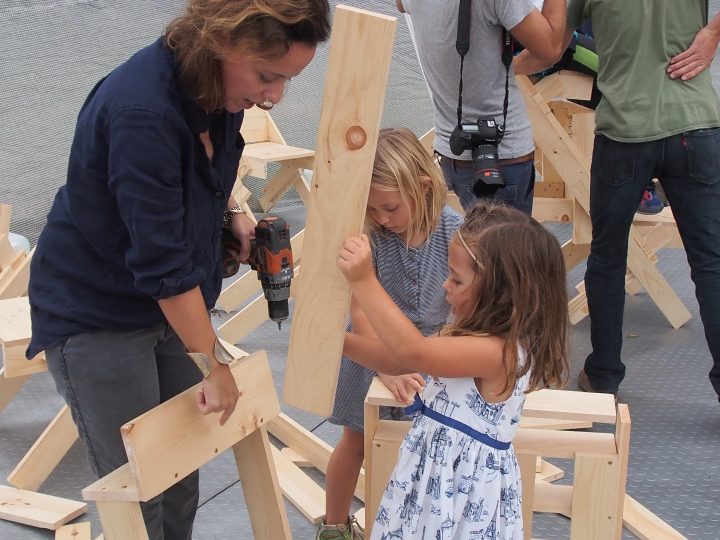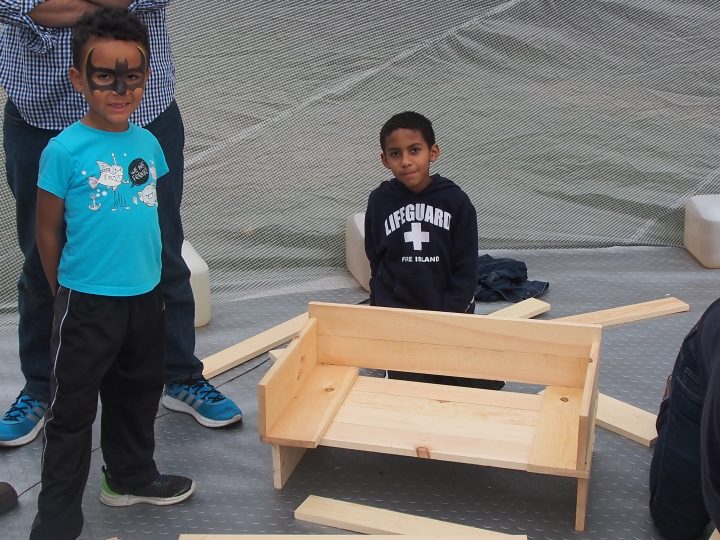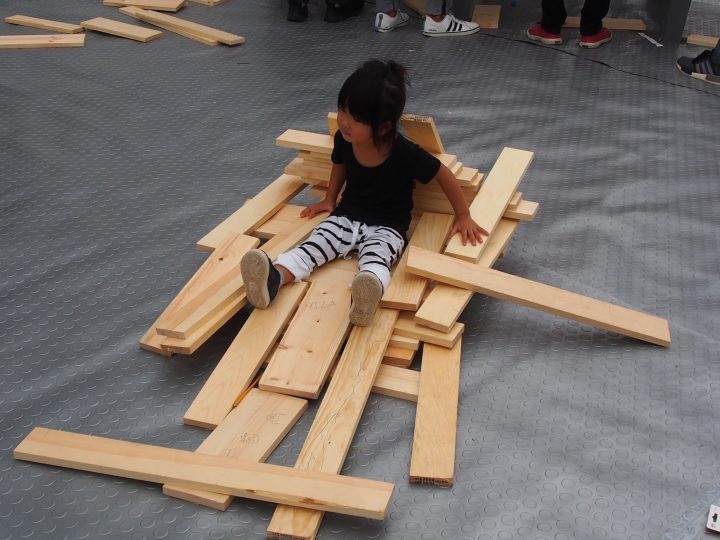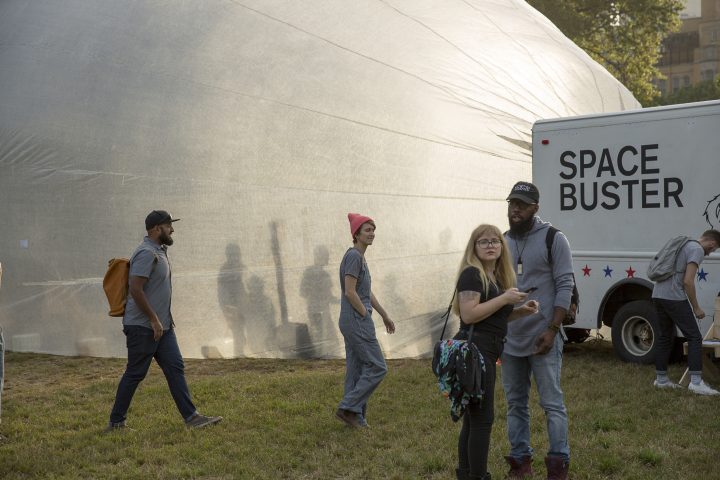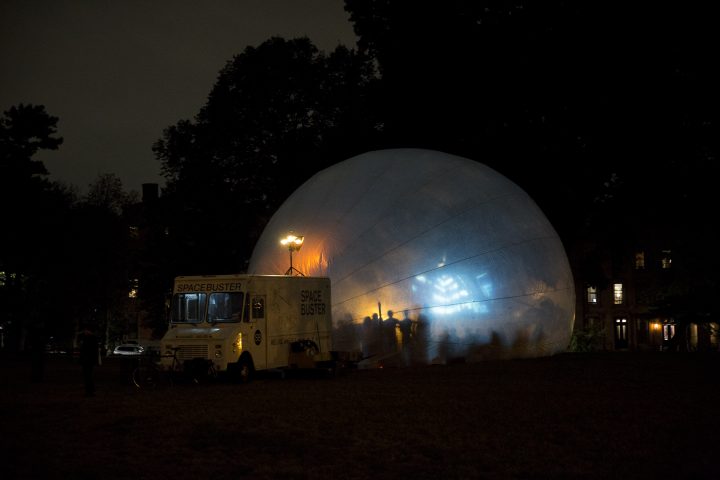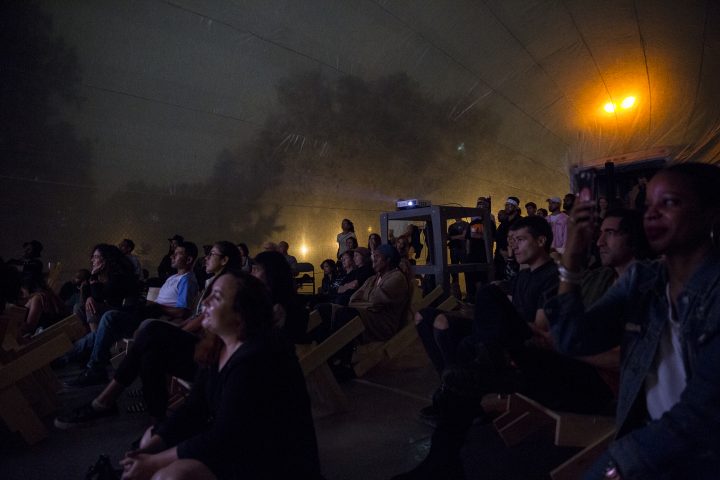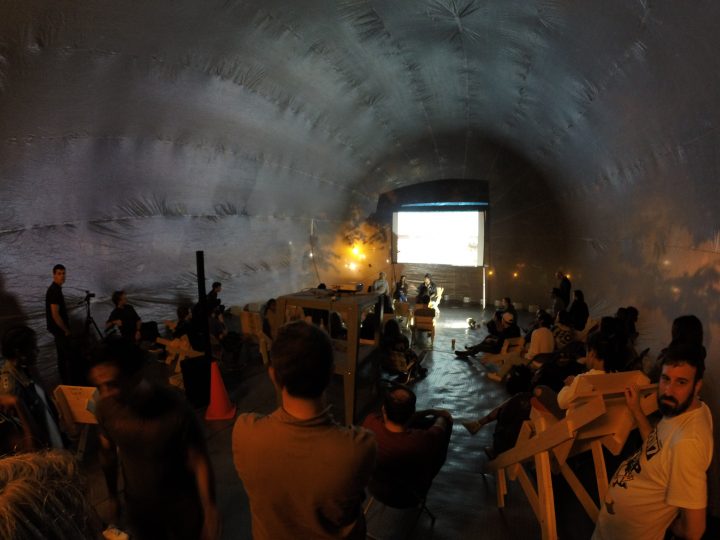 (c) Luka Murovec and Mathhias Kestel
*  21.10.17  CENTRAL PARK, NYC
Spacebuster as part of It's Happening! Celebrating 50 Years of Public Art in NYC Parks
Saturday, October 21st from 11 am to 3 pm
Central Park's East Pinetum (East 84th Street entrance), located on the basketball courts 
"During New Iconicities, participants of the show will present their ideas about what should constitute an icon of the city today. In parallel to open discussions, raumlaborberlin, the creator of the Spacebuster, will lead a public workshop that invites visitors to produce their own iconography for their neighborhoods, inspiring new ways of perceiving the city of New York."