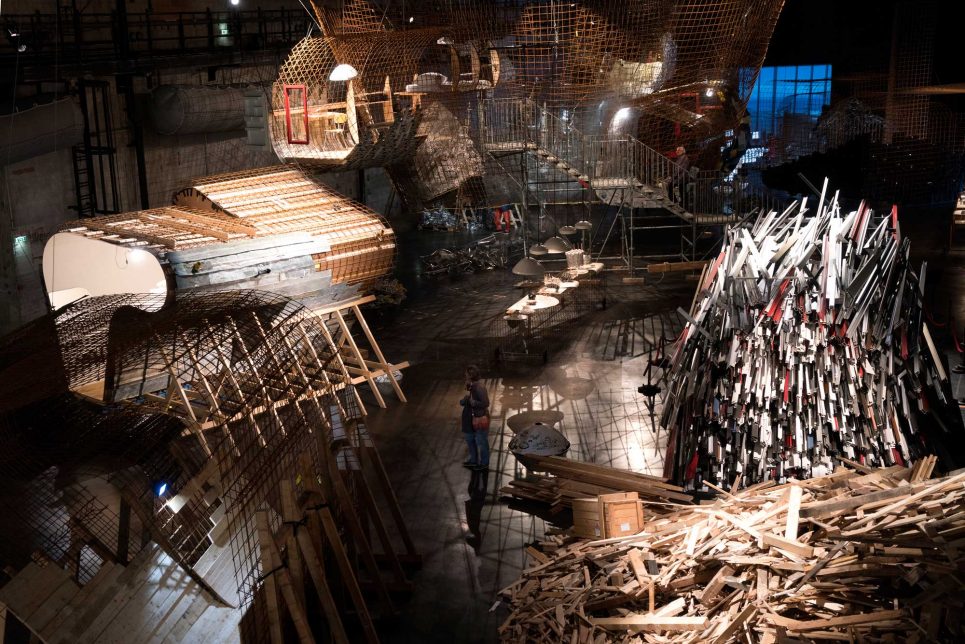 NEOCODOMOUSSE
guests :
Gary Hurst
Yü Chen
Bruno Franceschini
commissioned by Sophie Legrandjacques, directrice du Grand Café centre d'art contemporain
LiFE – Grand Café contemporary art centre, Saint-Nazaire, France
construction :
Ariel Curtelin
Eduardo Conceicao
Fanny Benguigui
Jonas Johannes Johnke
Gregor Siems
Patrice Zaag
Samuel Boche
Sascha Biessmann
photographs by :
Marc Domage
Mathilde Bonnet
Samuel Boche
03. June 2016 – 09. October 2016
An Exhibition by raumlaborberlin
curated by Sophie LegrandJaque
Supported by the Team of Grand Café
raumlabor's largest exhibition this year is an experimental building workshop in the former submarine base of St.Nazaire.
St. Nazaire is an industrial harbor town at the mouth of the Loire. It lives of the production of the largest passenger ships on earth, aeroplanes and fuel. Fuel is at its end and aeroplanes and cruiseships are among the greatest killers of our climate. Based on these three foundations the city is obviously an economic center of an ending era. What are the possible futures for such a place? Raumlabors proposal for St.Nazaire is to get a foot in the door of a new emerging market:  the production of collective space from industrial waste. 
In the exhibition we present our first 1:1 tryouts of structures for the future of collective housing.