raumlaborberlin has been invited by the cultural and planning department of Tromsø to design a public space in connection with possible future art and urban interventions. We are interested in the city as a space of activity: urban identity arises from inhabitants' relationship to their environment. The project aims to define specific qualities and programs for new public spaces in Nordbyen and proposes locations and themes for urban interventions and public art.
Participative workshops on Nordbyen public space / April 2017
The first workshop was held with the intention to gain insight, knowledge, and background about Nordbyen, Tromsø, including the city's history and everyday life. The workshop resulted in two maps that capture Nordbyen's identity, imagine its future, and serve as a vehicle to facilitate citizens' involvement in the process of city planning and development of the future city and public space.
Nordbyen Potential Map:
The first map was created to highlight both areas of potential and shortcomings of the current urban situation in Nordbyen. The workshop participants pointed out buildings and landmarks and speculated on programs and atmospheres significant to the city that could function as a point of departure. The input from participants ranged from specific historical accounts, such as the Sausage Battle, to broader ideas like affordable housing and the presence of creative spaces in the shipyard area.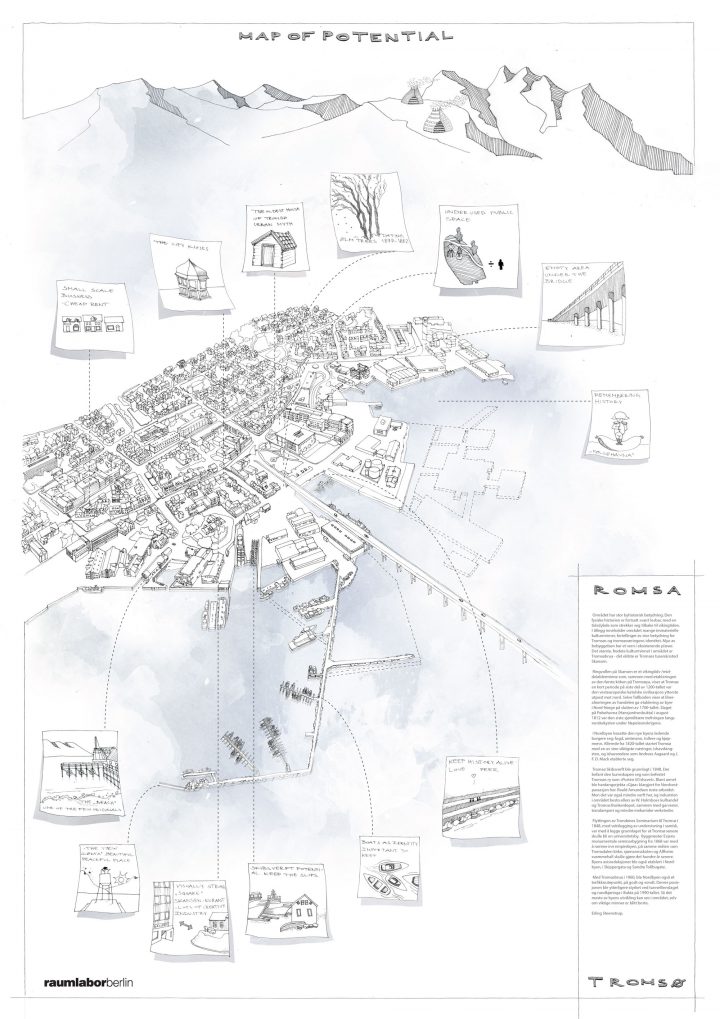 Nordbyen Desire Map:
Based on the initial map the group discussed goals and desires for the future public space, thinking about how to engage the historical and cultural tradition of Tromsø. Wishes for better playgrounds, the preservation of historic buildings in the shipyard, skateparks, closed roads, etc, appeared to be priorities as discussion evolved. Residents were critical of the free-market nature of city planning politics, desiring for more bottom-up processes and community involvement.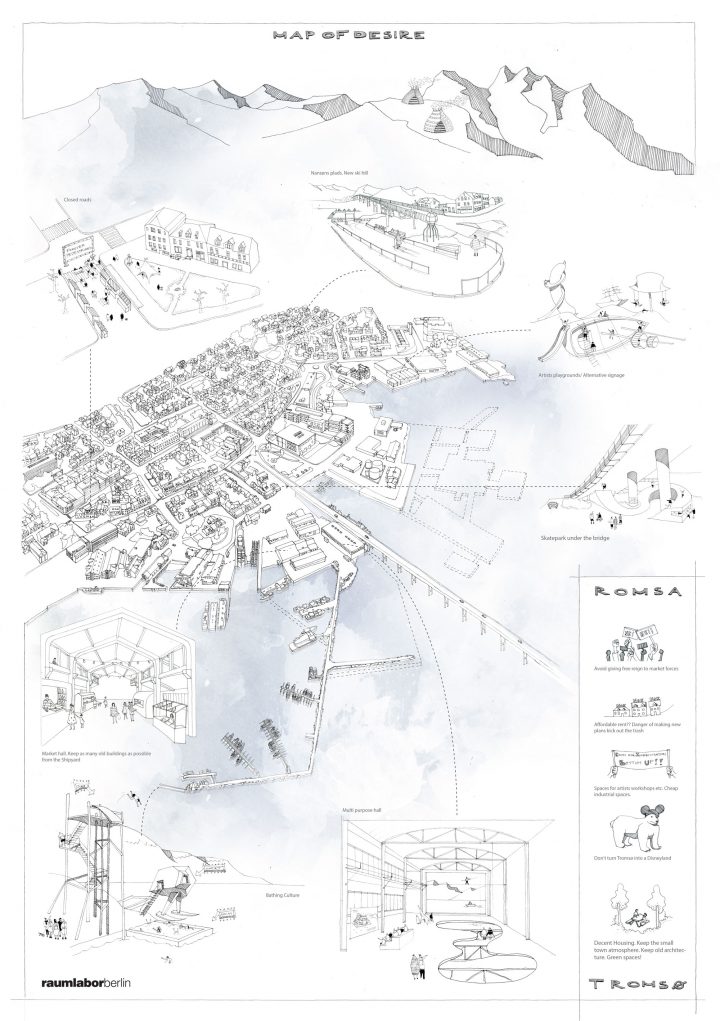 Nordbyen Suggestion Map
We produced a final mapping, synthesizing the previously outlined potentials and desires. By comparing the development plan for Nordbyen to its existing urban conditions, we outlined areas most subject to change. The diagram seeks to understand the nature of these particular urban zones and makes suggestions for their future development.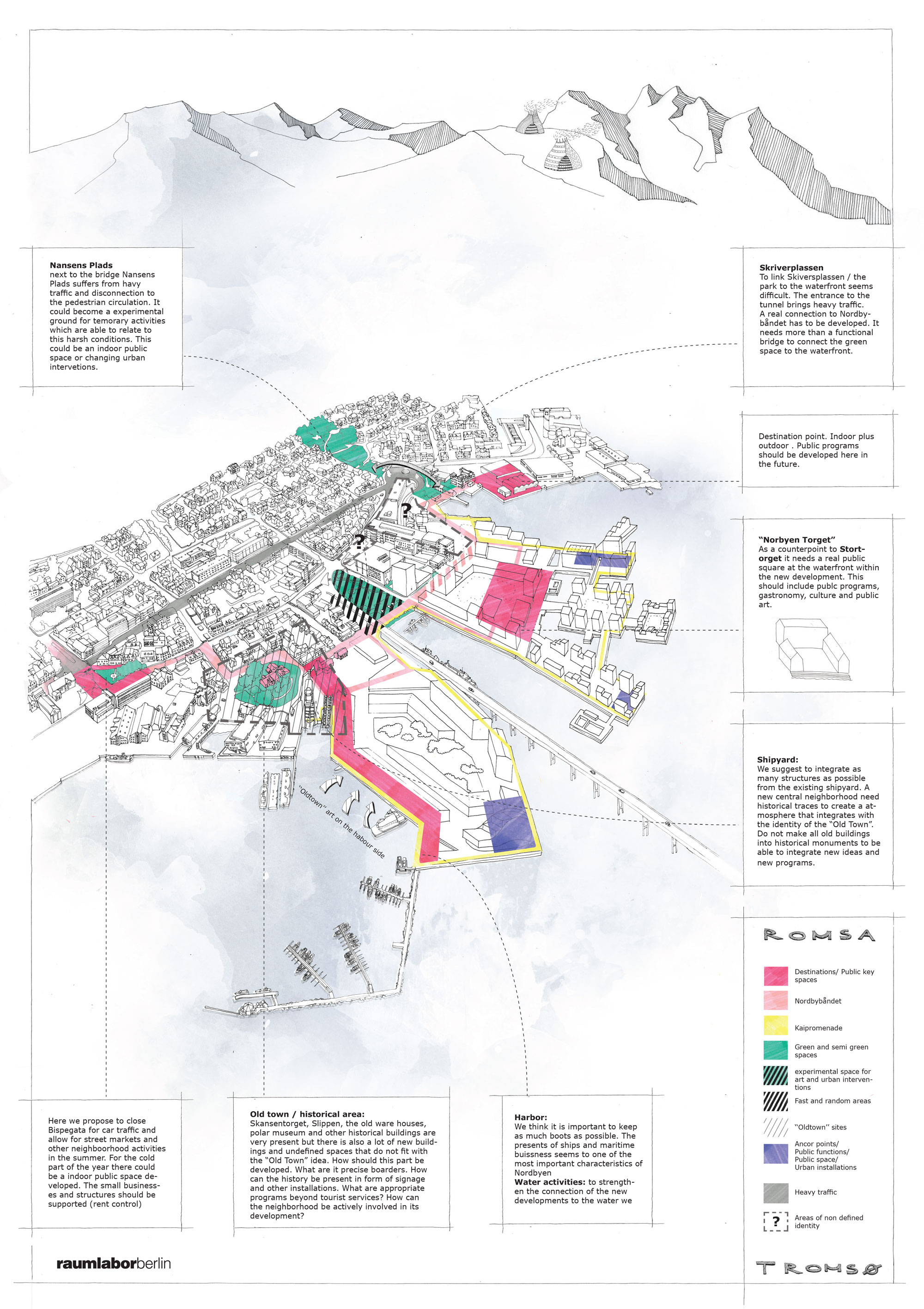 KA NO / WHAT  NOW?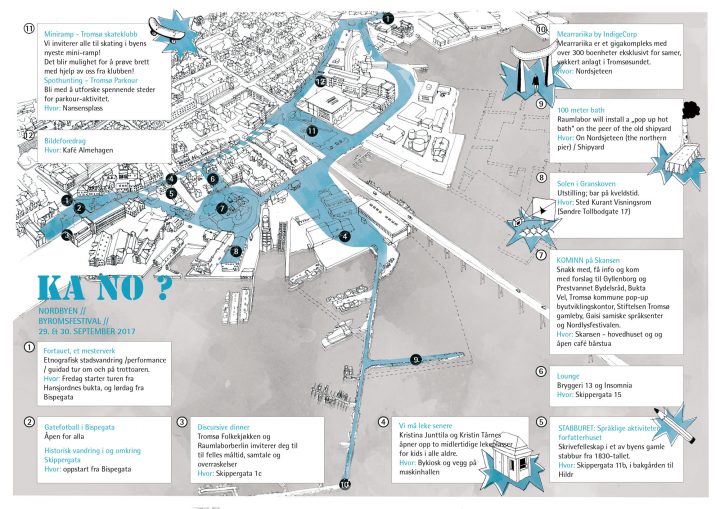 Henry Lefevre: «Space is a product of social acting»
KA NO / What Now? is a two-day festival in Tromsø, with the goal of opening a discussion about qualities and programs for future public spaces. Where do people meet in Nordbyen today? How do we imagine the future of Nordbyen? Which places are meaningful for the history of Tromsø? How can we recognize the history of the old town but avoid Disneyfication? What kind of programs can be introduced for kids and youngsters? A wide range of individuals, students, actors, artists, and initiatives are invited to contribute to the discourse about the future of Nordbyen. Artworks, installations, performances, guided tours, bathing, processions, speeches, and exhibitions were part of the program.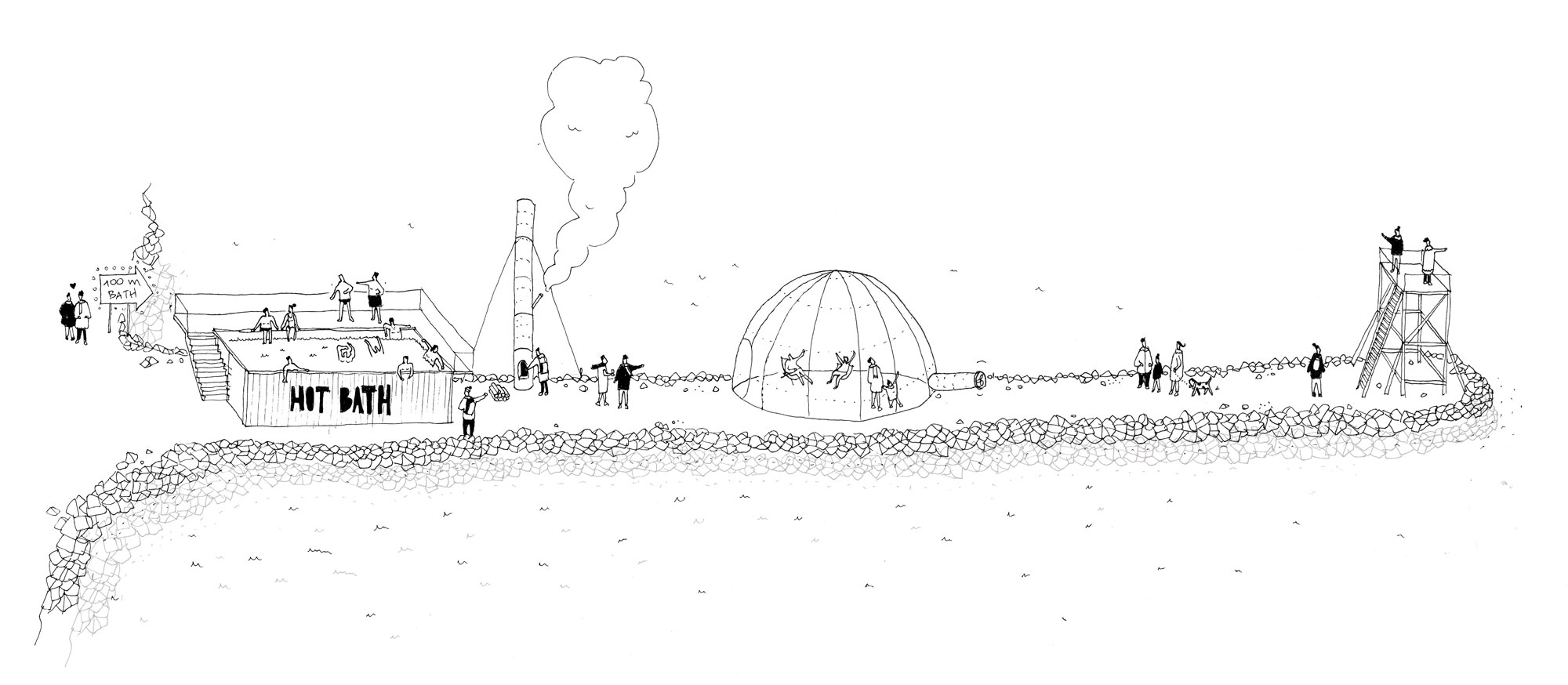 The 100 meter bath

raumlaborberlin designed and, in collaboration with local residents, built a public bath on the pier of the old shipyard in Nordbyen, Tromsø. The workshop intended to discuss and test new non-commercial social programs for the future of Nordbyen. The pier, being the future edge of new city development, holds significant symbolic value in this regard. In addition to the hot bath, the pier featured a viewing platform and inflatable bubble that served as a space for relaxing.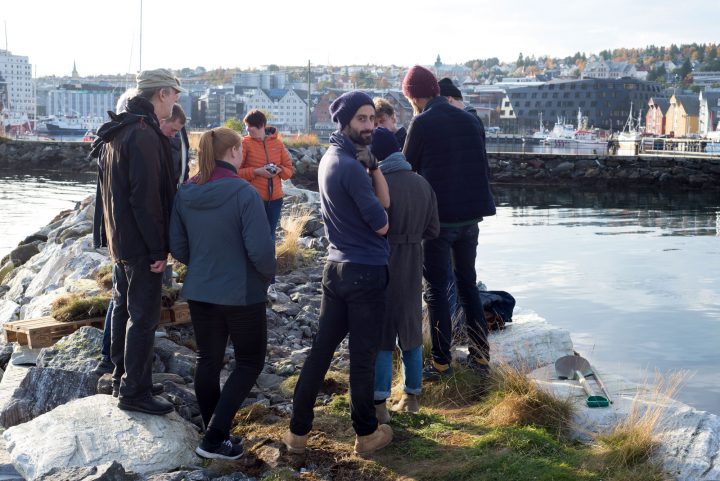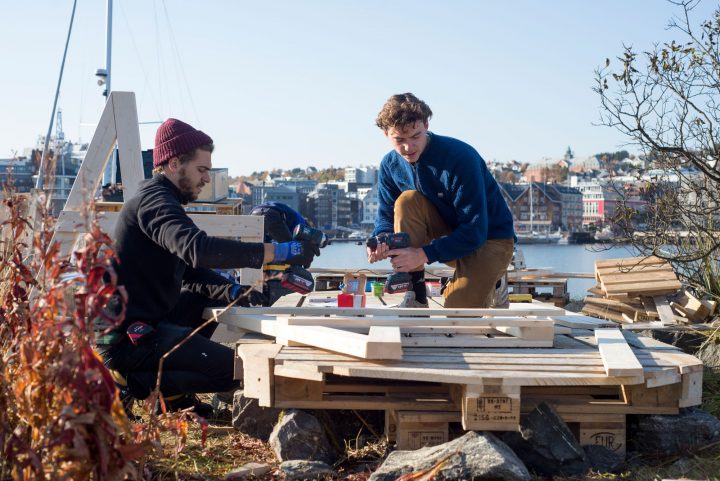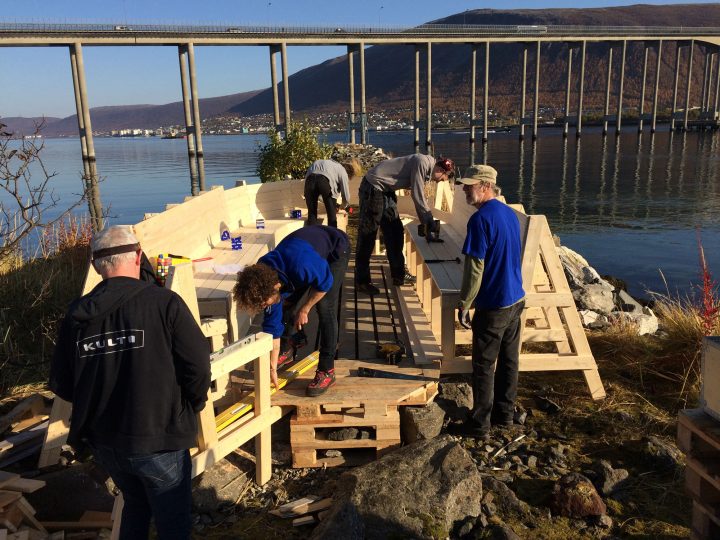 The mayer Kristin Røymo open the Bath quoting Jane Jacobs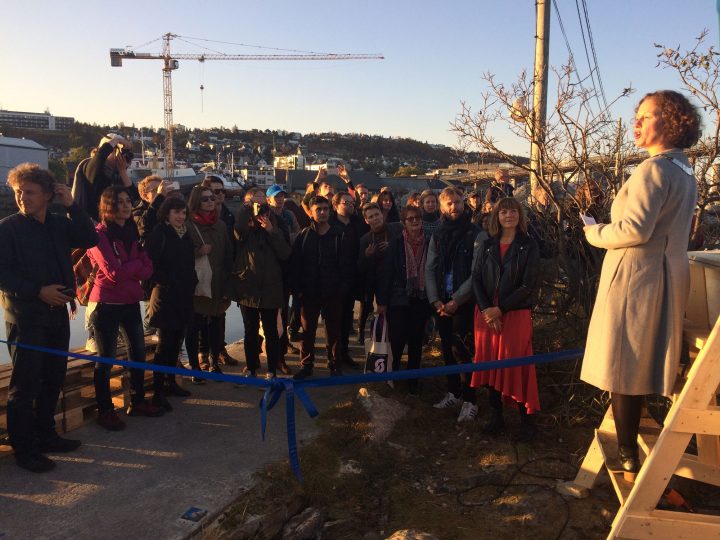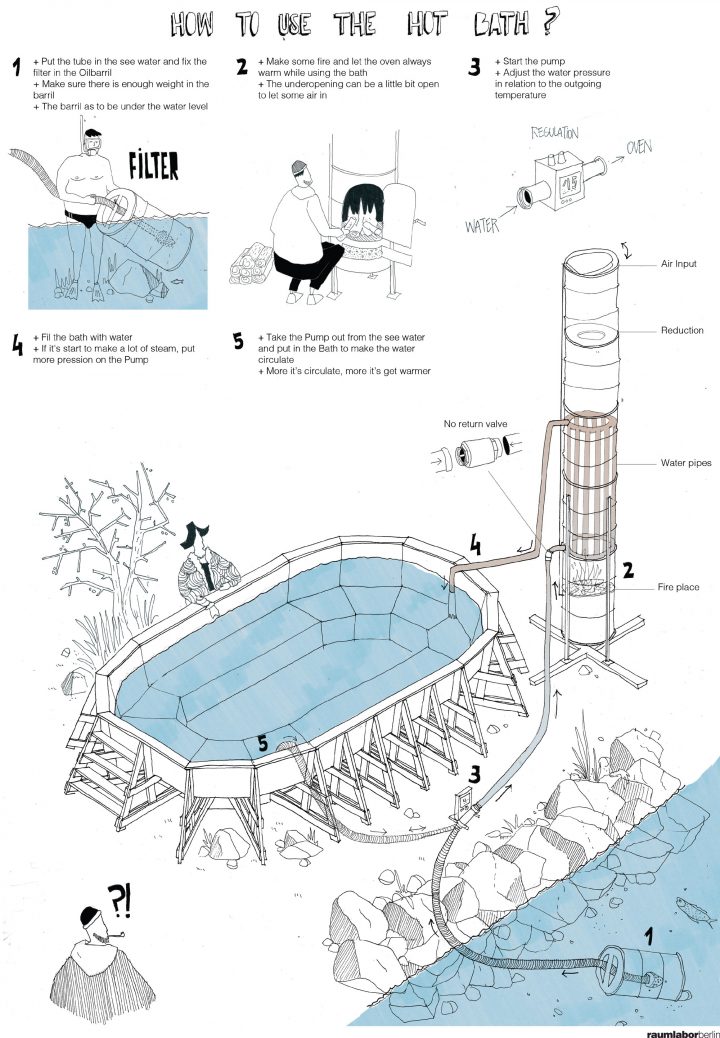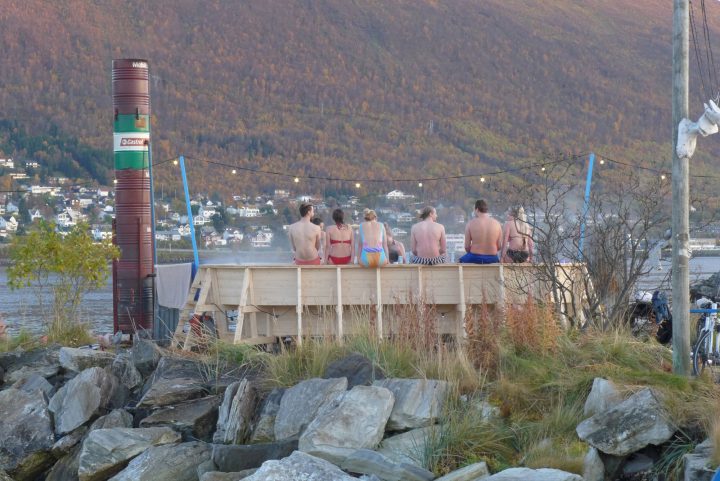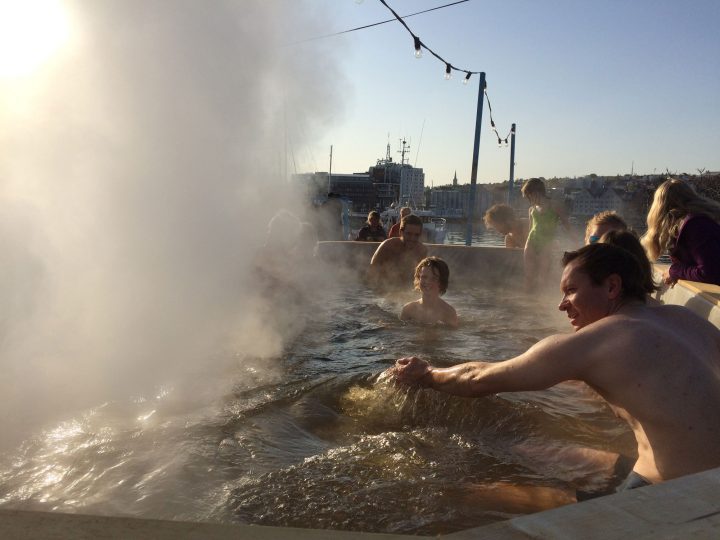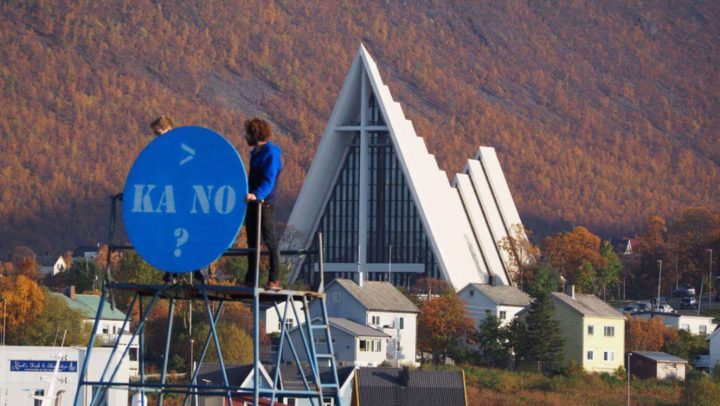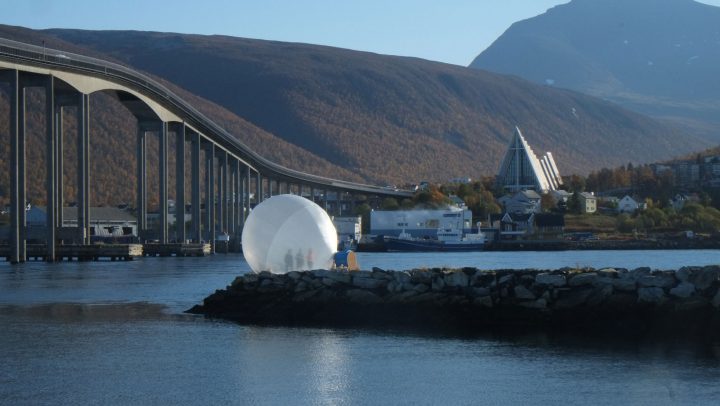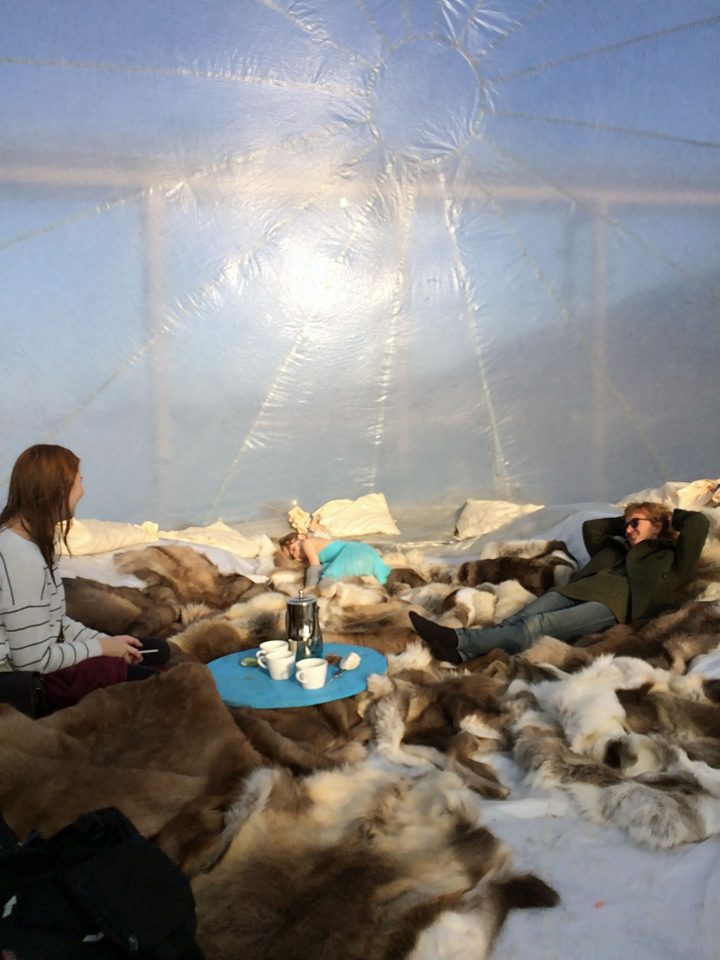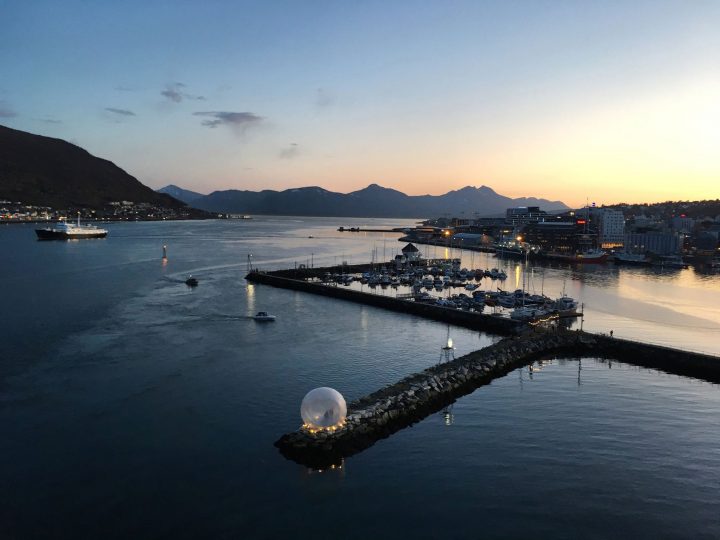 The Pavement, a masterpiece, Lisa Torell
Ethnographic city walk / performance; ca. 30 min.
"Imagine that I could look at it as if it were outside of it, but I can't—because it is now there. Society, individuals, people move with regard to visual and spatial codes. Many always do. It works against physical or political agreement. In some places their concentration is larger, the planning better, it is as if we are more in certain places and thus have several needs to function there. Otherwise there is no logic. It is more than deeply enshrined in one generation to the next. The image of an accessible society. Paintbrush, pastel, there was something cream-like in it and maybe a smoke generator.
Above the really real. "Each tour takes about 30 minutes" (but it actually only takes 10 minutes)."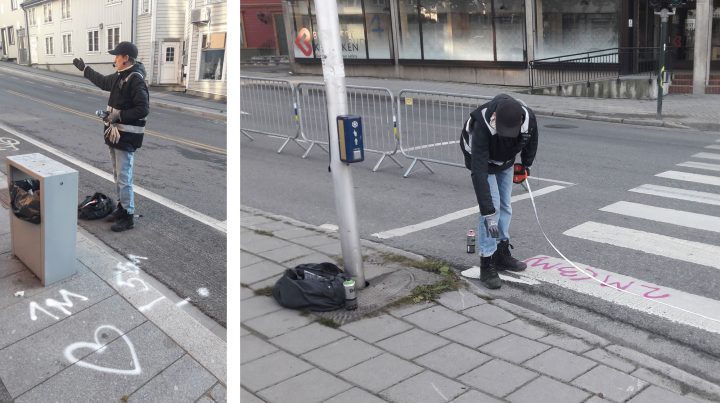 Tromsø Skateklubb and Tromsø Parkour
Skateboards form part of a living urban space.
"We want to participate in the development of the Northern City and offer our competence for creating a unique urban environment in the city. Tromsø Skateboardklubb installs a mini-ramp at Nansenplass square. Parkour, or the art of movement can be defined as the most effective way to move from A to B. In Parkour one uses the environment creatively and with physical expression.
A parkour workshop was arranged at Nansenplass square in the form of "spot hunting", using the availability of terrain and constructions in the area to create varied forms of movement and flow. Instructors were present to teach basic parkour moves.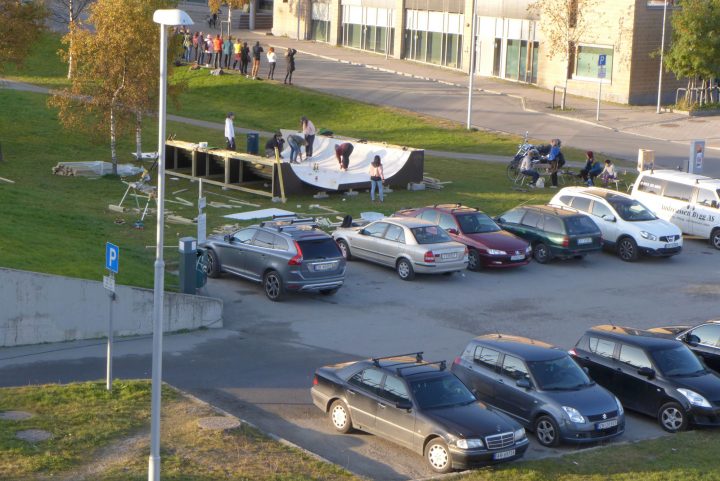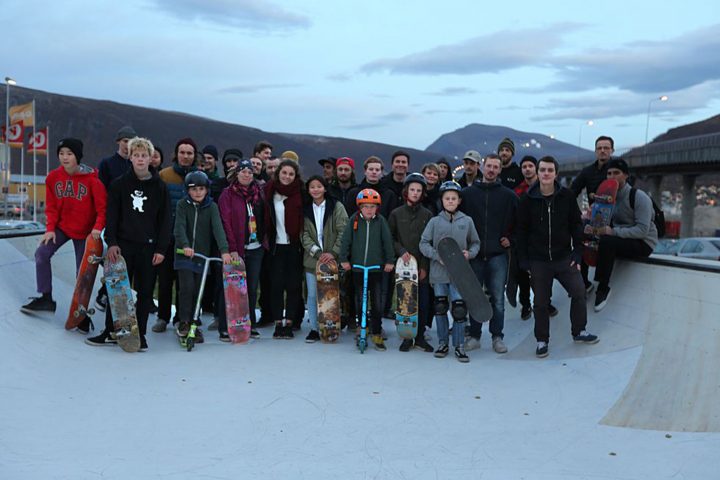 ©itromso.no
Streetsoccer on Bispegata street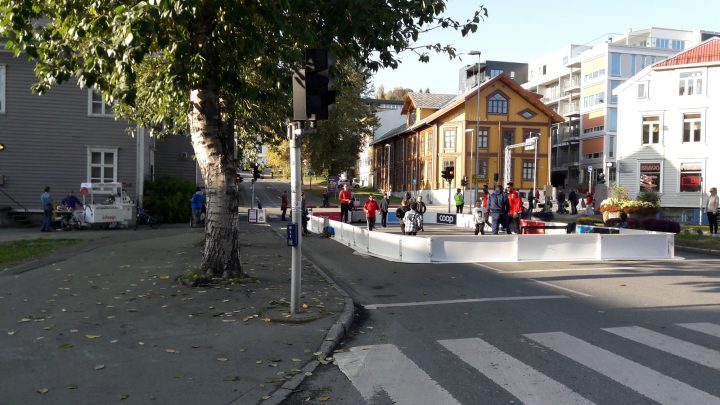 Opening performance of the Teaterstudents – Ved UIT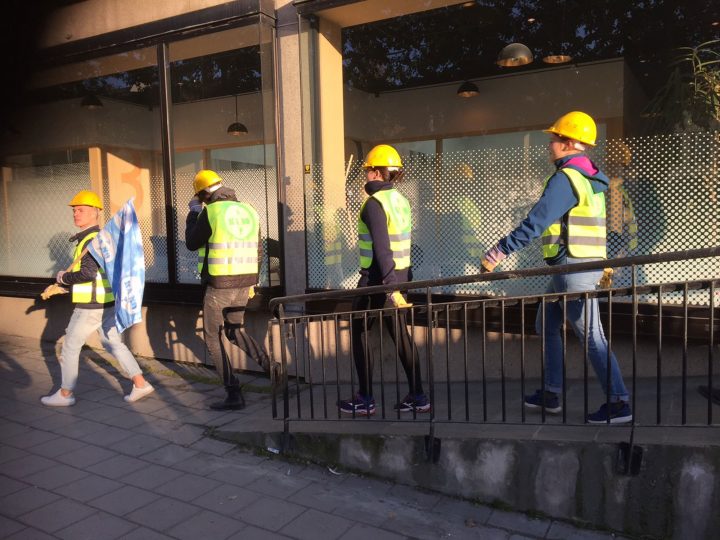 Livepainting – Kristina Junttila, Kristin Tårnes

"There a no good playgrounds in the city. Only children themselves can create good playgrounds." Kristina Junttila provides two temporary playgrounds for children of all ages. We open up two potential playgrounds, where children can express how they want to play in the Northern City. The playgrounds can also be seen as art installations, where, among other things, a film that was shot during an entire year were projected, in which Kristina Junttila and Kristin Tårnes demonstrate the different ways they have played at the shipyard.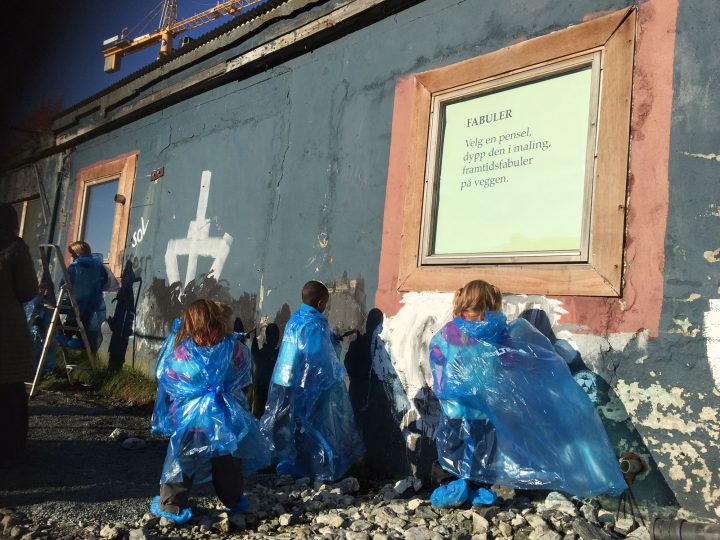 Mearrariika by IndigeCorp, Sigbjørn Skåden, and Joar Nango

"Do you dream about a place where both the pulse of the metropolis and the Sami traditional culture form part of everyday life? Do you want to keep your indigenous rights to natural resources, even though you have moved to the city? Do you want that your children grow up in an environment where Sami is a majority language, at the same time that you can live your urban and ambitious professional career? The answer to these questions is Mearrariika, a giga-complex with more than 300 units, exclusively for Sami people, located in a beautiful area at the Tromsø Strait. The project has his own kindergarten and school, a cultural center and a library, as well as its own butcher and fish reception facility. Mearrariika as a community in society."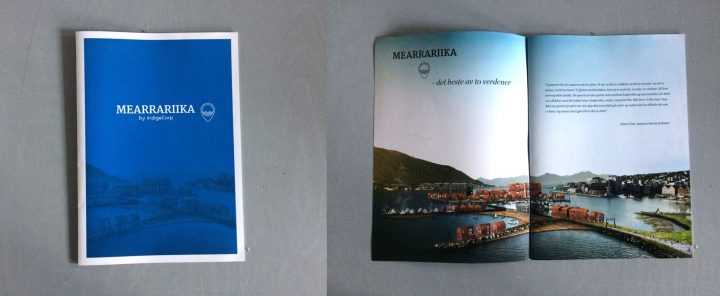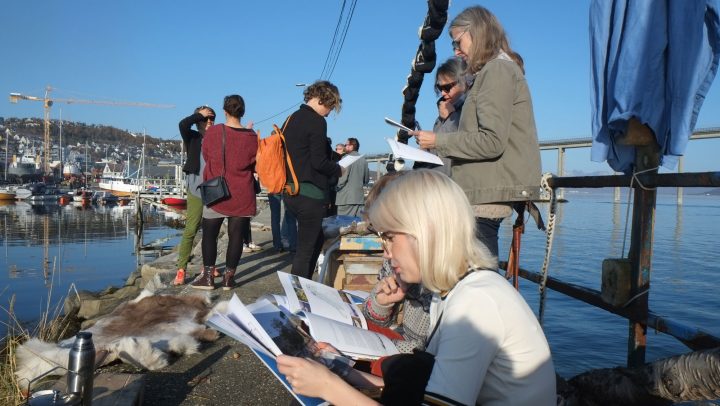 Discursive dinner