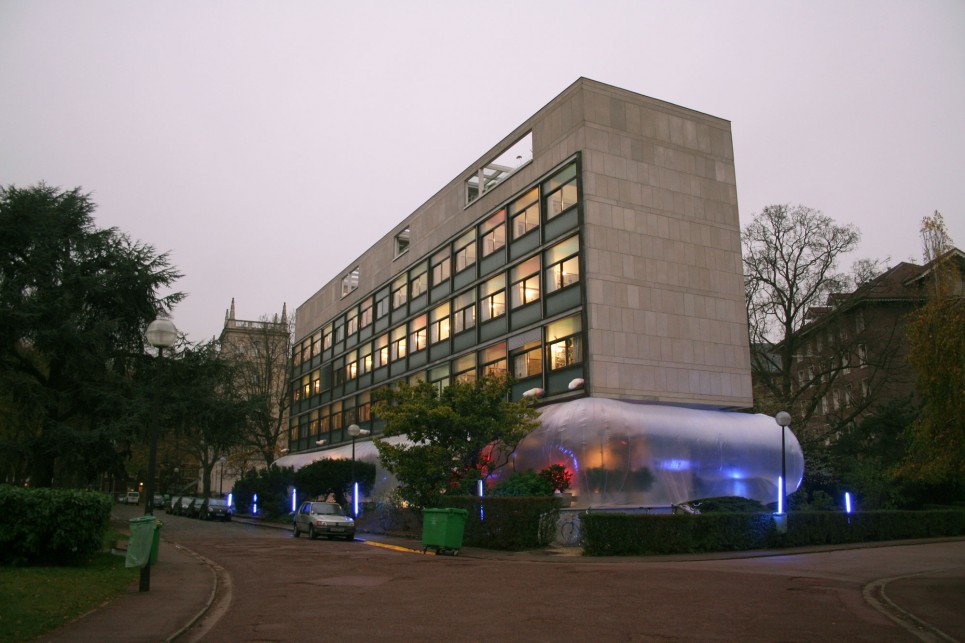 Hovercraft – Lifting Modernism
The "Fondation Suisse" is the most prominent dormitory of modern times. To mark the 75th anniversary in november 2008 raumlaborberlin was commissioned to find a temporary solution for a recurring problem: the missing space for big festivities. In summer the "piloti" called terrace underneath the building would have been perfect, but in november it was too cold. We proposed to wrap the space with an inflatable, translucent membrane and thereby transform the semi public ambient  to semiprivate. For three days the pneumatic hall gave home to concerts, speeches, dinners, a conference and a party.
Die "Fondation Suisse" ist das prominenteste Studentenwohnheim der Moderne. Zum 75 Jährigen Jubiläum im November 2008 bekam raumlaborberlin die Aufgabe ein wiederkehrendes Problem des Gebäudes temporär zu beheben: der fehlende Raum für größere Feierlichkeiten. Im Sommer hätte man kurzerhand die "Piloti" genannte Terrasse genutzt, aber dazu war es nun zu kalt. Wir schlugen vor den Raum mit einer pneumatischen, transluzenten Membran wintertauglich zu machen und damit von einem halböffentlichen Raum zu einem halbprivaten zu transformieren. An drei Tagen fanden in der pneumatischen Halle Konzerte, Festreden, Vorträge, eine Konferenz und eine Party statt.