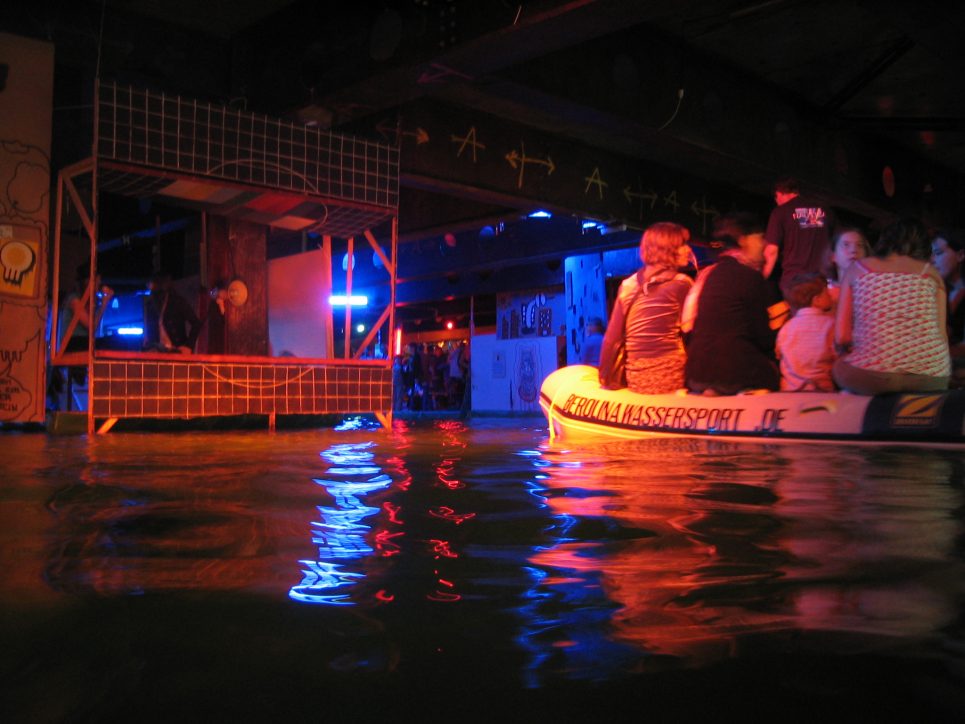 Fassadenrepublik
A project by raumlaborberlin and Peanutz Architects
Invited by the "temporary palace users" (Sophiensäle, HAU, Urban Catalyst)
Ein Projekt von raumlaborberlin und Peanutz Architekten
Auf Einladung der "Zwischenpalastnutzung" (Sophiensäle, HAU, Urban Catalyst)
 Beteiligte Künstler: Club Real, Grotest Maru, Interarte, Elsa Hourcade, Stefan Vens, Arianne Hoffmann, Pyonen, Mental Architecture, Christoph Brucker u. v. a. m.
We flooded the Palast der Republik and invited the residents of Berlin to shape a republican environment for themselves and to design facades for a water city. Rubber dinghies were the only mode of transport. Anyone could get involved in designing the image of the city in a role-play that simulated the ongoing debate on architecture and urban planning. The façade academy and its topclass lecturers, the parliament, the façade workshop and the red light district all provided options to choose from.
Wir haben den Palast der Republik geflutet, die Berliner aufgefordert, ihre republikanische Umwelt selbst zu gestalten und Fassaden für eine Wasserstadt zu entwerfen. Fortbewegung war nur mit dem Schlauchboot möglich. Jeder konnte das Aussehen der Stadt mitgestalten, in einem Rollenspiel, dessen Regeln auf einer Simulation des Architektur- und Planungsdiskurses basierten. Möglichkeiten dazu boten die Fassadenakademie mit hochkarätigen Dozenten, das Parlament, die Fassadenwerkstatt und das Rotlichtmilieu.