During the Grand Opening of the Liebling Haus – The White City Center, in cooperation with raumlaborberlin, we turned the Bialik Square into a setting for conversation and active listening in order to address the Bauhaus legacy and its influence on the City of Tel Aviv-Yafo to this day.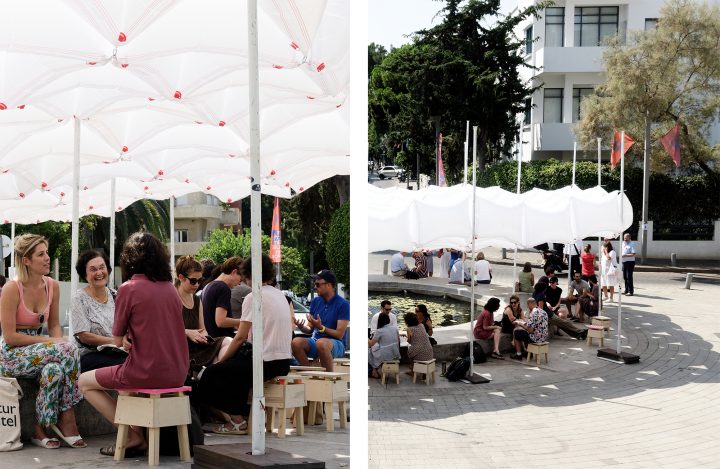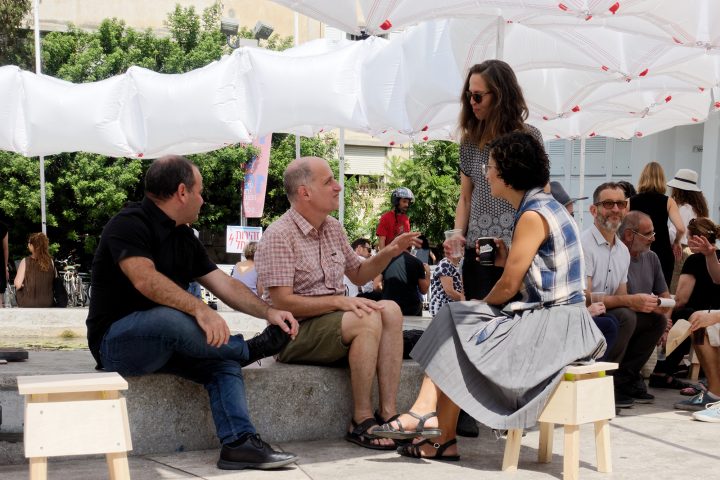 "Dialogue as Form" invites neighbours of the White City, festival attendees and experts to gather in small groups around a handful of tables. Situated under a weightless canopy, these intimate, face-to-face encounters invite them to immerse in deep conversation with one another. These simultaneous dialogues bring together multiple voices from spatial practices to converse about climate, trust, (dis)comfort, duration, presence, style, ownership, relationships and heritage channeling the creative energy of the Bauhaus into Tel-Aviv here and now. 
The format brings together experts both from Israel and Germany to contribute to a lively conversation about architecture, heritage and urban life.
With:
Mike Turner, UNESCO Chair in Urban Design and Conservation Studies, Bezalel Academy Tel Aviv
Dr. Jeremie Hoffman, Head of conservation dept. Tel Aviv-Yafo
Shira Levy Benyemini, Director Liebling Haus – The White City Center
Udi Carmeli, City engineer, Head of the project and co-chair of board of trustees of Liebling Haus
Ella Weber, expert on Municipal Housing Policy, Strategic Planning Unit the city of Tel Aviv
Yoav Weinberg, Architect and city planner, expert of affordable housing and urban renewal, Tel Aviv
Eran Eizenhamer, Architect and Curator, Head of the education program "The School of the City" of Liebling Haus
Ilit Azulai & Nir Shaulof, Artists of the Liebling opening exhibition "Transferum- bau: Liebling" curated by Hila Cohen-Schneiderman
Prof. Dr. Zvi Efrat, Architect and Architectural Historian, partner in Efrat-Kowalsky Architects (EKA)
Claudia Perren, Head of the Bauhaus Dessau Foundation
Sabrina Cegla and Liya Kohavi, Architect, Cultural Program Curator Liebling Haus Architect, Curator of "The Model Building"
Dr. Regina Stephan, Vice President and Chair Architectural history, University of Mainz
Winfried Brenne, Bauhaus renovation expert, member of the advisory board of Liebling Haus
Dr. Ines Weizman, Director of the Centre for Documentary Architecture, curator of exhibition "The Matter of Data."
Prof. Markus Bader, raumlaborberlin/ Making Futures Bauhaus+
Rosario Talevi, raumlaborberlin/ Making Futures Bauhaus+
Tamar Alon, Smadar Arie, Gil Cohen Onia Collective ע
Dr. Silke Feldhoff, Bauhaus Agent Programme
Sharon Rotbard, Architect and Author of "White City, Black City עב
Anne Catherine Fleith, Peteer Zoderer, Lukas Antoni, Feld72 Architects, Vienna
Gilly Karjevsky, Independent curator
Prof. Dr. Jörg Haspel, Präsident ICOMOS e.V. Landeskonservator Berlin a.D