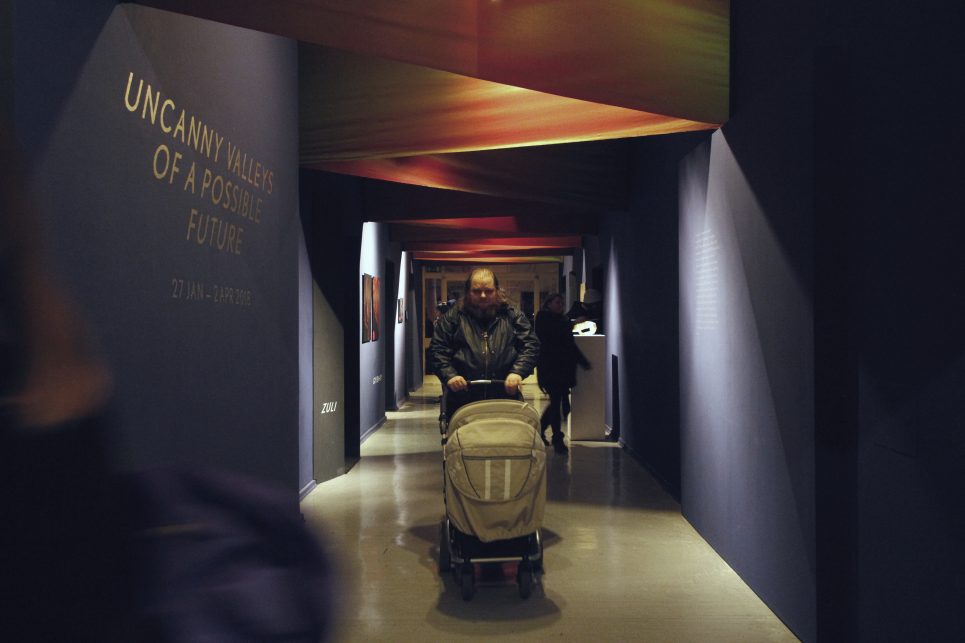 CTM 2018 – UNCANNY VALLEYS OF A POSSIBLE FUTURE
und  Jonas Klaassen, Jonathan Gamers, Maja Linnea Wendel, Manon Moyart, Paul Maisel, Timo Luitz
Commissioned by the CTM Festival
Photos : raumlaborberlin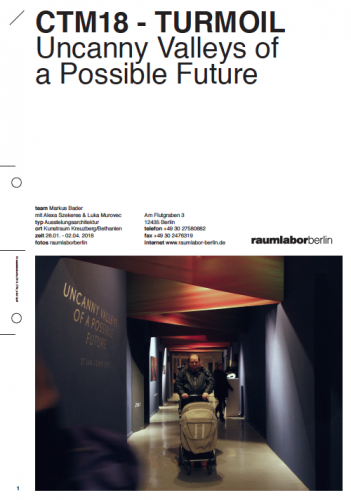 The 2018 theme of the CTM festival brings together artists that try to define the aesthetics of turmoil as a mirror to the uneasy critical state our society finds itself in by creating a space of great disturbance and constant excitation.
CTM Exhibition – Berlin Kunstraum Kreuzberg Bethanien  26.1 – 2.4 2018
CTM Festival 2018 / TURMOIL
UNCANNY VALLEYS OF A POSSIBLE FUTURE
This year Raumlabor decided to take a self-effacing position and instead of contributing to the sensory overload, to make use of the already existent design vocabulary of the art on display. While most of their surfaces reflect the agitated change of colour of the moving pictures, the furniture pieces were created in congruence with the narrated universe of Lawrence Lek's institutional critique.
The fabric imposes a style of disrupted movement upon the visitor, dragging him from the entrance hallway through a sequence of rooms that culminates in Peter Flemming's irrationally de-orchestrated system. The simple colour concept becomes very present through it's alignment of complementary dye in a discourse of hues between art and gallery; The displayed pieces often being on the opposite side of the chromatic wheel as the walls behind them.