The chaise bordelaise is a participative, educative, social sculpture with a private use for the "INSIDERS"exhibition in Arc en Reve / CAPC, Bordeaux.
Der chaise bordelaise ist ein eine partizipative, edukative, soziale Skulptur mit privater Nutzung. Der Stuhl ist ein "Insider"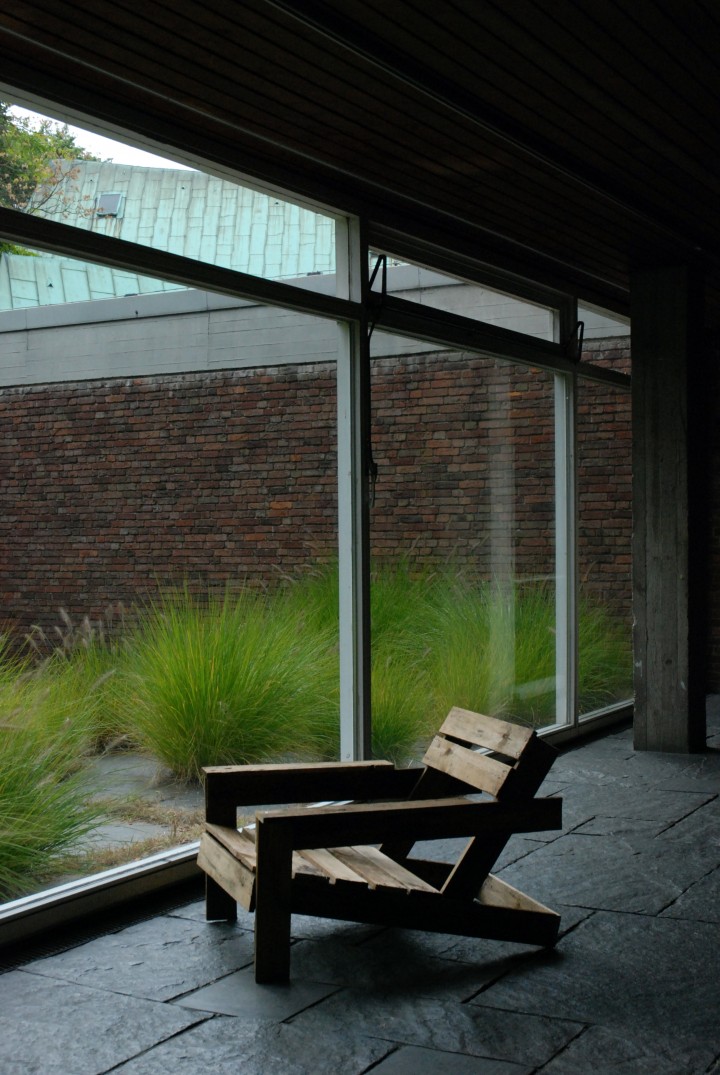 The installation set-up consists of a 3*3*1m large pile of wooden boards, pre-cut for the production of armchairs by the visitors of the exhibition – inside the exhibition.The armchair is specifically designed for this occasion. It follows the criteria: -easy to make -use only 3 lengths of wood -comfortable -easy to carry -desirable.
The material is wooden boards cut from wood that had to be milled after a big storm laid down large areas of forest in les landes, close to bordeaux. The boards dimensions are 100mm of width to 18mm of thickness. For one chaise bordelaise the following lengths are used: – 13 x 60cm-4 x 90cm-2 x 45cm-.
Die Ausstellung besteht aus einem 3x3x1 Meter großen Holzstapel aus gesägten Bretter. Die Ausstellungsbesucher können  aus diesen bereitgelegten Stücken mit Hilfe einer Bauanleitung Armstühle herstellen.
Der Stuhl wird mit folgenden Kriterien extra für diesen Anlass gestaltet: -einfach zu bauen -nur drei verschiedenen Holzlängen -Bequem -Einfach zu tragen -Begehrenswert.
Bei dem verwendeten Material handelt es sich um Sturmholz aus der Nähe von Bordeaux. Die Bretterdimensionen sind: 100 mm breit und 18mm dick. Zur Herstellung vom chaise bordelaise braucht es bloß drei verschiedene Bretterlängen: -13 x 60cm-4 x 90cm-2 x 45cm-.
Chairs made by visitors photographed in their new environment:
Stühle, gebaut von den Ausstellungsbesuchern, fotografiert in ihrer neuen Umgebung: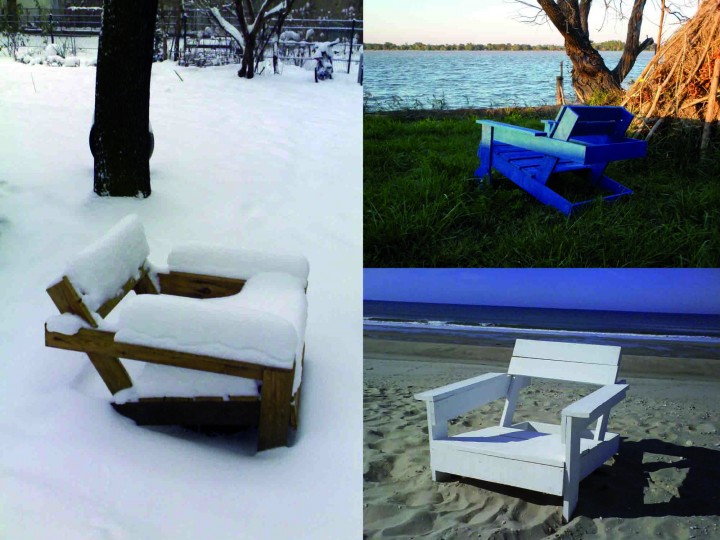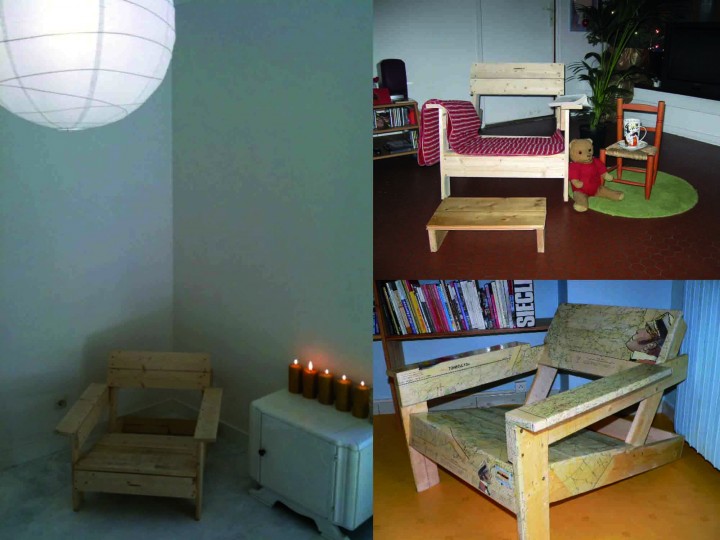 ein kleiner Workshop vor dem Kunsthaus Bregenz mit Axel Timm und Markus Bader:
bauen Sie ihren eigenen original echten "chaise bordelaise" und nehmen Sie ihn direkt mit nach Hause!
a small workshop outside kunsthaus bregenz done by axel timm and markus bader.
build your own original chair: the  authentic "chaise bordelaise" and take it home!
THE GENERATOR is an experimental building laboratory for instant, participatory building practices in public space. Central issues of the research include: construction principles, new geometries for furniture and lightweight construction buildings, as well as new use possiblities and multiple programs for people to meet and interact in public.
DER GENERATOR ist ein experimentelles Baulabor für eine plötzliche, partizipatorische Entwurfs- und Baupraxis im öffentlichen Raum. Das zentrale Thema dieser Versuchsanordnung sind Konstruktionsprinzipien, neue Geometrien für Alltagsmöbel und Leichtbaukonstruktionen ebenso wie neue Nutzungsformen und vielfältige Programme, die die Öffentlichkeit anregen, gemeinsam eine Vision zu verwirklichen, zu interagieren, Erfahrung und Expertise auszutauschen. Der Generator erforscht Möglichkeiten des gemeinsamen Handelns im öffentlichen Raum.
The Generator consists of two components: hardware and software. The hardware is a workstation de
signed for mobility. A set of several flight cases can be assembled as two workbenches. They contain all the necessary tools for eight people to work on site using simple wood slats and plywood as building materials.
Der Generator besteht aus zwei Komponenten, der Hardware und der Software.
Die Hardware ist eine mobile Werkbank, die alle notwendigen Werkzeuge
für die zeitgleiche Arbeit für bis zu 10 Leuten beinhaltet sowie eine ausklappbare Werkbank. Die Werkzeuge dienen der Bearbeitung von einfachen Rauspundbrettern, Sperrholz und Schrauben. Der Generator ist leicht beweglich und kann so innerhalb kürzester Zeit zu einer kleinen Werkstatt aufgebaut werden.
The software is a set of construction plans and instructions for modules, which are developed for easy assembly. The construction methods will be constantly tested and improved. The modules can be assembled into chairs, tables, and shelves, as well as walls and shelters. The participants can transform the modules accidentally or intentionally. A process of learning by doing. The team will record and reuse all possible mutations of the system and incorporate them into a growing structure.
Die Software besteht aus einem Set von Plänen, Bauanleitungen und gegebenenfalls Schablonen für den schnell erlernbaren Bau von Objekt- und Raummodulen. Die Module können zu Stühlen, Bänken, Tischen etc. kombiniert werden aber auch zu Wänden und kleinen Raummodulen. Beim Bauen können die TeilnehmerInnen die Software ändern, weiterentwickeln, perfektionieren, erneuern – absichtlich oder auch zufällig.
 Ein learning-by-doing Prozess.
interesting links: