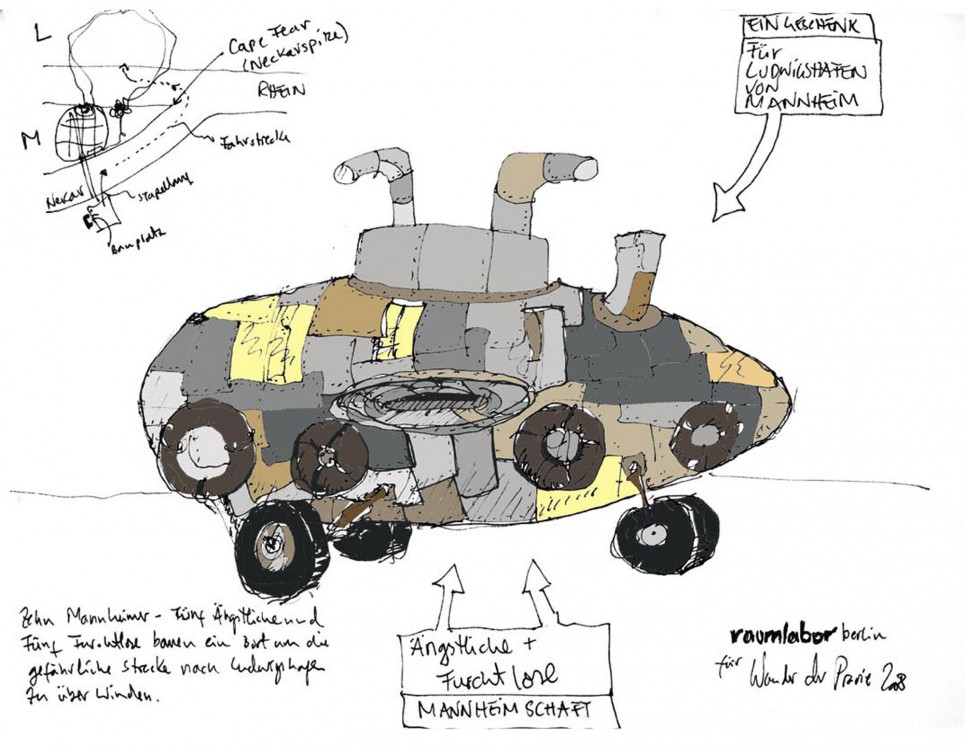 CAPE FEAR

Commissioned by the festival "Wunder der Prärie"
Im Auftrag des Festivals "Wunder der Prärie"
Construction work is going on at "Wonders of the Prairie". In the eyes of the public a boat is built from pieces of wood, junk, and offset-metals at the Alte Feuerwache. A sign points out that raumlabor-berlin is building a submarine which will be sent onto a "dangerous" journey on the Neckar and Rhein to Ludwigshafen on Sept. 20. At its destination it will be handed over to the Kunstverein Ludwigshafen.We are looking for ten courageous persons who navigate the vessel on the difficult journey and for persons who want to participate in the building of the boat.
Bei "Wunder der Prärie" wird gebaut. Vor aller Augen entsteht an der Alten Feuerwache ein Boot aus Holzresten, Sperrmüll und Offsetblechen. Ein Schild weist darauf hin, dass hier raumlabor-berlin ein U-Boot baut, das am 20.9. auf eine "gefährliche" Reise durch Neckar und Rhein nach Ludwigshafen geschickt wird. Hier wird es an den Kunstverein Ludwigshafen übergeben.
Wer gerne mitbauen möchte oder Passagier auf "Cape Fear" werden möchte, kann sich bewerben und wird bei entsprechender Eignung in die Mannschaft aufgenommen. Gesucht werden emsige und mutige Menschen, die mitbauen wollen und / oder mit fahren wollen.

CAPE FEAR from raumlabor berlin on Vimeo.