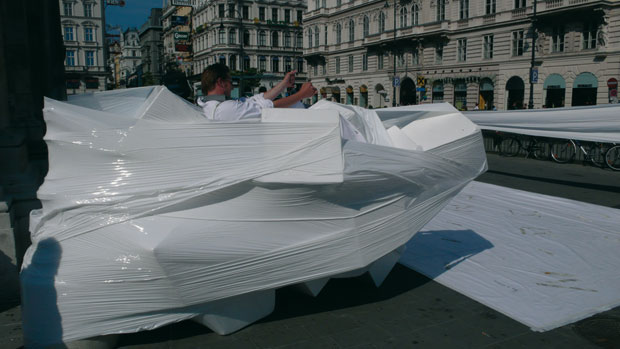 Brachenpioniere Wien
Invited by "architektur in progress", in cooperation with Heri & Salli, Vienna
Auf Einladung von "architektur in progress", in Kooperation mit Heri & Salli, Wien
One-day activities in public space. The following questions were examined: can wasteland be produced? And what would Vienna's citizens do with it? The quality inherent in wasteland is that it is open to appropriation, to new interpretation and varieties of city and interaction; it provides room for alternative social developments.
Eintägige Aktion im öffentlichen Raum. Die Aktion untersuchte die Fragen: Lassen sich Brachen
herstellen? Und: Was fängt der Wiener damit an? Die Qualität Brache bedeutet Raum, der offen für Aneignungen ist, offen für neue Les- und Spielarten von Stadt und Interaktion. Freiraum für alternative gesellschaftliche Entwicklungen.