The hospital welcomed us in its lobby; we picked up an espresso and a glass of water at the cafeteria quickly. Around us doctors and nurses, patients and their visitors. A moment of relaxing before we got lost in endless corridors and went through innumerable compartments in the hospitals basement, looking for the room where the opening event of the competition was going to take place.
Hospitals are for me like big machines. Behind the visitors level mysterious activities, which I do not understand, are hiding.I have the impression that nobody actually knows and apprehends the entire structure. Somewhere there are hidden and undiscovered areas.
Later during the tour, we proceeded deeper into the building. I was feeling like I was in the Lars von Trier movie "Kingdom". Strange things are happening in a hospital. The protagonists from the movie use unnoticed places for themselves.
In the Triemli Hospital, we finally discovered the break room as a place with a specific atmosphere. The charm of the improvised and home-made, contrasting with the very functional atmosphere of the lobby. I was feeling as if I was in another place – only a look at the ceiling reminding me of the actual situation. This opposition in the atmospheres is the base of our conceptual thinking.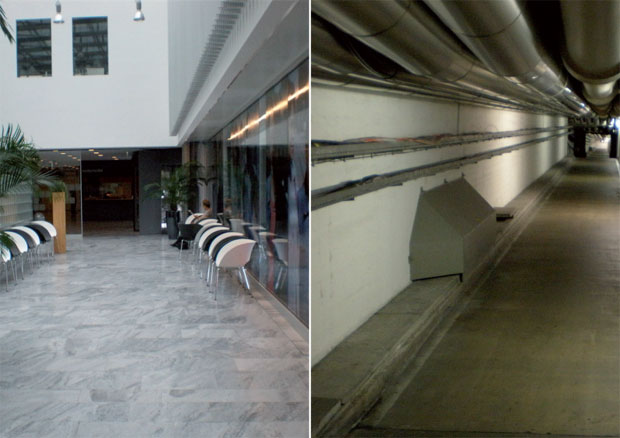 Das Spital empfing uns in seiner Lobby, in der Cafeteria holten wir uns noch schnell einen Espresso und ein Glas Wasser. Um uns herum Ärzte und Pfl egepersonal in ihrer Pause und Patienten mit ihren Besuchern. Einen Moment der Entspannung bevor wir auf der Suche nach dem Raum für die Einführungsveranstaltung in endlosen Korridoren durch zahllose Abteilungen im Untergeschoss des Spitals verloren gingen.
Spitäler sind für mich wie riesige Maschinen. Hinter einer Benutzerober Fläche verbergen sich geheimnisvolle Abläufe, die sich mir nicht erschließen. Ich habe immer den Eindruck, dass niemand das gesamte Gebilde kennt und versteht. Irgendwo gibt es verborgene unerschlossene Bereiche.
Bei unserem späteren Rundgang drangen wir tiefer in das Gebäude vor. Ich fühlte mich an Lars von Triers Film 'Kingdom' erinnert. Merkwürdige Dinge ereignen sich dort in einem Spital. Unbeachtete Orte werden im Film von den Protagonisten angeeignet und für Ihre Zwecke genutzt. Im Triemli Spital entdeckten wir schließlich den sogenannten Pausenraum als besonderen Ort mit einer spezifischen Atmosphäre. Der Charme des improvisierten und selbstgebauten als Gegensatz zu der funktionalen Atmosphäre der Lobby. Ich fühlte mich an einem anderen Ort, nur der Blick an die Decke verriet die eigentliche Situation. Dieser atmosphärische Gegensatz ist die Grundlage unserer konzeptuellen Überlegungen.