Entre Límities, Berlin von 26. November 2016 bis 15. Januar 2017.
Die Ausstellung Entre Límities beschäftigt sich mit Klangkunst aus Mexico und Deutschland.
Das Konzept der szenischen Gestaltung der Ausstellung besteht darin architektonische Elemente einzuführen, die sehr unterschiedliche räumliche Erfahrungen generieren, dennoch eine einheitliche Ästhetik vertreten und in der Lage sind, die einzelnen Kunstwerke akustisch voneinander zu trennen. Hierzu haben wir die Räume des Kunstraum Kreuzberg um zusätzliche Zwischenräume ergänzt, die vorhandene Situationen aufgreifen und fortführen und dadurch die Wahrnehmung der bestehenden Architektur ändern. Diese Zwischenräume dienen als akustische Schleusen und schaffen durch gedimmtes Licht und weiche, dämmende Materialien an den Böden, Wänden und Decken Ruheräume, die durchschritten werden müssen bevor sich die einzelnen Kunstwerke zeigen.
Entre límites is an exhibition dedicated to sound art from Mexico and Germany.

The concept of the exhibition design is to bring in elements which can diminish sounds, and at the same time contribute, to an atmosphere that alternates between spatial experiences. We try to enhance the existing space by adding elements that change the perception of the original architecture . Dense and enclosed tunnels  are a significant part of the scenography and  with soft material coated surfaces on ceiling, floor and wall we create a vacuum of silence and soft walking paths . The art pieces reveal themselves behind the build in elements that consists of heavy curtains and walk-in tunnels.  The sound-absorbing materials give the space an identity and the dimlitted light bulps emphasizes the texture of the materials.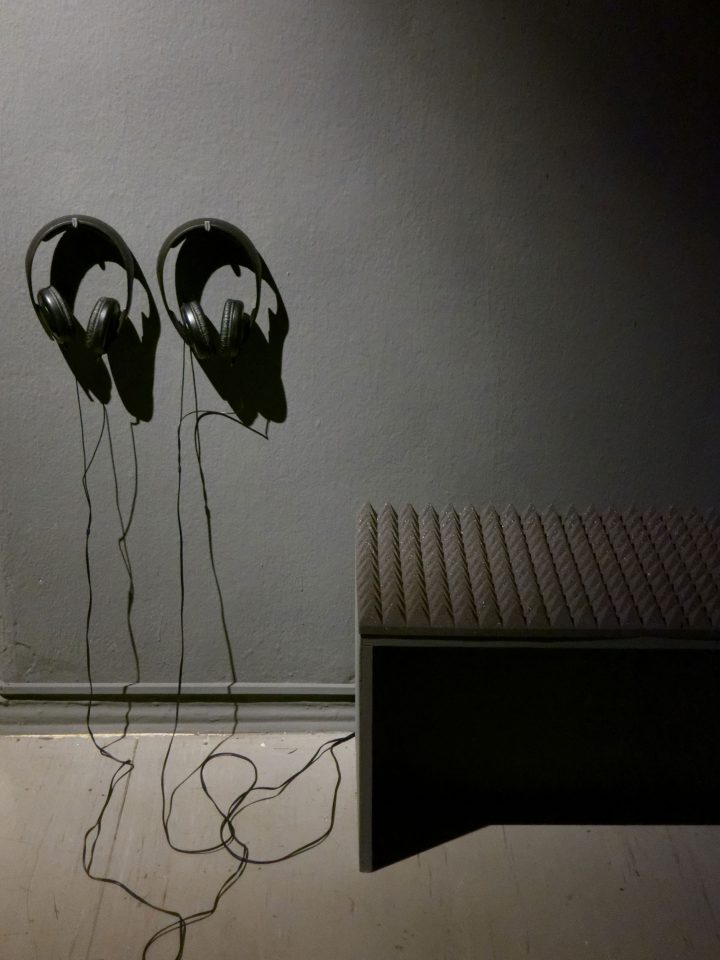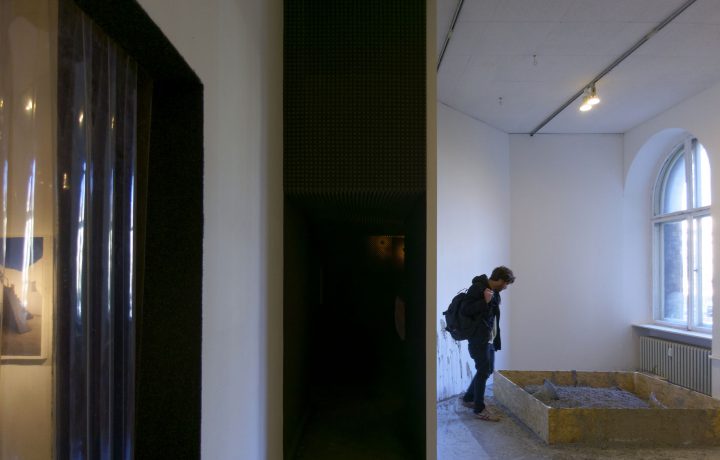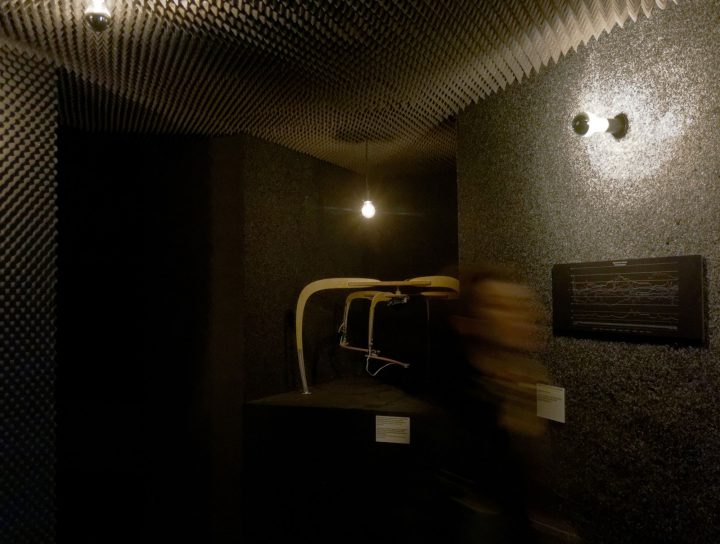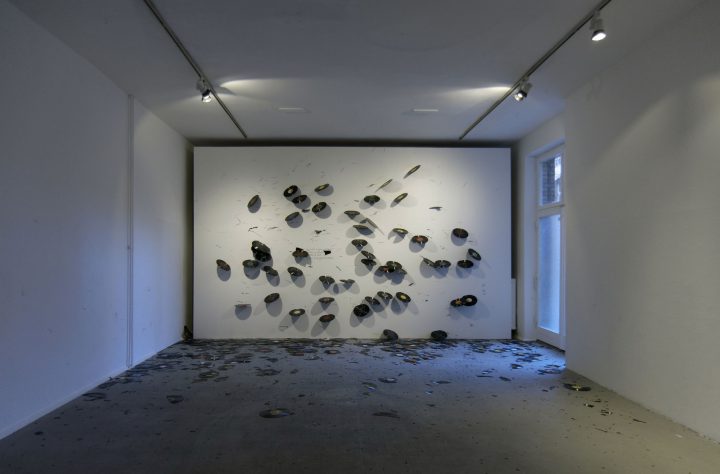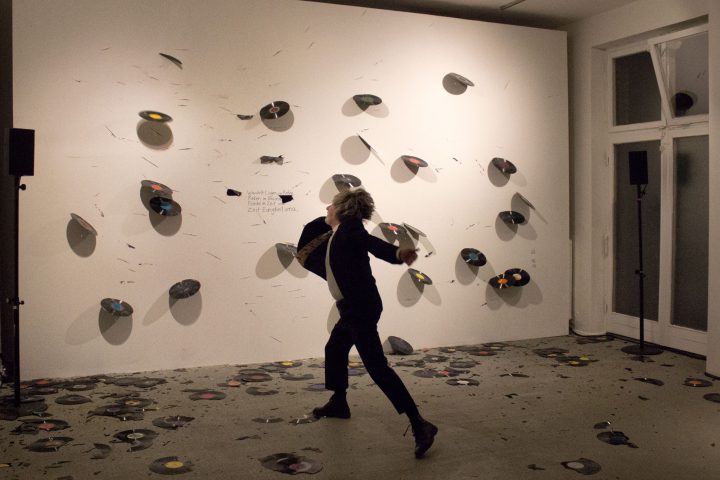 A perfomance installation piece by Guillermo Santamarina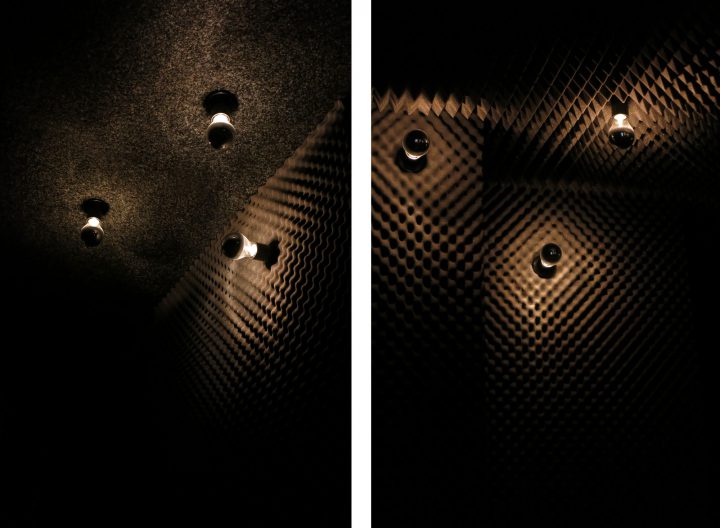 Tunnel views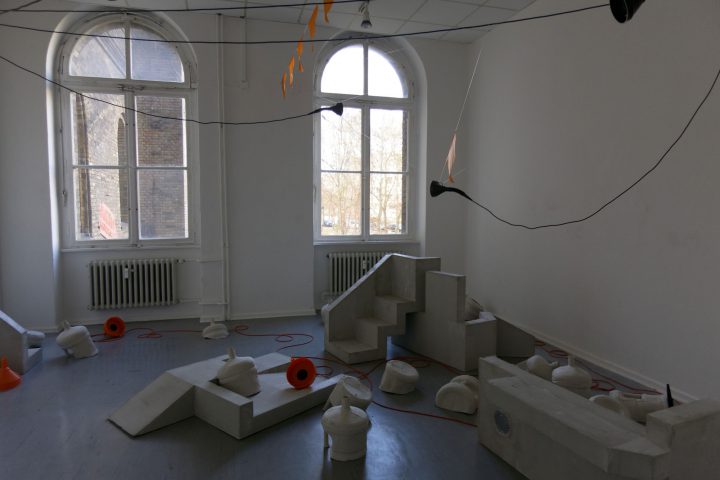 "entre límites / zwischen grenzen – berlin" ist eine Deutschland-Premiere. Die große Gruppenausstellung im Kunstraum Kreuzberg / Bethanien führt erstmals Klangkünstler aus Mexiko und Deutschland in einem gemeinsamen Ausstellungsprojekt zusammen. Zwölf Künstler stellen Arbeiten vor, die nicht nur die enorme Vielfalt des Genres aufzeigen, sondern in ihren Werken Perspektiven entwickeln, die über die Grenzen der Kunstgattungen hinausweisen.
Die Ausstellung ist der Höhepunkt eines dreijährigen Residenz- und Austauschprojekts, das von singuhr – projekte berlin und dem Goethe-Institut in Mexiko bereits 2015 initiiert wurde und nun im Rahmen des Mexikojahres in Deutschland in Berlin präsentiert wird. Die Mehrzahl der Arbeiten ist in mehrwöchigen Projektresidenzen in Mexiko und Berlin entstanden. Bereits Ende August bis Ende Oktober dieses Jahres wurden sie mit großem Erfolg in Mexiko-Stadt gezeigt. Die Ausstellung in Berlin präsentiert nun wiederum viele neue bzw. teilweise überarbeitete Werke.
The group exhibition "entre límites / zwischen grenzen – berlin" in Kunstraum Kreuzberg brings together sound artists from Mexico and Germany for the first time. Twelve artists present their works, which not only illustrate the enormous diversity of the genre itself, but also exceed its limitations.
The exhibition marks the highlight of a three-year residency and exchange project, initiated by singuhr – projekte berlin and Goethe-Institut in Mexico in 2015, and is now being presented in Berlin as part of the "Mexiko Jahr" in Germany. The majority of works have been produced over several weeks in project residencies in Mexico and Berlin. Previously these works were shown in Mexico City, attracting many visitors. The Berlin exhibition builds on the success of the previous show, presenting many updated and new works.
Merken
Merken
Merken
Merken
Merken
Merken
Merken