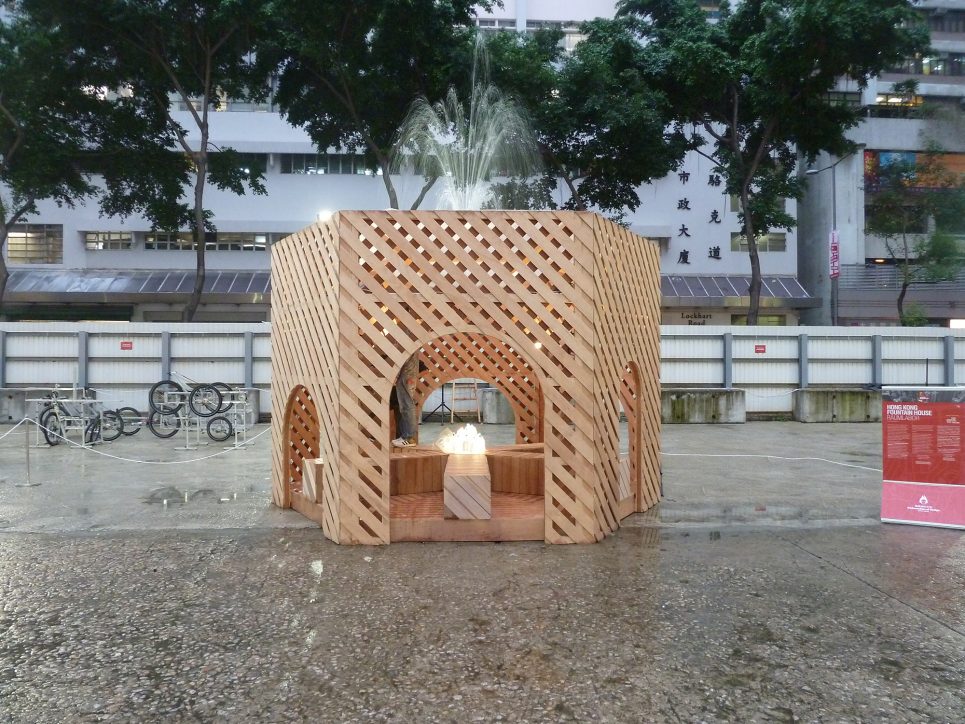 Default Space 01: Hongkong Fountain House
by invitation of / strongly supported by / in the frame of: Detour 2012
link: Detour 2012
In our project for Hong Kong we have a look on water as a common good. We focus our work around the fountain, as an old tool to provide water to be used by all. We investigate the availability of drinking water in public spaces in contemporary Hong Kong, having a look on the economy behind the distribution of waters and the specific situation in Hong Kong where most of the drinking water comes from the mainland China. We also keep in consideration that drinking water is a limited good. That is why we have a look on low tech possibilities on harvesting and treating of rainwater.
In unserem Projekt für Hongkong werfen wir einen Blick auf das Gemeingut Wasser. Die Arbeit setzt sich mit öffentlichen Brunnen auseinander, einer uralten Einrichtung zur Wasserversorgung, die von allen genutzt werden kann. Gleichzeitig untersuchen wir die Verfügbarkeit von Trinkwasser im öffentlichen Raum im gegenwärtigen Hongkong: Ein Blick auf die Wirtschaft hinter dem Wasser und die spezifische Situation in Hongkong, wo die meisten ihr Trinkwasser vom chinesischen Festland beziehen. Der Aspekt, dass Trinkwasser ein begrenztes Gut ist, das nicht selbstverständlich zur Verfügung steht, wird in die Aufmerksamkeit der Benutzer gerückt. In diesem Zusammenhang wollen wir zu Möglichkeiten der "Ernte" und nachhaltigen Verwendung von Regenwasser mit Low-Tech-Lösungen anregen.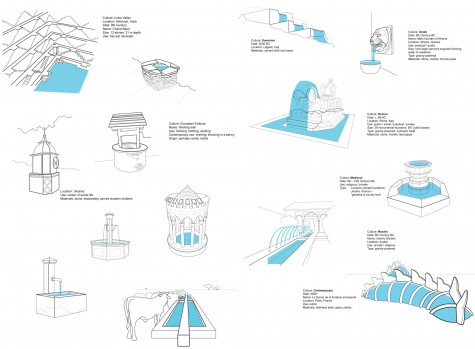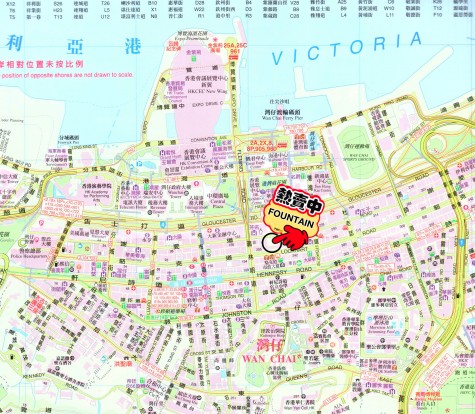 For the DETOUR 2012 exhibition we will design a fountain house which will be erected in a central public space in Wan Chai (or on the central exhibition site). This follows the concept of the inhabitable monument, that offers an internal space for a few to meet and interact around a fountain. The stream of water will be celebrated as a gift and offered as a special experience. The fountain house relates to old archetypes of architecture, the fountain in the square, the wash house in the town, the fountain house as annex to the cloister, and searches for it's relevance in todays societies open public spaces. 
Für Detour 2012 entwickeln wir ein Brunnenhaus, das an zentraler öffentlicher Stelle des Ausstellungsgeländes in Wan Chai auf einem leeren Parkplatz der Polizei errichtet wird. Es folgt dem Konzept eines bewohnbaren Denkmals, das einen Innenraum als Treffpunkt und Ort der Interaktion um einen Brunnen bietet. Das Sprudeln des Wassers wird als Geschenk inszeniert und als besonderes Ereignis gefeiert. Das Hongkong Fountain House bezieht sich auf alte Archetypen der Architektur, der Brunnen auf dem Platz, das Waschhaus in der Stadt, das Brunnenhaus als Teil des Klosters, und sucht seine Bedeutung im dichten öffentlichen Raum der heutigen Hongkonger Gesellschaft.